6 Reasons Wealthy People Love To Shop at Costco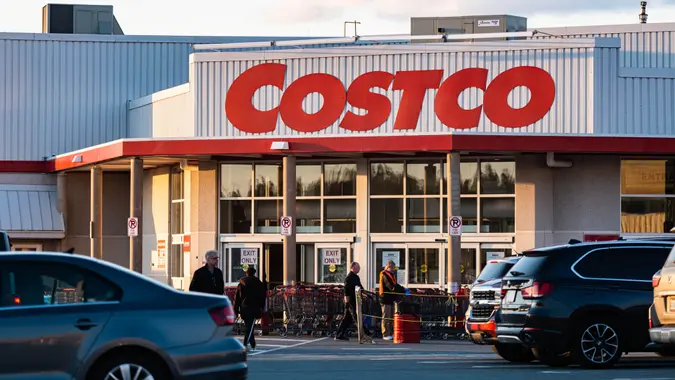 shaunl / Getty Images
Costco is known for its great deals — and even the wealthy can't resist them. A recent comparison study of Costco and Sam's Club shoppers found that Costco shoppers tend to be higher income, CNBC reported.
Costco's Best Deals? Employee Reveals 10 Standout Buys for Your Money
See: 3 Signs You're Serious About Raising Your Credit Score
So what is it about Costco that appeals to the rich? GOBankingRates asked retail and consumer experts to weigh in.
High-Quality Products
"The store boasts a wide range of premium-quality products at prices that are hard to beat, with their Kirkland Signature brand being a customer favorite," said Susan Anderson, founder of The Worthy Goods, a guide for consumers looking to make conscious purchasing decisions.
In addition to its highly rated store-brand items, Costco also carries a number of top-of-the-line name brands including Apple, Dyson and Vitamix.
International Items
Costco sells a wide variety of international items that can appeal to the jet-setting elite.
"[For example], Costco has a variety of Asian foods like Tonkotsu ramen, Katsu kits, cooked rice, Korean chicken, Nongshim Udon, Bachan Japanese Barbecue Sauce and more," said Julie Ramhold, consumer analyst with DealNews.com. "In many cases, I don't necessarily see these items elsewhere in my area, even in international grocery stores, and if I do, the Costco price almost always wins out."
Make Your Money Work for You
Organic Food
Those seeking organic foods will typically find a wider selection at Costco than Sam's Club.
Take Our Poll: What Do You Plan To Use Your Tax Refund For?
"Sam's Club also has organic produce available — it may just not have the same amount compared to Costco," Ramhold said.
Excellent Customer Service
"Costco's excellent reputation for customer service and satisfaction has helped them build a loyal following among their affluent clientele," Anderson said.
Among Costco's standout customer service offerings are its free concierge technical support services and generous return policy. Ramhold also noted that Costco employees tend to be happy, which can improve the shopper experience.
"In my personal experience, Costco employees are generally in better moods and I can't remember a time when one has ever been short with me or unwilling to help," she said. "I can't say the same for my experiences at Sam's Club."
Exclusivity
"Their membership program's exclusivity adds to the store's appeal as a premier shopping destination for the wealthy," Anderson said.
Although anyone can become a member, the $60 fee can be a financial barrier for some. In addition, membership is pricier at Costco than at its competitor, Sam's Club, which can add to its appeal to the wealthy.
Make Your Money Work for You
"It's not by much, with the basic Sam's Club membership costing $50 per year and the premium costing $110 per year compared to Costco's $60 per year and $120 per year for their basic and premium tiers, respectively. But the truth is, that it's a good indication that Costco tries to cater to those with higher incomes as their membership options are priced accordingly," Ramhold said.
Bulk Buys
Although buying items in bulk can save you money in the long term, it does require more money upfront.
"Higher-income families are particularly adept at taking advantage of the cost-saving benefit of bulk buying," said Jeanel Alvarado, retail expert and founder of Retail Boss. "Because they have greater access to reliable income sources, they can spend more upfront on items and realize greater cost savings down the line."
More From GOBankingRates
Make Your Money Work for You
Make Your Money Work for You