Worst Things To Buy at Target in October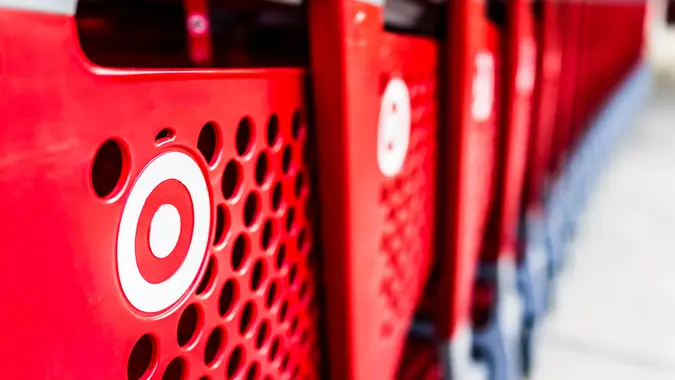 Kristi Blokhin / Shutterstock.com
Target's a store that's known for carrying a little bit of everything. So much so that quick trips for fabric softener often turn into $200 shopping sprees happen so frequently that it's become a running gag. Of course, when you offer a little bit of everything, it's inevitable that the options will start lacking a bit of variety when it comes to selection.
Dollar Tree: 5 High-Quality Items To Buy Now
Find Out: This Credit Score Mistake Could Be Costing Millions of Americans
Additionally, shopping itself is seasonal, and as a result, each store will have times of the year when it's best to avoid certain products, and Target is no different. With October now underway, here's a rundown of the worst things you could buy at Target this month.
Crafting Supplies
If you're looking for some supplies to decorate the house or give that homemade costume some added flair, specialty art and craft shops will be the way to go in October. As mentioned above, Target's overall inventory is vast, certain niche categories will end up suffering in terms of selection. And the art and crafts department is definitely one of them. If you're looking for the very basics, you'll probably find what you need, but if you're looking for certain types of brushes, paint, or anything like that, it's unlikely you'll find it. 
Make Your Money Work for You
Party Supplies
Similar to the arts and crafts section, each Target is likely to carry some options when it comes to party supplies, but not a lot in terms of variety. This means if you're looking for bare-bones back-to-school supplies, then you'll probably find what you need. However, if you're going for a specific theme for a Halloween costume or any upcoming holiday get-togethers, you'll have much better luck in a specialty store. And, as already mentioned, if you're planning on making some of your own decor, you'll likely run into the same problems. 
Take Our Poll: Are You Struggling To Keep Up With Your Utility Bills?
Costumes (or Clothing in General)
Target's clothes are known for being affordable, but they're just as known for not being particularly durable. Even if a lower price is your prerogative when clothes shopping, you can find the same deals (or better) on items at other big box retailers. As far as Halloween costumes specifically, there will likely be some available, but don't expect a diverse selection or anything particularly well-made. For anyone serious about Halloween, local costume shops will have an abundance of options. Or Spirit Halloween, a store that really shines this time of year. 
Make Your Money Work for You
Electronics
Generally speaking, Target isn't known for having the best deal on electronics, with a possible exception being its Black Friday sales. And, since that notorious holiday comes up at the end of November, it's usually best to wait before you upgrade to a new 4K TV or home theater setup. In addition to the big annual sale, the next year's models just start to get introduced, which can mean additional discounts if you're okay with mildly outdated items. 
Granted, if you've got a specific new product in mind for your family room, you're essentially rolling the dice on whether or not that will end up discounted that frantic post-Thanksgiving shopping weekend, much less at Target specifically. 
Cookware
Similar to electronics, cookware and other kitchen accessories also see steep discounts come Black Friday, so you might want to hold off upgrading your pots and pans until after Thanksgiving. Worth noting that Target doesn't exactly shine in the niche cookware department. And if you're looking to stock up for some holiday baking, it's possible you'll run into the same issue with the art and party supply sections: the more specific item you're looking for, the less likely you are to find it on the shelf. As far as niche cookie cutters and other things that add a holiday flair, you might be able to find them on Target's website, but not in-store. 
Make Your Money Work for You
Gift Cards
Finally, if you're the type of shopper who likes to start buying early, skip out on the gift cards sold at Target. No one's denying that these little pieces of plastic make great stocking stuffers or last-minute gifts, but Target will charge you the full list price. You'll have better let going to warehouse retailers, where there are often discounts on gift cards year-round. Or, going to specific businesses to buy them directly. As the holidays start to ramp up, many will have special offers, where $50 can buy a gift card as well as a $10 credit for you. 
More From GOBankingRates
Make Your Money Work for You