These Are the Cheapest Days of the Week and Times for Flights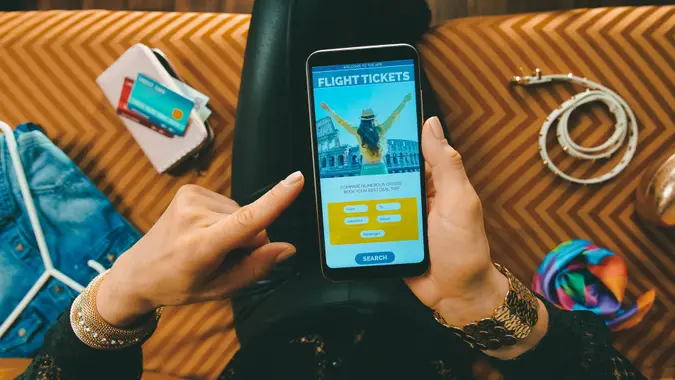 CentralITAlliance / Getty Images/iStockphoto
Increased fuel costs, staff shortages and elevated demand have driven up flight prices in recent months. While it's hard to find "cheap" flights, there are ways to save on your next trip if you are strategic about your booking.
One of these ways is to book your travel during days of the week and times of the day that tend to have cheaper flights available. GOBankingRates spoke with travel experts to find out exactly when those are.
Cheapest Days of the Week To Fly
"The cheapest days of the week to fly are Wednesday and Thursday, as most business travelers fly out on Monday and most folks are either returning home by Friday from a business trip or flying out on Friday for a getaway," said Colleen Kelly, travel expert and host of the PBS series "Family Travel With Colleen Kelly."
Tuesday and Saturday also tend to be inexpensive days to fly, said Cazzy Magennis, travel writer and co-founder of the blog Dream Big, Travel Far.
"'In-between' days like Tuesday, Wednesday and Saturday are typically cheaper to fly," she said. "Travel is slower during those days because a lot of people would fly out for long weekends on Fridays and go back home on Sundays, whereas a lot of business travelers would be on the go on Mondays and head back on Thursdays."
CheapAir.com's 2022 Domestic Airfare study found that the cheapest day of the week to fly is Wednesday.
"By flying on Wednesday, travelers will save $57 per airline ticket, as compared to the most expensive day to travel, which is Sunday," said Jeff Klee, CEO of CheapAir.com. "Following closely behind, flying on a Tuesday will save travelers an average of $56 versus flying on a Sunday."
Make Your Money Work for You
Cheapest Times of Day To Fly
"Times of day that are cheaper are super early in the morning — well before 6 a.m. when business travelers want to hop on that first flight after 6 a.m. — or late at night," Kelly said. "Red eyes also are quite cheap, as people don't often want to fly in the middle of the night."
Bonus: Cheapest Times of Year To Fly
It's cheapest to fly during the times of year when kids are in school, Kelly said. This means avoiding flying during the summer, as well as around any holiday breaks.
As for the cheapest overall months, "January is the cheapest time of the year for domestic flights, while August is the cheapest time for international flights," said Maarten Cox, director of Gecko Routes, a trip-planning resource.
Cheap times of the year to fly also vary by the destination. It's always cheaper to fly during a destination's off-season or shoulder season.
"For instance, Florida is very expensive during their high season of December to the end of March, but in April, aka shoulder season, if you avoid Easter, you can get some super deals," Kelly said. "Internationally, hitting up Paris in January may not be as pretty weather-wise, but you can still explore the sites — and the fares are considerably lower. Domestically, heading to a city like Boston in the winter is much cheaper than Arizona, where winter is their high season."
More From GOBankingRates
Make Your Money Work for You