Is College Tuition Tax Deductible?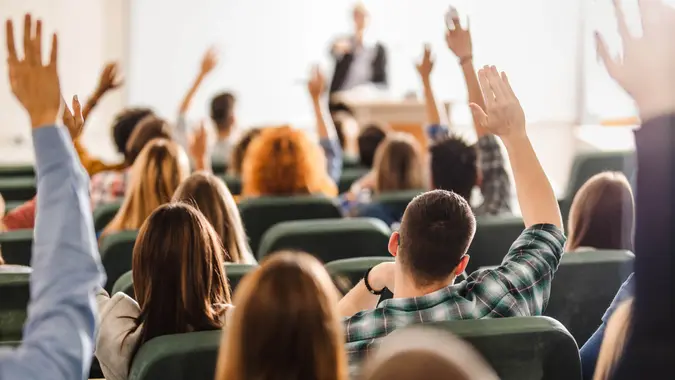 skynesher / Getty Images
College isn't cheap. However, depending on your situation, you might be eligible to deduct all or a portion of tuition costs when you file your taxes. But, because the tax code contains multiple education tax credits for higher education costs, you need to know how they work to make sure you're maximizing your tax breaks.
Tuition and Fees Deduction
The tuition and fees deduction allows you to write off up to $4,000 of qualified education expenses each year. Tuition you pay always counts as a qualified expense as long as you're paying it — if it's paid by a tax-free scholarship, grant or fellowship, those costs don't qualify for the tax deduction. The deduction is an adjustment to income, which means that you can claim it even if you're not itemizing your deductions.
However, you're not eligible to claim the tuition and fees deduction if you're married but you file separate tax returns, if someone else can claim you as a dependent on their tax return, your modified adjusted gross income exceeds $80,000 if you're unmarried or $160,000 if you're married and file a joint return, or if you claim another tuition tax credit.
Also: Take Advantage of These 15 Commonly Missed Tax Deductions
Other Student Tax Credits
Two other tax credits you should look into are the American opportunity credit and the lifetime learning credit. Because you're limited to claiming just one credit for your expenses, you need to check each credit to see which one will save you the most. Credits will generally save you more money because the credit reduces your tax liability, whereas a tax deduction only reduces your taxable income.
Learn More: Here's the Difference Between Tax Credits and Tax Deductions
The American opportunity credit is available for the first four years of post-secondary education, and you must be enrolled at least half-time and pursuing a degree or other recognized education credential, and can't have any felony drug convictions. The maximum American opportunity credit is $2,500, equal to 100% of the first $2,000 of qualified expenses and 25% of the next $2,000 of expenses. Your modified adjusted gross income can't exceed $180,000 if you file a joint return or $90,000 if you aren't married — you can't claim the credit if you're married filing separately.
The lifetime learning credit isn't as restrictive as you can claim it an unlimited number of years, but it's not as lucrative because the credit equals only 20% of up to $10,000 of expenses, so your maximum credit is only $2,000. In addition, the income limits are lower at $128,000 for joint filers and $64,000 for single filers.
Check Out: How Parents Should Invest Now To Pay For College Later
Student Loan Tax Deduction
If you take out student loans to pay for college, the debts can help you on your taxes in two ways. First, tuition paid with loans still qualifies for the various tax breaks for tuition. Second, as you repay the loan, you might qualify for the student loan interest deduction. This deduction allows you to reduce your taxable income by up to $2,500 per year. To qualify for the deduction, the interest deducted must be paid during the year, you can't file as married filing separately, you and your spouse can't be claimed as a dependent by another taxpayer and your modified adjusted gross income can't exceed the annual limits.
More From GOBankingRates