How Much Should You Take Out of Your Paycheck To Ensure You Don't Owe Taxes Next Year?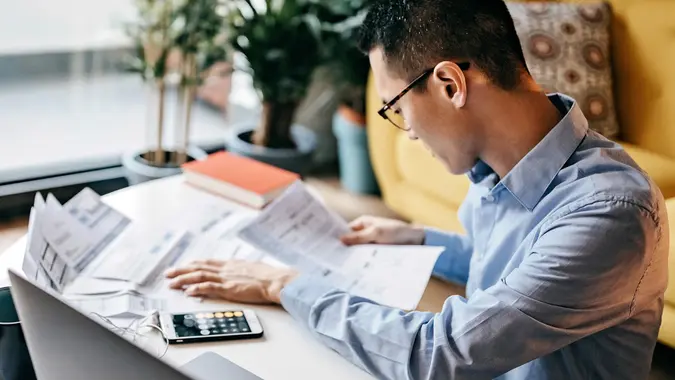 Pekic / Getty Images/iStockphoto
Now that another tax season is in the books, plenty of people who had always gotten refunds — or at least broke even — learned that this year they owed the government a hefty chunk of change only after the IRS slapped them with a big, ugly tax bill for 2021.
See: 22 Side Gigs That Can Make You Richer Than a Full-Time Job
Find: 6 Household Staples That Are a Waste of Money
Maybe a child aged out of dependent status, maybe they earned more capital gains than they ever had before, maybe their income changed, maybe their marital status or life circumstances changed or maybe the tax code changed. No matter the reason, one thing that didn't change enough was their withholdings.
If you got an unexpected tax bill this year, it's time to adjust the amount of money your employer withholds from your check every pay period so the same thing doesn't happen again in 2023. Here's what you need to know.
Underpayment Can Lead to a Bill, Penalty or Both
The IRS requires you to pay your taxes as you go, and if you were hit with a bill, it's because you didn't pay enough as you went in 2021. That means that your employer withheld too little from your paycheck on your behalf for the IRS. 
Every pay period, most employers pull a specified amount from their employees' checks to cover their tax obligations throughout the year. If your boss withholds too little, it's your fault, not your employer's, and you're likely to be hit with a penalty for underpaying.
Penalties vary, but the IRS says that they can cost you hundreds of dollars — and if you don't pay on time, penalties incur interest and keep on growing right along with your unpaid tax bill.
POLL: Do You Think States Should Suspend Their Gas Taxes?
2021 is History — Adjust Now To Avoid a Repeat Next Year
If you got a bill that you didn't bank on for tax year 2021, there's nothing you can do now but pay it as quickly as you can. What you can do, however, is adjust your withholdings so the same thing doesn't happen again for tax year 2022. 
The IRS recommends adjusting your withholdings every year, and experts suggest doing it as early in the year as possible so your withholdings are accurate for as many pay periods as possible. With April now nearly in the rearview mirror — presuming 26 pay periods per year — that's eight pay periods that have already passed in 2022 with the incorrect withholdings from 2021 still in place.
Act now to get it right on the 18 pay periods that haven't happened yet so you don't owe the IRS yet again next year.
What Does It Mean to Act Now? 
The first step to adjusting your withholdings is to use the IRS's Tax Withholding Estimator Tool to see how the amount you withhold affects your take-home pay, tax due or refund. Before you get started, gather the documents and information that you use to file your taxes, including:
Your most recent tax return
Pay stubs for all jobs, for you and your spouse if you have one
All information about any other income
The tool works well for most taxpayers — although it's only as accurate as the information you input — but if your taxes are especially complicated, you might need to consult a professional advisor. 
The tool will generate a printable W-4 with all the information you need for an accurate tax withholding — one that gets you as close as possible to breaking even. You'll then submit the new W-4 to your employer, who will adjust your withholdings to match your updated information.
Don't Forget It After You Set It
Now that you've adjusted your withholdings to avoid another underpayment, it's up to you to perform annual maintenance. Don't worry, all you have to do is check in with the withholding calculator at the start of each year to make sure your withholdings are where they should be according to your income, deductions and life circumstances.
For steady earners, there's not much to it.
"If your income is relatively the same year over year, you can look at the effective tax rate from your last income tax return filed," said Shelli Woodward, tax analyst and financial controller for MerchantMaverick.com. "This will give you the percentage of tax that should be withheld for state and federal withholding tax. If your income varies, then you will need to review the tax tables for state and federal withholding tax to find where you will be."
The IRS publishes those withholdings in Publication 15-T.
More From GOBankingRates