How Tax Scam Victims Can Clear Their Names With The IRS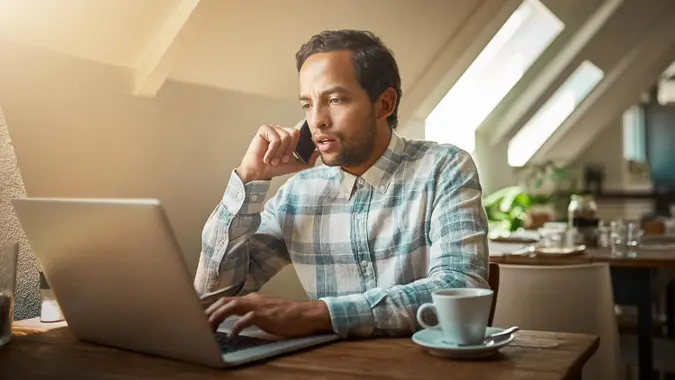 PeopleImages / Getty Images
Almost any financial document can be used fraudulently, and tax returns are no exception. From obtaining your personal information to stealing your tax return, there's almost no limit to what criminals will try. And once a scam has been committed in your name, it's up to you to correct the problem.
Read: Tax Tricks and Loopholes Only the Rich Know
As a victim of a tax phishing scam, email scam or IRS phone scam, it's unlikely that you'll need to take steps to clear your name with the IRS. In the event that someone files a false tax return in your name, however, you'll need to contact the IRS as well as other agencies. Find out the steps you need to take to report tax fraud and clear your name.
Common Tax Scams
The IRS publishes a list of scams each year, and not surprisingly, tax refund thefts are at the top of the list. Find out about the different common tax scams you should know about:
Tax return scams:

Criminals will steal your identity to file taxes and claim your income tax refund. Then when you file your tax return later, the false return has already been accepted by the IRS — and your refund is gone.
Phone or email scams:

Other common scams include fraudulent calls or emails requesting personal information or money. For example, someone might pose as an IRS representative and claim that you have an unpaid tax bill that needs to be paid immediately by a prepaid card or wire transfer. To get you to comply, the person might threaten you with deportation or arrest.
Preparer fraud:

Another scam reported by the IRS is when a person you hire to prepare your tax return steals your refund outright or alters it to boost your refund and pocket the difference. For example, if you were expecting a refund of $1,000, the tax preparer will falsify your return with an extra $200 of tax savings to bring your refund to $1,200, pocket the $200, and give you the remaining $1,000 while putting you in danger of committing tax fraud.
Related: How To Report Tax Fraud
How Identity Theft Victims Can Report an IRS Scam
Report identity theft immediately, such as when a criminal has filed a tax return in your name. Follow these steps to report an IRS scam.
File a complaint with the

Federal Trade Commission. After you've completed your report at

identitytheft.gov, the

FTC will help you create a plan for restoring your name, including access to pre-filled forms and letters that you can use.
File a report with local law enforcement.

Ask for a copy of the completed report to give to the IRS.
Call the IRS Identity Protection Specialized Unit.

To report the fraud, call 800-908-4490.
Complete

Form 14039, Identity Theft Affidavit, and submit it to the IRS.

On the form, you must include your name, address, phone number and Social Security number. When you've had your identity stolen and used to file a false tax return, you'll need to file a new paper return and include Form 14039. Attach the form to your completed paper tax return and mail it to the address where you normally send your returns. In case you've already mailed your paper tax return prior to the incident, mail Form 14039 by itself to the IRS.
Seek additional assistance if needed.

Contact the Taxpayer Advocate Service at 877-777-4778 for victim assistance. Be patient, however, as the average time for resolving a tax scam is 180 days.
Read: How To Protect Your Tax Refund From Being Stolen
Tax Preparer Scam Victims
Most tax professionals provide quality service to their clients, but some of them are scammers. To report a tax preparer scammer to the IRS, follow these steps:
Report the theft of all or a portion of your return to local law enforcement.

Make sure you receive an official copy of the report to submit to the IRS.
Gather proof of the tax preparer's tax fraud.

Include copies of your return, proof of your payment to the tax preparer, a copy of the refund check and any emails, texts or other correspondence between you and the tax preparer.
Complete

Form 14157

– Complaint: Tax Return Preparer.

On the form, include your identifying information, the tax preparer's information and a

description of the tax scam. Also, attach copies of any documentation you have to prove the incident.
Complete

Form 14157-A

– Tax Return Preparer Fraud or Misconduct Affidavit.

On the form, provide your information, the tax preparer's information and evidence for the tax preparer's wrongdoing.
Mail both forms.

Route the forms to the IRS office where you normally mail your tax return.
Avoid Being Victimized Again
Lighting might not strike twice, but if you're not careful, tax scammers certainly will. After clearing your name, follow these tips to avoid getting taken advantage of again:
Don't fall for fake IRS phone calls. You can tell a phone call is a scam because the IRS will never ask for immediate payment or credit card, debit card or prepaid card information over the phone. Plus, the IRS does not require the use of a specific payment method for paying tax obligations. Additionally, the IRS does not initiate contact via phone or email. Legitimate contact from the IRS will come in the form of mail.
Don't give out your Social Security number

unless legally required to do so.
Never sign a blank tax return or work with a tax preparer who asks you to do so.
Have your tax refund directly deposited into your account to prevent it from being stolen.
File your taxes as soon as you can to prevent someone from stealing your tax return.
Contact each of the three major credit bureaus to put a fraud alert on each of your credit records.
Up Next: Lost Your W-2? Here's What To Do
Tax scams that involve identity theft often require filing reports with multiple agencies. Look to the IRS for a variety of resources to help you identify potential threats before they occur and combat them once they happen. Overall, when you're dealing with a tax scam situation, be proactive so that you can resolve the issue and, if needed, clear your name.
More From GOBankingRates