19 Dangerous Scam Phone Numbers and Area Codes To Avoid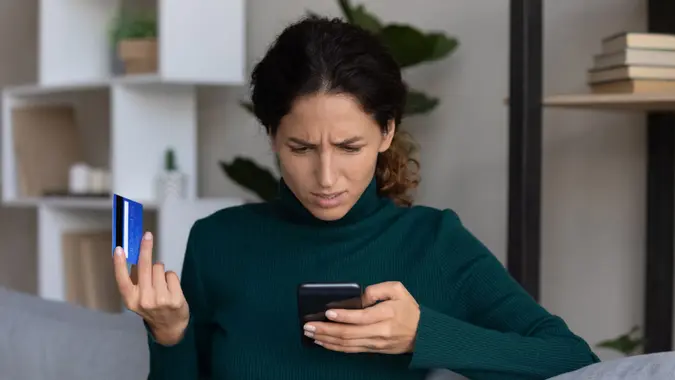 fizkes / Getty Images/iStockphoto
Scams are becoming more and more prevalent. They're so common that experts have coined the term "scam economy." Phone scams are some of the most common types of scams, with about 60 million Americans reporting a phone scam in 2021. 
Wouldn't it be great to have a list of scammer phone numbers handy to avoid them altogether?
Unfortunately, it's easy to change a phone number, and scammers often do so to avoid getting caught. The good news is that scams operate in many known area codes, so you can avoid being the next victim simply by watching for known scam area codes.
What Is a Scam Phone Number or Area Code?
Scam phone numbers and area codes are phone numbers and area codes where scam activity is prevalent. As mentioned above, changing a phone number is easy, so it's challenging to catch every scam phone number out there. 
However, if you get a call from a phone number or area code you don't know, it's likely best to avoid picking up the call and research the following before you call back: 
Look at the Area Code: Start by comparing the phone number's area code to the list of area codes you should never answer below. If it's on the list, there's a good chance there's a scammer on the other end of the line. 
Search the Phone Number: Another option to determine if a phone number calling you is likely scam activity is to search for it on Google. Several websites track scam numbers, and a quick Google search may pull one of those sites up. And if it's a common scam number, you'll probably find reports from people who have answered.
Common Scam Area Codes You Should Never Answer
More than 300 area codes exist in the United States alone. The good news is that scammers have become known for using specific area codes. Here are 19 area codes you should never answer if you don't know who's on the other end of the line.
Area Codes Scammers Use

216 is the area code for Cleveland, Ohio.
232 is the area code for Sierra Leone.
268 is the area code for Antigua and Barbuda.
284 is the area code for the British Virgin Islands.
332 is an area code for New York City. 
347 is an area code for New York City. 
469 is the area code for Dallas, Texas.
473 is the area code for Grenada, Carriacou and Petite Martinique.
649 is the area code for the Turks and Caicos Islands.
646 is the area code for Manhattan. 
657 is the area code for La Palma, California. 
664 is the area code for Montserrat. 
712 is the area code for Western Iowa. 
218 is an area code for northern Minnesota.
767 is the area code for the Commonwealth of Dominica.
809, 829, 849 are area codes associated with the Dominican Republic. 
Three Common Phone Scams to Watch Out For
There are several different types of phone scams that exist. However, three of the most common include one-ring scams, traffic-pumping scams and package delivery scams. Find details about each below.
One-Ring Scams
Scammers use one-ring scams to get you, the victim, to call back. The scammers use robo-dialers to call you and hang up after just one ring. When you call back to see who called, they might charge a connectivity fee and per-minute fees for what will appear on your bill as premium services.
In another variation of this scam, the con artists leave voice mails requesting that you call them urgently. They may say you have a sick relative or claim some other urgent matter. When you call back, the longer you stay on the phone, the more money they steal from you.
One-Ring Scam Area Codes
The most common one-ring scam area codes are: 
232
268 
284 
473 
649 
664 
767 
809 
829 
849 
876 
Traffic Pumping Scams
Traffic pumping is also known as access stimulation. It's based on the way phone services work. When you make a long-distance call, your local carrier gives the call to a long-distance provider. That long-distance provider then covers the call most of the way before handing it off to another local provider and paying an access fee to that provider for the ability to do so. 
Local carriers with high access fee rates may make arrangements with other companies with high call volume operations in an attempt to benefit from increased access fee revenues. Although this doesn't cost you anything personally, it increases the costs of phone services for all.
Traffic Pumping Scam Area Codes
The area codes 712 and 218 have become notorious for traffic pumping schemes.
Package Delivery Scams
This scam starts with a text message or voicemail saying you need to take action to receive your package. When you call back or click the link in the text, you end up on a feedback page on a website that looks like Amazon or another familiar site, where you're told you're a winner of one prize or another.
To claim the prize, you need to give your credit card information. However, there's no prize, and Amazon, UPS and USPS aren't actually part of the conversation. Instead, it's just scammers looking for your credit card number.
Package Delivery Scam Area Codes
The most common package delivery scam area codes are:
216
268
332
347
469
646
657
Final Take
There will likely always be scams out there. The good news is that you can decide not to be the next victim. To avoid being taken advantage of by a scammer, use the following strategies:
Call Your Carrier: Call your carrier and ask if they have any services to protect you from scam phone calls, including robocalls and robotexts.
Register on the Federal Do Not Call Registry: Put your phone number on the Federal Do Not Call Registry. This won't stop all scams, but it could minimize the calls you get.
Use Apps: There are several spam-blocking apps you can use to avoid becoming the next victim.
FAQ
Here are the answers to some of the most common questions about scam phone numbers.
How can I check if a phone number is a scam?

Search the phone number you suspect is a scam on Google. If anyone has reported it to a website that tracks scams, it should show up in Google's results.

What numbers should I not answer?

You should only answer phone numbers you know. Scammers learn from their mistakes and tend to evolve with the times. Although there are scam area codes to watch for, which are listed above, scammers now use phone number spoofing to make it look like they're calling from your local area.
If you don't know a phone number, let the call go to voicemail and research the number before you call it back. And if they leave a voicemail claiming to be someone you know or a company you do business with, call back at the number you have for the other person or company, not the number that left the voicemail.

Can you catch a scammer with a phone number?

Phone number spoofing makes it challenging to catch scammers with a phone number. Nonetheless, you should report any scams to your local authorities and online scam phone number trackers to help other would-be victims.
Our in-house research team and on-site financial experts work together to create content that's accurate, impartial, and up to date. We fact-check every single statistic, quote and fact using trusted primary resources to make sure the information we provide is correct. You can learn more about GOBankingRates' processes and standards in our editorial policy.