Shocking Truths About What Protests Cost You
With the influx of recent protests in America, here's a detailed look at how these movements can impact taxpayers and the economy.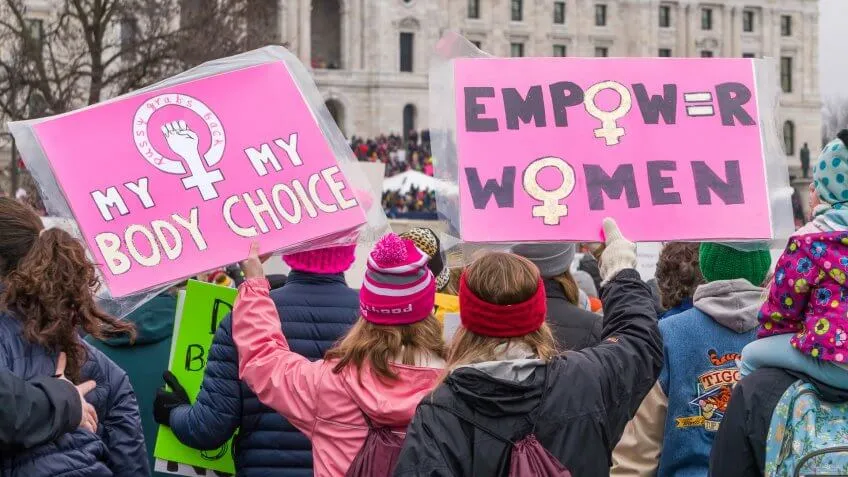 Ken Wolter / Shutterstock.com
From anti-police brutality marches to anti-Trump demonstrations, the United States has seen quite a few protests over the years. Millions of people have banded together as one to voice their political, social and economic beliefs. The Women's March on Washington on Jan. 21, for example, nearly overshadowed President Donald Trump's inauguration with the number of people it drew. People marched in more than 600 locations around the world, including an estimated 3.3 million marchers in the U.S., reports the New York Times.

The Boston Tea Party, women's suffrage, the 1960s civil rights movement — protest movements have been a part of America's history since the beginning. And throughout history, it's clear that many famous protests have sparked political and social change. But what about the economic cost and effects?
Economic impact and financial cost often come into discussion when looking at famous protests. Although protests can be organized cheaply, they tend to be disruptive by nature. When they occur, many people feel and experience the effects, including property owners, business owners, employees, police officers and even taxpayers. Here's a closer look at the costs and economic effects of protests, as well as examples of successful and non-successful movements.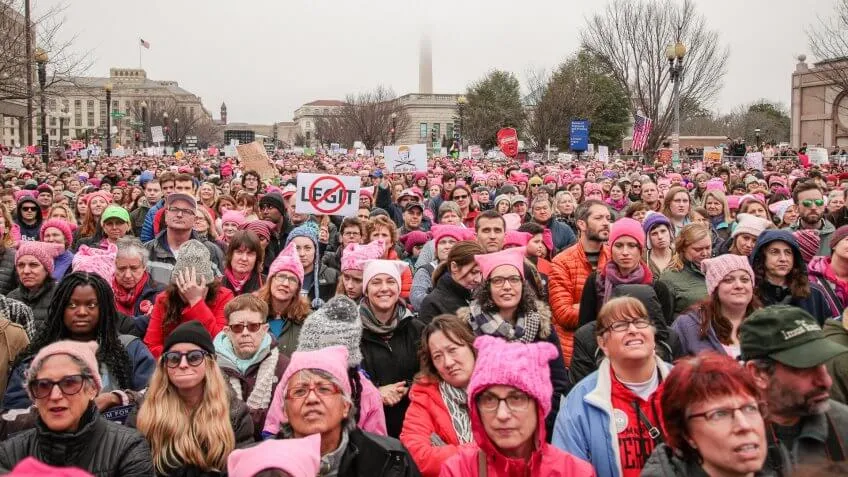 Frantic Studio / Shutterstock.com
The Cost to Attend and Organize a Protest
The steps involved in participating in a protest are more complex than just getting on a bus to Washington, D.C. There are basic, everyday necessities you need to plan for as well.
"Some of the expenses that need to be factored in are tolls, gas, parking and food," said Dr. Marika Lindholm, founder of Empowering Solo Moms Everywhere. She attended the Women's March on Washington in January.
"The round-trip trip to D.C. from home (New York) cost approximately $80 for gas, $25 in tolls, $50 in food and then $30 for parking at The Kennedy Center the day of the march," she said. Lindholm managed to keep the costs fairly low, and she also crashed at a friend's house outside of the District to save even more money.
But how much does it cost to host and organize a large protest, such as the Women's March on Washington? Organizers wanted to raise at least $2 million to go toward the logistics and expenses. At the time of writing, the Women's March surpassed its goal with a total of $2,069,536 raised.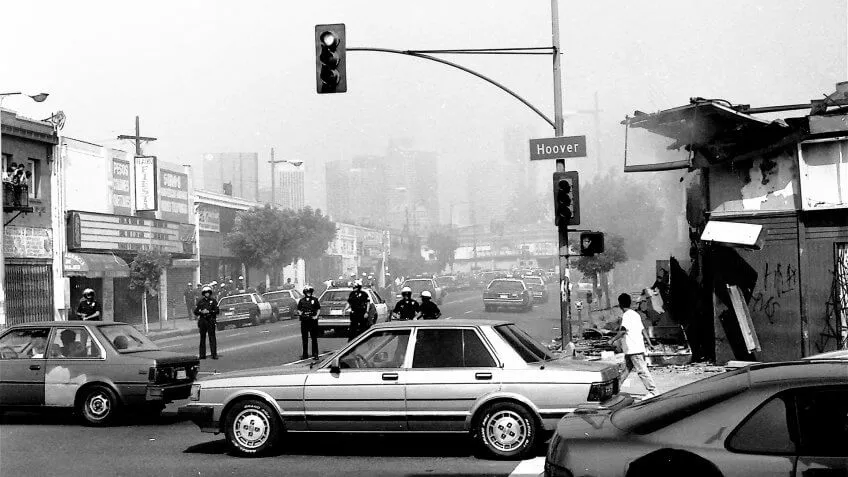 Dark Sevier / Flickr.com
Protests Can Cost Taxpayers Millions of Dollars
When it comes to protests, marches, riots and other demonstrations, law enforcement officers are often needed to keep the peace, redirect traffic and protect bystanders, participants and property. This can get expensive very quickly.
Police Overtime Costs
Police officers can cost the government and taxpayers a lot of money thanks to overtime pay. Just take a look at the overtime payouts to police for these recent protests:
| | | | |
| --- | --- | --- | --- |
| City | *Date | Protest | Police Overtime Payout |
| New York | December 2014 | Anti-Police Brutality Protest | $22.9 million |
| Baton Rouge, La. | July 2016 | Anti-Police Brutality Protest | $1.6 million |
| Portland, Ore. | November 2016 | Anti-Trump Protest | $592,816 |
| Philadelphia | January 2017 | Anti-Trump Protest | $2.85 million |
*Dates represent the date the overtime costs were reported by numerous local media outlets. Sources: The Oregonian, NBC Philadelphia, The Times-Picayune and CNN.
Much of this overtime pay, if not all, can come out of taxpayers' wallets. In Charlotte, N.C., for example, protests in reaction to the police shooting of Keith Lamont Scott cost taxpayers $4.6 million, reports the Charlotte Observer. Of that amount, almost $3.9 million was for police overtime. When the news report published, the city didn't expect the federal or state government to cover any of the costs.
And when referring to the New York protests in 2014, former NYPD Commissioner William Bratton said, "These events have been costly, and they have been a significant drain on the manpower of the city, manpower that's been pulled in from many of the precincts around the city," according to a CNN transcript. He went on to say that at the time, the demonstrations cost the city nearly $23 million in police overtime — "$23 million on taxpayers' money."
Other Event Costs: How Ballooning Costs Ended Trump's Veterans Day Parade Plans

Property Damage Costs
Aside from footing the bill for police overtime, taxpayers often account for costs associated with property damage. In the case of Charlotte, N.C., protests inflicted $122,000 worth of property damage to city-owned buildings alone, reports the Charlotte Observer.
And in 2015, the Baltimore Sun reported the rioting and unrest that followed after Freddie Gray's death was estimated to cost taxpayers $20 million, which includes overtime pay for law enforcement, damage to city-owned property and more.
Here's a look at how much property damage these four famous protests and riots have cost cities:
| | | |
| --- | --- | --- |
| City | Protest or Riot | Value of Property Damage |
| Seattle | 1999 Seattle World Trade Organization Protests | $20 million |
| Los Angeles | 1992 LA Riots | $446 million |
| Miami | 1980 Miami Riots | $50 million |
| Los Angeles | 1965 Watts Riots | $183 million |
Sources: National Bureau of Economic Research's "The L.A. Riot and the Economics of Urban Unrest," Chicago Tribune 2000 report.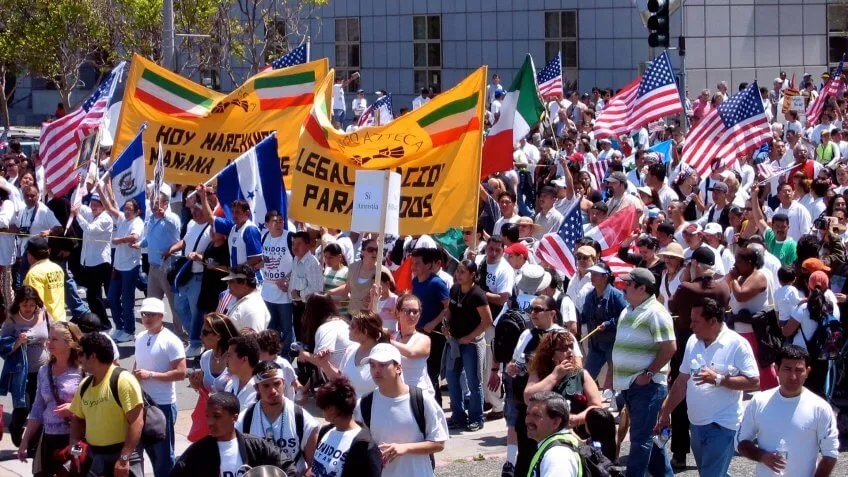 Darren Kumasawa / Flickr.com
Here's How Protests Impact Business Owners and Employees
Private property and, in particular, local businesses are often innocent bystanders that get caught in the middle of protests and riots. In addition to property damage, some businesses lose out on sales — and some employees lose their jobs.
For example, the Occupy Wall Street movement cost local businesses about half a million dollars ($479,400), found the New York Post in a 2011 survey. And in Ferguson, Mo., protests and riots after the fatal shooting of Michael Brown caused an estimated 80 percent drop in sales to local businesses, reported Time in 2014.
More recently, protests have had a more direct impact on business owners and their employees. Throughout the country, stores, restaurants and other businesses shut down so their owners and employees could take part in "A Day Without Immigrants" protests in February. But in several cases, marching in solidarity with fellow immigrants got employees fired, reports CNN.
Read More: Trump's Tent Cities Fuel $20M in Donations — and Billions in Profits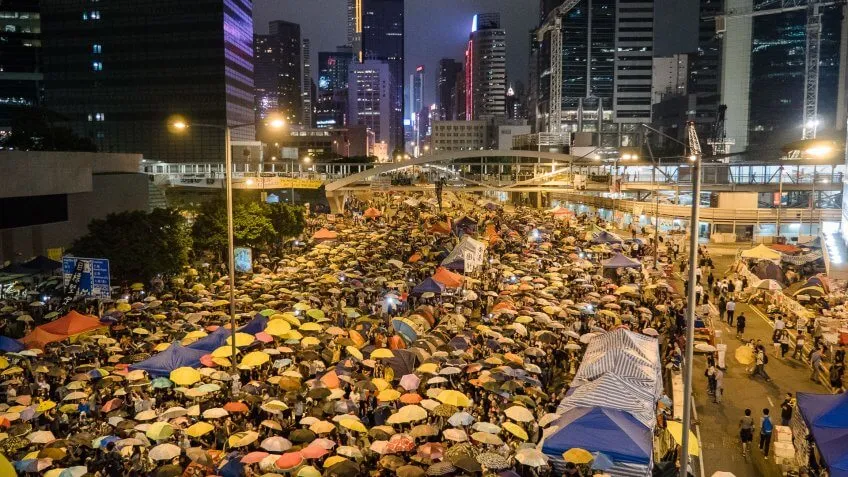 Studio Incendo / Flickr.com
The Economic Effects of Protests on a Larger Scale
Protests often immediately impact businesses on a local level, but their effects can be bigger.
In 2014, student protests for electoral reform in Hong Kong disrupted several of the city's main business districts. The effects of the protest eventually grew beyond the local level, impacting Hong Kong's economy and sales of major businesses, such as Hugo Boss and Estée Lauder, reported the Financial Times and Bloomberg. In fact, according to a November 2014 Estée Lauder Companies Inc. conference call, retail sales in Hong Kong fell more than 20 percent during the first weeks of October 2014 and more than 40 percent "in the affected areas of the protests."
In the U.S., Los Angeles is a prime example of the lingering, longer-term economic effects of protests and riots. According to a 2004 study conducted by Victor Matheson of College of the Holy Cross and Robert Baade of Lake Forest College, Los Angeles lost an estimated $4 billion in taxable sales in the decade following the 1992 Los Angeles Riots.
Part of the problem is that it's more difficult to repair the damage caused by a riot or a protest. In a natural disaster, for example, people tend to be more willing to cooperate and help rebuild the community. After protests and riots, however, this is harder to do because the community has been divided.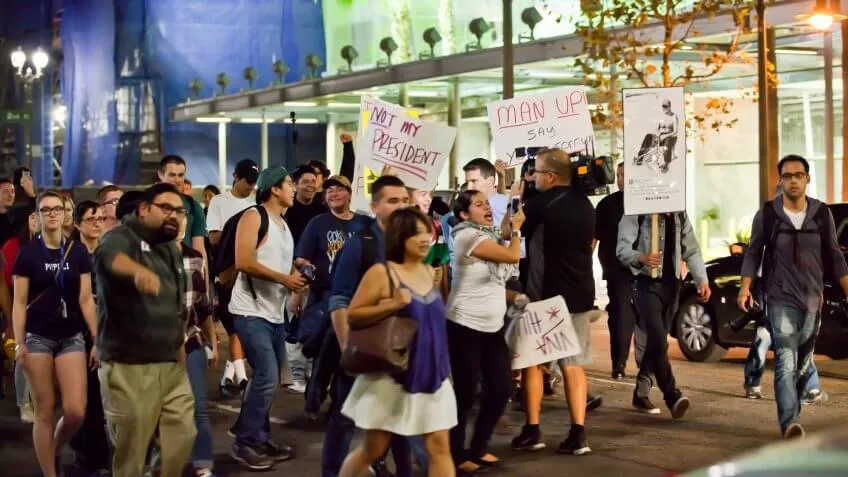 llewellynchin / Shutterstock.com
Are Protests Worth the Hefty Price Tag?
When you factor in the cost to organize a protest, the overtime payouts and the financial impact on businesses, you begin to see that a protest can become expensive quickly. However, protests are not necessarily successful in achieving their goals. In fact, one of the most difficult aspects of protest movements is converting their potential into real results.
Take the Hong Kong student protests, for example. These protests grabbed tons of media attention and huge numbers of participants. Over time, however, public opinion swung against the protesters, and economic disruption changed from an asset to a liability. And although the recent Women's March on Washington captured headlines and boasted huge participation numbers, what was the movement's tangible, actionable goal?
Many experts emphasize that successful protests, strikes and other resistance movements must have a clearly defined goal. In an article in the Harvard Business Review titled "How Protests Become Successful Social Movements," authors Greg Satell and Srdja Popovic broke down the five keys to creating a successful protest:
Define the change protests want to see
Shift the spectrum of allies
Identify the pillars of power
Seek to attract, not to overpower
Build a plan to survive victory
One movement that followed the five steps is the Civil Rights March on Washington. It amassed more than 200,000 supporters to march on the nation's capital on Aug. 28, 1963. The march rightfully earned its place in history as, not only a big protest, but a successful one. And though the march occurred in 1963, it continued to apply pressure even after victory, securing not just the Civil Rights Act of 1964 but also the Voting Rights Act of 1965.
Now, let's look at a famous protest that many experts view as largely unsuccessful: Occupy Wall Street in 2011.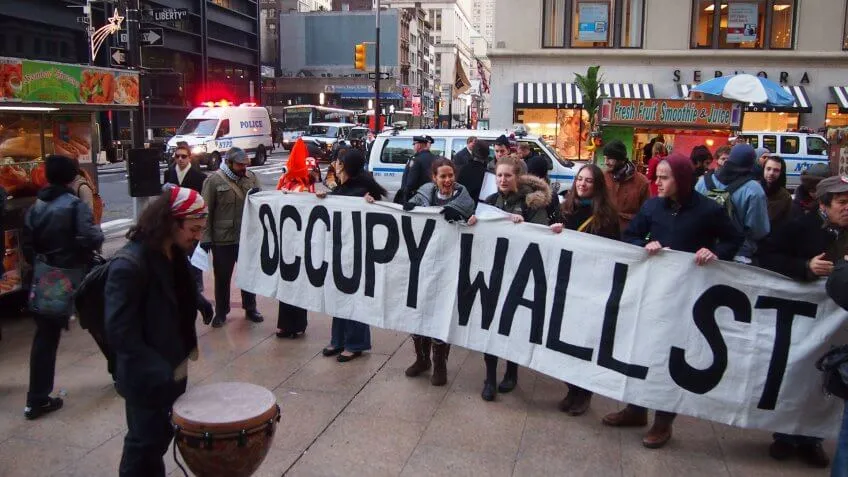 Daryl Lang / Shutterstock.com
Occupy Wall Street: Expensive and Popular But Largely Ineffective
Occupy Wall Street is a movement that gained global attention in 2011. All across the nation, frustrated Americans of "the 99 percent" protested against economic inequality, greed and corruption, which they attributed to Wall Street, major banks and the wealthiest "1 percent."
Meagan Moroney was an organizer of several Occupy Wall Street protests, which she said were cheap to participate in and organize. "We had tons of people, people marching and organizing, all over the country," she said. "And people really were frustrated, angry and wanted to make a difference."
But despite its large number of participants and wide geographic following, Occupy Wall Street didn't have a clearly defined goal. Instead, it was more of an expression of dissatisfaction with the economy and finance industry.
"The frustration that brought a lot of us together also covered up how different participants' motivations and goals were for the movement," Moroney said. As the movement grew, it began to absorb additional existing opposition movements, which clouded its goals. As a result, Occupy Wall Street's accomplishments were more indirect.
For example, Occupy Wall Street led to the creation of several spin-off political movements. A notable spin-off is Rolling Jubilee, a strike debt project that has helped eliminate more than $31 million in student debt, according to its website.

Occupy Wall Street also arguably set off a chain of indirect movements focused on income and wages. According to an Atlantic article, the movement inspired New York City fast-food workers to walk off the job in November 2012. What followed was a national movement to raise the minimum wage to $15 an hour. Years later, numerous cities and states voted for higher pay, which many would claim is a positive impact on the economy.

But when compared to the success of the 1960s civil rights protests and women's suffrage protests, Occupy Wall Street's results were minimal. And at the end of the day, the economic cost of this protest movement was a whopping $13 million in "police overtime and other municipal services," reported NPR in 2011.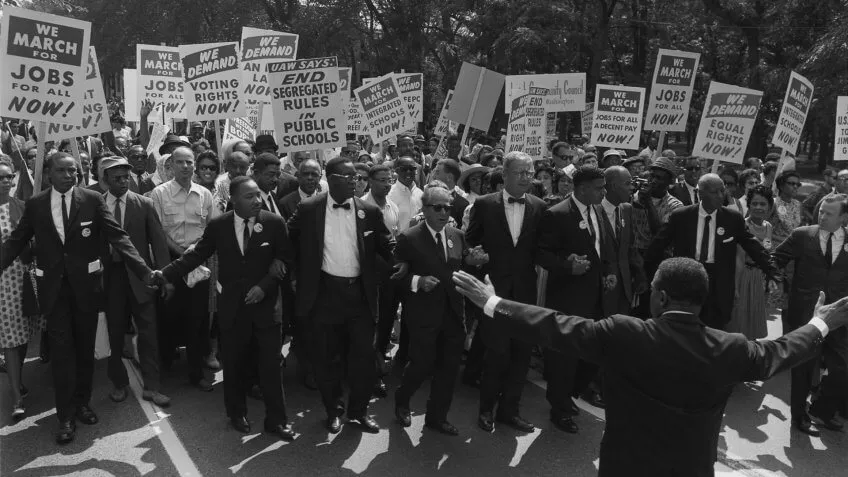 United States Information Agency / Wikimedia Commons
Protests Can Work — If Done Right
In terms of financial cost, protests can be very expensive for governments and, ultimately, the taxpayer. However, if violence is avoided and property damage isn't ruinous, then the cost to taxpayers can tip the political balance in favor of the movement's goals.
However, a protest's success is frequently undermined from the beginning.
"Most non-profits don't acknowledge the toxicity of where they send their advocates," said Sam Daley-Harris, CEO of Center for Citizen Empowerment and Transformation. "Most groups just want you to sign a petition, go to the march."
Protests can succeed in their goals, but those goals need to be clearly defined. Merely expressing anger not only fails to provide attainable goals for protesters or the movement, it also fails to provide authorities with ideas that could address or solve the problems protesters are pointing out. It's easier for governments to respond positively to protests if policymakers are given a tangible goal, such as legislation the protest movement wants passed.
And when the legislation gets passed, many could argue that, yes, protests are indeed worth the economic effects and costs.
Up Next: Ways 9/11 Impacted the U.S. Economy