Do You Know If Your State Has a Marriage Penalty?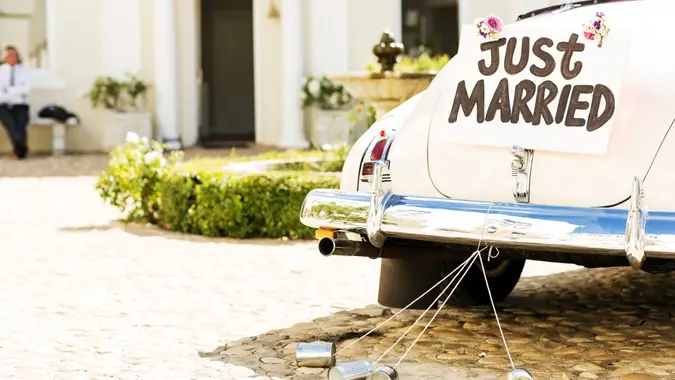 Neustockimages / Getty Images/iStockphoto
If you're just getting married — or even if you've been married for many years — the tax considerations of your union may have never crossed your mind. But for a good percentage of Americans, there are tax ramifications to filing jointly. In many cases, there's actually a tax bonus, meaning you'll pay less as a couple than you did as two single individuals. But in a number of states, there's actually a marriage penalty, where you'll end up paying more than you would have as two singles. Here's a quick look at how marriage bonuses and penalties work, with a specific focus on states that have a marriage penalty.
See: Why You Should Start Budgeting Now for 2022
How Do Marriage Penalties and Bonuses Work?
Marriage penalties and bonuses arrive due to the way that tax brackets are structured within a state. To avoid a marriage penalty, a state must exactly double the single tax brackets when applied to joint filers. For example, if the 3% tax bracket in a state runs from $25,000 to $50,000 in income, the joint filer tax bracket should be from $50,000 to $100,000. This way, if both spouses are earning $40,000, they pay the same tax as their combined income is $80,000 and they remain in the same tax bracket. However, if a state trims the joint-filer bracket to $40,000 to $75,000, the couple earning $80,000 would pay more tax than if they were filing as singles with $40,000 in income each.
Read: Best Places in Every State To Live on a Fixed Income
For couples with a single wage earner, this doubling of tax brackets amounts to a marriage bonus. Imagine instead that there's a family with a single-wage earner pulling down $40,000 per year. In the above scenario, this wage earner would be in the 3% tax bracket filing singly but would drop to the next-lowest tax bracket when filing jointly.
Which States Have a Marriage Penalty?
Marriage penalties only apply to states that have graduated tax rates. Eighteen states have either no income tax or a flat tax, so marriage penalties and bonuses don't apply. The remaining states are broken down as follows: 
Find Out: 25 Tips for Saving Money With Your Spouse
Fifteen states have a marriage penalty.

Seven states, plus the District of Columbia, don't double their tax brackets but allow married individuals to file separately to avoid marriage penalties.

Ten states have graduated rates but double their brackets to avoid marriage penalties.
What that means is that of all the states, only 15 assess some type of marriage penalty. Those states are as follows: 
California

Georgia

Maryland

Minnesota

New Jersey

New Mexico

New York

North Dakota

Ohio

Oklahoma

Rhode Island

South Carolina

Vermont

Virginia

Wisconsin
Marriage penalties are not the same in every state. In California, for example, out of 10 states' tax brackets, the marriage penalty only applies to taxpayers in the top two brackets.  These brackets only apply to couples earning at least $500,000. In North Dakota, on the other hand, taxpayers in four out of the state's five tax brackets are subject to the penalty. 

More: 19 Areas To Invest In During a Financial Crisis
The Bottom Line
You shouldn't avoid getting married simply to save on taxes. However, you should be aware that based on where you live, filing a joint return might trigger additional taxes than you were used to paying when you were single. In some cases, you can file separate tax returns as a married couple to save on taxes. However, in some cases, you might actually get a tax bonus from being married. Consult with your tax advisor to see how your filing status affects the taxes you owe and how you might be able to avoid any penalties.
More From GOBankingRates
Last updated: Feb. 25, 2021