Are Banks Closed or Open on Juneteenth?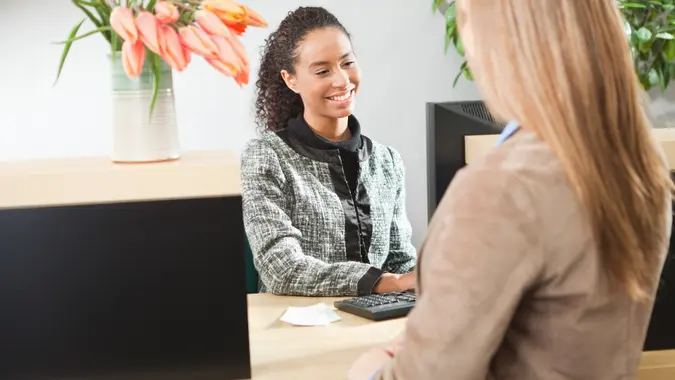 YinYang / Getty Images
Juneteenth commemorates the end of slavery in the United States and falls on June 19 every year. It is recognized as a federal holiday. Additionally, every U.S. state recognizes June 19 as either a holiday or an observance. Some states have even designated June 19 as a permanent paid holiday.
If you're wondering, "Are banks closed on Juneteenth?" or "Are banks open on Juneteenth?" here's what you need to know. 
Are Banks Closed on Juneteenth?
You should expect banks and their branches to be closed on Juneteenth. This year, the federal holiday falls on Monday, June 19. If you are at all unsure about your bank's federal holiday policy, you can call your local branch to verify.
There are exceptions to when banks observe federal holidays. When federal holidays fall on Sunday, Federal Reserve Banks and their branches observe the holiday on Monday. Last year, in 2022, Juneteenth fell on Sunday. As a result, banks observed Juneteenth on Monday, June 20, by closing. When federal holidays fall on Saturday, however, banks are open on Friday and not closed on Monday. 
Good To Know

Here's a look at the 11 federal holidays currently observed:

Martin Luther King Jr. Day
Labor Day 
Columbus Day
New Year's Day
Juneteenth
Independence Day
Veterans Day
Christmas

You can expect your bank to be closed on federal holidays. Keep in mind that if the holiday falls on a Sunday, your bank may be closed on the following Monday.
Is There Mail Delivery on Juneteenth?
The United States Postal Service is a federal government agency, so it also observes federal holidays. Therefore, mail delivery will not occur on Monday, June 19. Additionally, should Juneteenth occur on a Saturday, unlike banks in the Federal Reserve System, the post office will be closed on the preceding Friday. If the holiday occurs on a Sunday, the post office will be closed the following Monday.
Shipping services, however, such as UPS and FedEx, are open on Juneteenth this year. You can expect pickups and deliveries to be made as usual.
What Is Closed on Juneteenth?
You can count on most banks and the U.S. Postal Service to be closed on Juneteenth but what else will be closed? Here are some other places that are closed on Juneteenth. 
Schools and Government Agencies
All public schools and federal government agencies will be closed on Juneteenth. However, state agencies might be open or partially open, depending on the state. For example, in Texas, state offices require a skeleton crew on June 19, 2023. However, Alaska's state government does not observe June 19 as a holiday, so its state agencies will be open for business.
U.S. Financial Markets
Both the New York Stock Exchange and Nasdaq will be closed on Juneteenth. 
Corporate Headquarters and Some Retailers
Corporate headquarters for Target, Nike, Starbucks and Best Buy will be closed annually on Juneteenth. However, you can expect all store locations for the corporations, with the possible exception of Nike, to be open. In 2022, all Nike retail stores in the U.S. were closed on Sunday, June 19, in observance of Juneteenth.
History of Juneteenth
Even though the Emancipation Proclamation, issued by President Lincoln in 1863, declared millions of slaves living in Confederate states as free, it wasn't until 1865 that the news reached African Americans living in Texas. Upon hearing the news, they began celebrating.
The following year, on June 19, 1866, Juneteenth celebrations commemorating the end of slavery were observed in Texas. In the following years, African Americans in other states began to celebrate Juneteenth. In 1980, Texas recognized June 19 as a state holiday, and other states also began recognizing it as an observance or holiday.
In June of 2021, President Biden signed a bill passed by Congress to designate June 19 as a federal holiday. Juneteenth National Independence Day is the newest federal holiday in the U.S.
Final Take
Banks will be closed on Juneteenth since it is a U.S. bank holiday observed by the U.S. Federal Reserve. All electronic bank transfers are routed through the Federal Reserve, so when it's closed — on federal holidays and weekends — all transfers at banks that are open, including transfers initiated online, will process more slowly. Make sure you plan ahead if you need to conduct banking transactions around this time.
Our in-house research team and on-site financial experts work together to create content that's accurate, impartial, and up to date. We fact-check every single statistic, quote and fact using trusted primary resources to make sure the information we provide is correct. You can learn more about GOBankingRates' processes and standards in our editorial policy.