What Are Barclays' Bank Hours?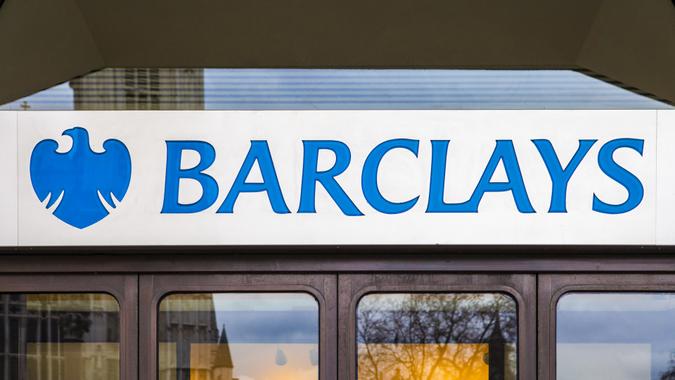 chrisdorney / Shutterstock.com
Barclays is a UK-based financial services company with a global presence that includes 85,000 employees and operations in 40 countries. Barclays Bank Delaware is the FDIC-insured online bank that represents the U.S. branch of Barclays, also known as Barclays US.
Keep reading to find out if Barclays has branches in the U.S., and what their hours are.
Barclays Bank Hours for Normal Days
Barclays US doesn't have any physical branches and operates strictly as an online bank, which means it doesn't have "normal" business days the way brick-and-mortar banks do. The parent company's branches are mainly located in the UK and are usually open from 9:30 a.m. or 10 a.m. to 5 p.m. (if you're banking internationally, note the time difference).
Is Barclays Open on Weekends?
U.S. customers don't have to worry about Barclays branches being open or closed because there are none. However, the Barclays UK division notes that some of its branches are open on Saturdays and Sundays. The table below provides information on hours at most physical branches.
Barclays Bank Hours
Day
Hours
Monday – Friday
9:30 a.m. to 5 p.m.
Saturday
10 a.m. to 4 p.m.
Sunday
Varies by branch
You can use Barclays' branch finder to find and contact specific branches about their hours. The Barclays website also lists individual hours for each branch.
Barclays Hours for Holidays
U.S. customers who use Barclays' online banking tool can access their accounts at any time — including during federal holidays — but British branches close on UK bank holidays. Because these branches are located in the UK, they also follow a different holiday schedule than U.S. banks. For 2022, Barclays branches in the UK are closed on the following holidays:
Barclays Bank Holidays
New Year's Day: Jan. 1
Good Friday: April 15
Easter Monday: April 18
Early May Bank Holiday: May 2
Spring Bank Holiday: June 2
Summer Bank Holiday: Aug. 29
Christmas Day: Dec. 27
Boxing Day: Dec. 26
Specific dates for some of these holidays change from year to year, so be sure to check the specific year when you're looking for holiday info.
How To Bank With Barclays After Business Hours
Online banking customers never have to worry about regular "business hours" because you can access your account at any time of the day or night to transfer funds between accounts, set up payments, access transactions and tax statements and perform other tasks.
The Barclays mobile app lets you do much of the same, but with an added treat: Barclays' Launchpad. The feedback-driven Launchpad lets Barclays' customers test drive new features for the app before they're available, making for a more communal banking app experience.
How To Contact Barclays Customer Service
Barclays Bank Delaware lists these two toll-free numbers on its contact page:
1-888-710-8756
1-704-719-1515 (international)
Barclays also keeps a list of numbers covering an array of banking topics on its UK contact page. You can also set up online chats or connect with Barclays via its social media channels.
More on Barclays
More on Bank Hours
Information is accurate as of Aug. 17, 2022.
Editorial Note: This content is not provided by Barclays Bank Delaware. Any opinions, analyses, reviews or recommendations expressed in this article are those of the author alone and have not been reviewed, approved or otherwise endorsed by Barclays Bank Delaware.