How Do You Access Your Bank Account in an Emergency?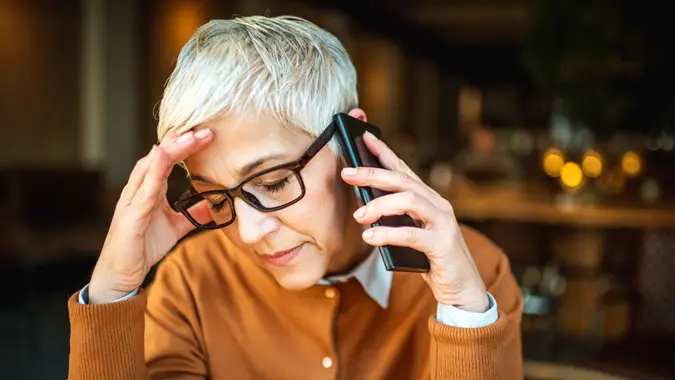 MStudioImages / Getty Images
No matter how well prepared you are for all eventualities, things go wrong, and unexpected emergencies arise. The last thing you want is to be in a situation where you need quick access to your own money and can't get it — whether you're traveling overseas or out of state, lose your phone and don't have access to your mobile banking, or simply don't have your important information on you. Experts here offer ways to make sure you can always access your funds in a pinch.
Read More: Gen Z and Millennials Favor National and Online Banks, Survey Shows — What Does That Mean for the Future of Credit Unions?
Check Out: Learn More About GOBankingRates' Best Checking Accounts
Keep a List of Passwords With a Trusted Source
You should have a list or record of account numbers and passwords somewhere safe at home so that your loved ones will know where to find them, said Brian Meiggs, founder of Smarts. "A good idea would be to store this information on your computer under a separate file name, allowing you to quickly send the information digitally instead of having family members try searching for certain pieces of paper."
He also recommends that you can give out keys or digital passwords that allow trusted sources access to your safety deposit box(es) at your local bank branch.
See: GOBankingRates' Best Online Banks
Appoint a Financial Backup Source
It's critical to appoint someone who has information of and accessibility to your money and other financial papers, such as bank accounts, life insurance policies, and your will, to preserve your assets and ensure that they are not misused, said Jeff Mains, CEO of Champion Leadership Group LLC. "If you are the only one who has access to this information, you might face significant financial consequences."
"Before any emergency happens, you should call your bank and designate someone you trust to access your banking information," said Jake Hill, CEO of DebtHammer. "Banks do this for you in the event you are incapacitated or otherwise unable to authorize things yourself. This way if you can't reach your bank, someone else can on your behalf."
GOBankingRates' Top Picks: Best Regional Banks
Make a List of Your Assets and Liabilities, With Addresses

Additionally, to make the access process easier for you or a trusted financial backup, Mains urged, "Begin by making a list of all of your assets, including bank accounts, 401(k) and IRA plans, and identifying each one with a street address, financial institution, or employer's name."
Then, store a copy of this list in a sealed envelope and deliver it to a trusted person at the beginning of each calendar year, he advised.
"Provide your backup person with the names and contact information of any professional advisers, such as a financial planner, insurance agent, mortgage broker, lawyer, and accountant, as well as any other pertinent information."
Options: 16 Effective Ways To Trick Yourself Into Saving Money
Set Up Mobile Banking
If your bank can be accessed online, make sure that you have already set up your account, said William Cannon, CEO and founder of Uplead. "That way, you won't have to physically run to the bank in case of emergencies. You can just transfer the money online since most establishments and institutions allow that nowadays."
If You Lose Your Phone
If you lose your phone and can't access mobile banking, Cannon said, "You can proceed to the nearest ATM with your card. However, it's important that you also take the necessary steps to lock your account before it could get drained by someone. Be smart with your account and prioritize its security first."
Hill echoed this advice, "Be aware that some banks have full access ATM terminals that offer a lot of services similar to going into the branch while being open 24/7. If you're able to borrow a phone and find some privacy, you can also call a representative to help you move funds around."
More Top Banks: Best National Banks
Utilize Other Payment Services
Beyond regular banking, it is a good idea to add other payment services such as PayPal and Venmo, which may be easier to access in an emergency, or simply act as an alternate payment method, Cannon said. "You still have to be careful because it is your money. It's also good if you have someone you trust so in case of emergencies, you can call them."
Ask Your Bank About Secure Transfers
If you're traveling, don't have access to your phone, or a WI-Fi network to access mobile banking, seek out a source such as a hotel, restaurant or other business that has a landline you can use and call your bank, to discuss a secure transfer, said finance expert and founder of Personal Income Donny Gamble.
"These situations can be nerve racking as you feel helpless without access to your banking information…I try to find a place with a secure phone network to call my bank and make transfers over the phone. There are usually two numbers on the back of your bank card–one to call in your own country, and the other to call when you are overseas."
More From GOBankingRates