How To Build a Capsule Wardrobe on a Budget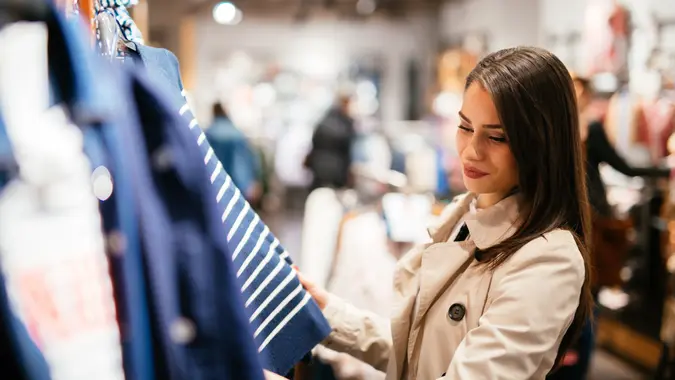 nd3000 / Shutterstock.com
Ever have the grand idea to overhaul your entire wardrobe? Several years ago, I did — aiming to look more like who I am: A confident, successful corporate account manager. I revamped to the tune of $19,000 worth of new designer clothes in one year. Yes, you read that right. It was the biggest money mistake I've ever made. 
Shopping Tips: Wrapping Paper, Greeting Cards and More Holiday Items to Only Buy at Dollar Stores
Check Out: 29 Ways To Save On Holiday Gifts
Let's get one thing straight about my $19,000 wardrobe mistake: I went into it blindly. I had no plan, no real idea of my personal style and I bought items on an emotional whim, only to take them to consignment several months later, realizing they weren't "me" or were uncomfortable to wear. Imagine spending that much on designer clothing only to have it sit in your closet with the tags still on, or to be worn once then sent to a consignment shop! Not fun.
After seeing my mistake in a yearly budget recap, I realized spending $19,000 in one year on clothing was ridiculous. Sure, I was earning good money, but no one needs that many expensive items. According to CreditDonkey, the average person spends $1,900 a year on clothing. 
A capsule wardrobe is a small selection of quality clothes, curated around your chosen color palette, that reflect your personal style and your lifestyle. Here's how you can adopt a capsule wardrobe to save money and stay in fashion. 
Budgeting 101: How To Create a Budget You Can Live With
1. Understand What A Capsule Wardrobe Is 
"A capsule wardrobe refers to a limited selection of complementary and interchangeable clothing items. It allows you to create a wide variety of outfits with a small selection of clothes," said entrepreneur Elisa Bender. "Capsule wardrobes became a trend back in the 1970s when boutique owner Susie Faux started selling minimalist-looking, high-quality clothing that could be easily mixed and matched. People started adopting this trend because it made choosing outfits much easier."
2. Figure Out How You Want To Look And Get Organized 
"The easiest first step to going from a ton of clothing to a few pieces is to figure out how you want to look," said James Thomson-Sakhrani, founder of Style Standard. "It can be a lot of work if you're still discovering yourself on an emotional and psychological level, but understanding your end-goal is an important start to making cuts." 
Thomson-Sakhrani cites a quote from Steve Jobs: "If you define the problem correctly, you almost have the solution." 
In this case, Thomson-Sakhrani adds, the problem is: How do you want to look? so you've got to figure out the style and niche you want to fit into. 
"If you're in finance, that might mean a focus on suits and dressier clothing, whereas a tradesman might look at the classics of workwear and functionality," Thomson-Sakhrani  said. "Once you've got your image created clearly in your mind, there are various ways of paring down wardrobes. My favorite is to put everything on a backwards hanger. Every time you wear something and are putting it away, you put the hanger back in the right direction."
After 3-6 months (depending on how seasonal your clothes are), Thomson-Sakhrani recommends identifying what you wear regularly and what you haven't touched. 
"Getting rid of those clothes will be much easier than trying to choose between two favorites," he said. 
Have It All: 50 Ways To Live the Big Life on a Small Budget
3. Get Chic With Neutrals 
There are many types of capsule wardrobes, but according to Maria Juvakka, founder of Chic Pursuit, one of the most popular is the French minimalist capsule wardrobe.
"The Parisian style is chic, minimalist, and feminine, which is why many women adopt this wardrobe," Juvakka said. "Neutral colors like tan, black, cream, and brown are preferred over bright purples and blues. It's also better to have solid colored tops, pants, and dresses so that everything can be paired together."
4. Understand What You Need 
By sitting down and understanding what I wanted and needed from a wardrobe, I was able to focus my shopping outings. Armed with a list of key pieces, a color palette and knowledge of styles that flattered my skin tone and body type, I was able to curate a practical wardrobe I loved and made me feel confident (and comfortable).
Having guidelines for your wardrobe stops you from buying anything outside of your "rules," and helps you avoid trendy fast fashion and impulse purchases.
Save: 35 Useless Expenses You Need To Slash From Your Budget Now
5. Choose Only Quality "Investment" Pieces
One thing I did right in my $19,000 mistake was buying quality garments. They retain their value for consignment and they last longer. Your up-front cost is higher, but in the long run, your return on investment is much better.
If you save up to buy quality now, you'll save money by not having to replace items every year. I went from buying ill-fitting, cheaply made Gap jeans for $80 to North American made, fit-like-a-glove Citizens of Humanity or Paige jeans for $200. They fit well, last years instead of months and I only own three pairs of jeans instead of eight.
6. Set Wardrobe Intentions or Goals
By setting guidelines for my wardrobe, I reclaimed my money and time. I was no longer shopping every free moment I had and throwing away money.
Setting guidelines, like the ones below, will free up your time and your money, and let you approach your wardrobe with mindfulness and intention.
Buy no more than three pieces per season.

Only buy when something is worn and unrepairable.

Choose items based on your lifestyle, how they fit and make you feel. Do you feel confident wearing it? Is it comfortable to wear?

Purchase only from a select list of ethical, quality designers you love.
Ouch: 17 Biggest Budgeting Mistakes You're Making
7. Set A Budget 
"Capsule wardrobes can be as cheap or expensive as you want them to be," said Kenny Screven, a fashion and beauty influencer. "It mostly comes down to the quality of clothes. For instance, having an oversized beige sweater for fall is essential. But your personal financial situation will determine how much you're willing to spend to achieve your capsule wardrobe. Someone more wealthy may be willing to spend $400 at brooks brother to achieve the capsule wardrobe effect. While someone more on a budget may get a similar sweater at Walmart for $20. They both serve the same purpose."
8. Know Where To Shop To Save 
"Target, T.J Maxx, and Ross offer affordable basics," said Screven. "At these stores you will most certainly be able to find whatever you need to achieve your desired looks for your new wardrobe capsule. While finding the basics, they also provide some spice when it comes to shoe wear and accessories. Really elevating that capsule wardrobe to the next level. They provide clothing for every occasion: work, casual, gym, and loungewear."
You should also consider resale apps.  "Poshmark and Rent the Runway are great ways to shop secondhand to have less of an environmental impact and to get some higher quality pieces at lower price points," said Tara Dupuis, fashion stylist and model.
Read More: Tips To Keep Your Finances in Order Without Sacrificing What You Want
9. Have Less Upkeep
When you curate a small wardrobe of quality items, you have less to care for. If you pay attention to care instructions when buying an item, you can easily avoid wasting time and money on expensive dry cleaning.
And the big bonus? Less time spent doing laundry — which is also good for the planet. 
Adopting a capsule wardrobe will save you time and money, and will reduce decision fatigue in the morning when you're trying to pick out something to wear. It curbed my impulse spending and helped me be more mindful of what I put on my body and how I spend my hard-earned dollars.
Click through to read more about how to sell your used clothes online.
More From GOBankingRates
Nicole Spector contributed to the reporting for this article.