8 Surprising Things You Can Do Without Going Into a Bank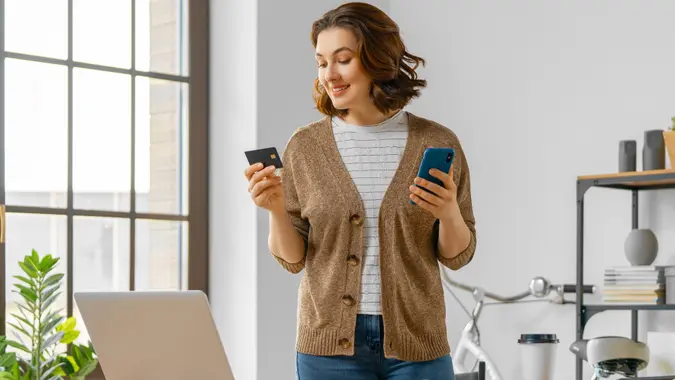 Choreograph / iStock.com
Gone are the days when you had to run to the bank or wade though a phone menu to do simple tasks like get your account balance and deposit, withdraw and transfer money. Banks provide these services and more online and through their apps, and they continually expand their offerings.
"At this point, nearly everything you can do in person at a branch can be accomplished in the comfort of your own home," said Timothy Day, vice president of digital experiences at Navy Federal Credit Union. "This isn't to say branches are unimportant — sometimes there is no substitute for the help and support of a live person — but consumers have a seemingly endless number of digital tools at their fingertips."
Not only can you deposit checks and pay bills with your phone, but you can also monitor your credit, create a budget, build your savings, choose investments and even buy a car using some banks' online tools and apps.
A study from the American Bankers Association found a major shift in the way people interacted with their banks during the pandemic. Prior to COVID, 33% of bank customers used apps on phones or mobile devices as their top option for managing their bank account, 24% used online banking on their computer the most, and 21% most frequently conducted their transactions in person at a bank branch.
The trend toward digital banking has continued post-pandemic, with some consumers ready to give up branches entirely. A PYMNTS survey published in June 2022 found that nearly half of consumers are "very or extremely interested" in digital-only banking.
The mobile apps and online tools that power digital banking provide convenience, and they can also help you keep track of how you spend your money and assess your progress towards your financial goals. "People like the idea of accessing their finances at anytime, anywhere, which also allows them to monitor their spending more frequently," said Barry Baird, TD Bank's head of payments capability and delivery.
With that said, here are eight surprising things you can do without going into a bank branch, and how these tools and resources can help with your financial goals.
Deposit Checks With Your Phone
This won't surprise some people, but it's one of the easiest ways to avoid having to go into a bank branch. This functionality has been around at some banks for a while, but it became even more popular when branches were closed during COVID. "Using the mobile app is by far the most popular way that our members deposit checks because of the speed and convenience," said Day.
You can deposit a check at many banks by taking a picture of the check with your smartphone or tablet. At Bank of America, which has offered mobile check deposit for several years, just open the app, sign the check and specify "for deposit only." Then take a picture of the front and back of the check and upload it on the app, select the account to receive the deposit, and enter the amount. You'll receive a receipt confirming the deposit right away.
Receive Alerts About Account Activity
You can receive alerts for a variety of activities in your account, which can help you stay on top of your finances, track your spending and avoid missing deadlines. These tools can also improve the security of your accounts by giving you you a heads up about suspicious activity.
"Members can opt in to receive notifications of upcoming bills, debit and credit card transactions, deposits, withdrawals, and balances via SMS, email or push notifications," said Day. "It's a great way to enhance account security and track spending and can be managed from mobile or online."
Monitor Your Credit Score
Some banks offer customers a credit score monitoring service. Primary cardholders on Bank of America credit card accounts can receive their credit score each month and up to two key factors affecting their score, as well as information about strategies for improving their score. Bank of America's virtual assistant, Erica, can show them their score in the mobile app.
Chase's Credit Journey credit monitoring service updates scores weekly and sends alerts if there are changes in your credit report that can affect your score. The service is free, and you don't have to be a Chase customer to sign up.
Keep Track of Autopay Bills and Get Alerts About Increases
Signing up to have some of your regular bills paid automatically from your bank account or credit card can save time and help you avoid missing deadlines. However, it's also easy to lose track of what you're paying and how much, and those monthly bills and subscriptions can add up quickly. Some banks' tools make it easy to track and monitor your autopay accounts. For example, Bank of America's virtual assistant can help you monitor recurring charges and increases, letting you know when an automatic payment is higher than usual.
If you do have a lot of autopay bills, it can be time-consuming and complicated to notify all of the companies if your card number changes.
"Keeping track of online subscriptions and updating them if your card is lost, stolen or replaced can be a huge hassle," says Day. "Our Card on File tool lets members easily link their Navy Federal debit and credit cards to popular online merchants. Members can quickly swap out cards for a new, existing or reissued card to ensure they are using the best choice for them when paying subscriptions or making online purchases."
Monitor Your Budget
Several banks have tools to help you monitor your spending and keep on top of your budget — not just listing your transactions, but also categorizing them so you can spot areas where you may want to cut back. "Through the TD mobile app, customers see exactly where their money is going, ultimately helping them practice better spending and savings habits," said Baird.
Chase's app can show you a customized view of your annual spending, broken out by merchant category. Bank of America's app can provide weekly updates on monthly spending.
Bank of America also offers its Life Plan tool through its mobile app, which can help you set and track your financial goals based on your financial priorities, break the goals down into attainable milestones and see your daily progress. You can also receive personalized guidance and recommendations, and even schedule in-person or virtual one-on-one appointments with Bank of America's financial professionals.
Save More Money
Many banks not only make it easy to pay bills automatically through their apps, but they also offer tools to help you save more money. "Our smart savings tools users have saved twice as much as non-users," said Anand Talwar, head of deposits and president of Ally Invest Group at Ally Bank, which offers several goal-based tools to help customers focus on building their savings.
Ally's "buckets" tool lets you divvy up your savings into 10 different savings priorities within a single account, with no fee or account minimum, and you can set goals and timelines for funding each bucket. The tool can help you visualize savings goals and progress toward them at any time. Since the money is all in one account, rather than keeping smaller balances in several accounts, it can be easier to keep track of where you stand, and you may earn more interest. Ally also offers a "boosters" tool that automates recurring transfers into your account and distributes the money across the savings-goal buckets you choose. Additionally, its "round ups" tool turns spare change into savings by rounding up transactions to the nearest dollar. When more than $5 is accrued, it's transferred to your designated savings account.
With Chase's autosave tool, you can create repeating transfers from your checking account to your savings account, or from a linked account at another financial institution. The tool makes it easy to designate a goal, determine how much and how often to transfer the money and track your progress. The tool can even help you with the math when setting your goal — for example, calculating how much to set as an emergency fund goal based on your expenses.
Transfer Money to Other People
Most bank apps also make it easy to transfer money to other people without writing a check.
"The use of Zelle and digital wallets like Apple or Google Pay has become a growing trend throughout the pandemic," said Baird. "As digital transformation progresses, we expect a continued shift away from cash and towards electronic/digital payments. If a customer doesn't want to use cash, they can safely and securely use other payment services, like debit and credit cards or person-to-person payments like Zelle via TD Bank's online service, to send or transfer money at their convenience."
Many banks make it easy to send money through Zelle to people using their mobile number or e-mail address.
Buy a Car
Banks are expanding the services available to customers online, and Navy Federal members can even buy a car online.
"Over the past year-plus, the automotive industry has experienced some dramatic changes. None may be more notable than the shift to online car buying," said Joe Pendergast, vice president of consumer lending for Navy Federal Credit Union. "Manufacturers, car-buying services, and financial institutions have created online and mobile tools for consumers to complete the entire process of researching, buying, financing and insuring their vehicles online and through a one-stop-shop online portal."
For example, in partnership with TrueCar, Navy Federal launched its online car buying service where members can search for the car they want and see what others paid for it, get a real price online (including incentives, dealer discounts and fees), apply for a Navy Federal loan and connect with a dealer to test drive and buy, said Pendergast.
More From GOBankingRates
Daria Uhlig contributed to the reporting of this article.