What Are Neobanks? Here's Everything You Need To Know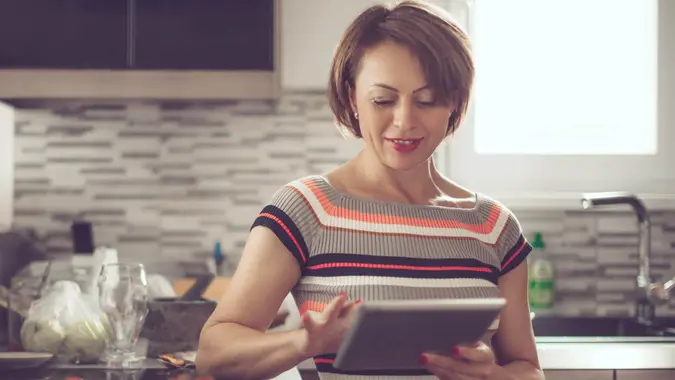 Neobanks, also known as challenger banks, are tech firms that offer online-only financial services through mobile and online banking. Neobanks tend to appeal to tech-savvy consumers since nearly all transactions can be performed online, including transferring money, paying bills and depositing mobile checks.
What Is a Neobank?
Neobanks are online replicas of traditional banks and credit unions. However, their services are more limited. From a user perspective, these institutions are nothing more than money management apps. Their convenience is one of their strongest pillars. You can set up your account within a matter of minutes and start transacting right away.
To minimize risk, most neobanks don't advance credits. Those that do use established banks and credit unions. This keeps their cost low, and they can afford to offer subsidized services compared to traditional banks. Some of their popular services are:
Pros of Neobanks
Take a look at some of the advantages that neobanks have.
Easy Access
With a neobank, your money is a few clicks away. These institutions allow you to access your funds through mobile apps or websites. That means you can get your money any time you want without visiting a physical branch. The systems are also very sophisticated, so you rarely experience downtimes.
Easy To Set Up
Opening an account at a traditional bank is subject to rigorous vetting of your financial history. That means the chances are high of your application being declined if you have poor credit history. With neobanks, opening an account is different. Some of them don't even check your credit history. That means your account has a high chance of approval.
Competitive Rates
Neobanks don't pay for any physical premises. Therefore, their cost of operations is always low. That gives them the freedom to offer competitive rates, unlike traditional banks. While people may pay to save their money in traditional banks, neobanks can do the same without charging a dime.
The interest rates for neobanks are also better. All this is because of their low cost of operation.
Cons of Neobanks
Here are some disadvantages of using neobanks.
Limited Services
Unlike traditional banks, neobanks lack elaborate financial services. Wire transfers and cash deposits are some of the services you can't get at neobanks. It's also not easy to secure loans or investment plans with neobanks.
Limited Customer Service
Without any physical branches, all the assistance is purely online. Different institutions use varied platforms for customer assistance. Some of the common channels include social media, mobile phones and automated chatbots. The downside is that some of these channels aren't effective, especially in an emergency.
Imagine a situation where you've sent cash to the wrong person and you have to tweet and wait for a correspondent. That may mean losing your cash altogether.
Lack of History
The unproven history of neobanks is a downside you shouldn't overlook. Some of them last as short as a year and then collapse. If depositors can get their money back, the process is tedious.
Deposits held by a neobank are only FDIC-insured if the neobank partners with a chartered bank that is an FDIC member. Verify that this is the case with any neobank you're thinking about using. That way, even if the neobank or partner bank closes, your money is safe. However, the inconvenience that comes with retrieving your money if this happens is huge. That's why most people still feel comfortable with their traditional accounts that have a proven track record.
Neobanks vs. Online Banks
There seems to be a lot of confusion between neobanks and online banks. Neobanks offer online banking services, but that doesn't qualify them to be online banks. The differences between the two are that banks have a banking charter — similar to a license to provide banking services — and FDIC insurance. Neobanks have neither, so again, make sure the neobank you're looking at partners with an FDIC insured bank.
Simply put, online banks are a virtual recreation of traditional banks where customers can access all the services. They were created by physical banks to offer competition to neobanks as well and bridge the digital gap. Online banks offer the unlimited services of a traditional bank, and their customers can access their accounts from their computers or mobile apps.
Noteworthy Neobanks and Features
As more banks and corporations evolve to become more mindful of their environmental impact, this has correlated with the gaining popularity of neobanks. Here are some neobanks that offer high transfer limits and are noted for socially conscious practices.
Chime®
Chime* is arguably one of the most well-known of these types of financial tech companies in the United States. Chime's checking account boasts of its lack of fees1 usually associated with most traditional banks. You can transfer up to $10,000 per day and a maximum of $25,000 per month2. The platform also offers up to 2 days early direct deposit payments3 and a competitive annual percentage yield4.
PayPal
Best known as a payment-processing fintech, PayPal is also a neobank. Synchrony Bank provides its banking services, which include checking and savings accounts. You'll need a PayPal personal account to start managing your money through PayPal. Adding a PayPal Balance account lets you access the banking services. There are no minimums or account fees, and savings balances even earn interest.
Aspiration
Aspiration is a socially conscious U.S. neobank committed to helping you spend and save as well as protect the planet — whenever you shop, the bank reforests. It offers several other perks, as well, including cash back and access to more than 55,000 fee-free ATM networks.
The interest offered on the savings account is competitive, too, but you'll have to make at least $500 in debit card transactions each month to qualify. There's a $4,000 daily limit for purchases requiring your signature and a $1,000 daily limit for withdrawals.
Monzo
Like Aspiration, Monzo offers nearly the same benefits along with some socially conscious perks such as planet protection. While Monzo is a full-fledged bank in the U.K., U.S. banking services are provided by Sutton Bank, and accounts are insured up to $250,000. Monzo has no monthly minimums and no ATM, ACH, foreign transaction or overdraft fees.
Final Take
Neobanks were born out of the technology invasion into the banking sector. Just as with the other sectors, there have been tremendous changes. Instead of staying glued to the standard brick-and-mortar banks, banking has diversified. If you fancy transacting online, perhaps neobanks might be perfect for you since you can access everything on the go.
FAQ
Here are the answers to some of the most frequently asked questions regarding neobanks.
What does a neobank do?

Neobanks give you the ability to manage your funds exclusively online. Accounts can be set up in just a few minutes and after that, account holders can pay bills, transfer money and deposit checks with ease.

What is an example of a neobank?

Some neobanks are PayPal, Aspiration and Monzo.

What is the difference between a bank and a neobank?

A neobank differs from a traditional bank in that their rates are typically more competitive but there are no branches to visit in person. There might also be less account variety.

Is PayPal a neobank?

Yes, PayPal is a neobank that provides checking and savings accounts.
Daria Uhlig contributed to the reporting for this article.
Data is accurate as of April 19, 2023, and is subject to change.
*Chime is a financial technology company, not a bank. Banking services provided by, and debit card issued by, The Bancorp Bank, N.A. or Stride Bank, N.A., Members FDIC.
1There's no fee for the Chime Savings Account. Cash withdrawal and Third-party fees may apply to Chime Checking Accounts. You must have a Chime Checking Account to open a Chime Savings Account.
2Funds are automatically debited from your Checking Account and typically deposited into the recipient's Checking Account within seconds. Pay Anyone transactions will be monitored and may be held, delayed or blocked if the transfer could result in fraud or another form of financial harm. Sometimes instant transfers can be delayed.
Sometimes instant transfers can be delayed. The recipient must use a valid debit card to claim funds. Once you are approved for a Chime Checking Account, see your issuing bank's Deposit Account Agreement for full Pay Anyone Transfers details. Please see the back of your Chime debit card for your issuing bank. See Terms and Conditions.
3Early access to direct deposit funds depends on the timing of the submission of the payment file from the payer. Chime generally makes these funds available on the day the payment file is received, which may be up to 2 days earlier than the scheduled payment date.
4The Annual Percentage Yield ("APY") for the Chime Savings Account is variable and may change at any time. The disclosed APY is effective as of May 22, 2023. No minimum balance required. Must have $0.01 in savings to earn interest.
Our in-house research team and on-site financial experts work together to create content that's accurate, impartial, and up to date. We fact-check every single statistic, quote and fact using trusted primary resources to make sure the information we provide is correct. You can learn more about GOBankingRates' processes and standards in our editorial policy.