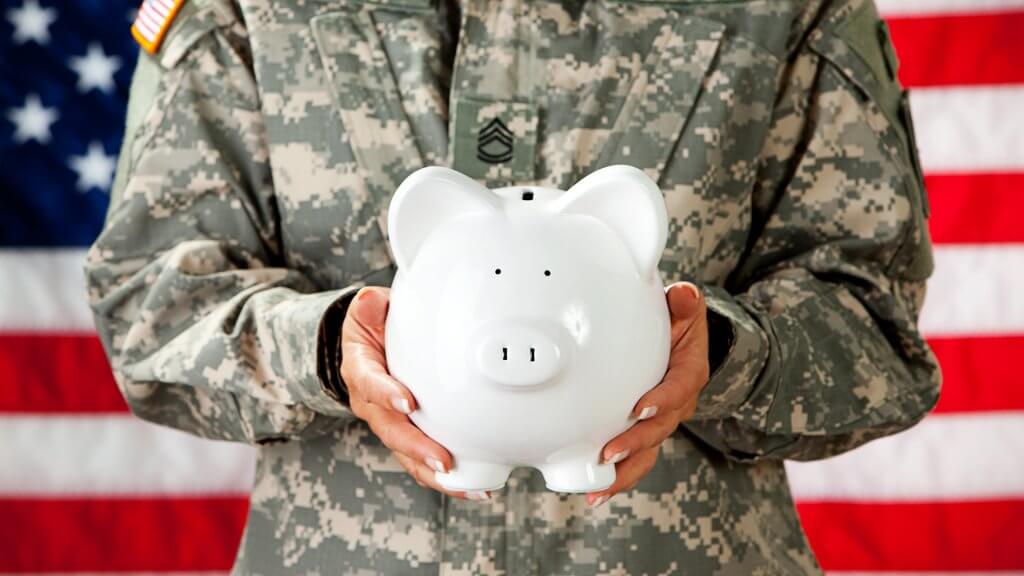 U.S. military members and their families have unique financial needs because of how often they might have to move and travel to best serve the country. Because service members might not have easy access to a bank when traveling, they need to rely on a financial institution that can coordinate money transfers to family members with ease and provide attractive interest rates on savings accounts and CDs as they save for their family's future. Fortunately, several credit unions and military banks provide a range of financial products, competitive rates, and extra perks for military members.
GOBankingRates conducted a study of banks and credit unions that cater to military members and their families. Each financial institution was rated based on the following criteria:
Free checking account and free ATM reimbursement
Range of products offered
Savings account interest rates
12-month CD rates
Here are the best military banks and credit unions:
The Best Military Banks and Credit Unions
To better understand each financial institution's offers for military members and their families, check out the following details.
Navy Federal Credit Union
The Navy Federal Credit Union shows military members it values their service by placing a worldwide network of ATMs and credit union branches near military bases. This military credit union offers 24-hour online and mobile banking services and military members can open a savings account with a minimum $5 deposit. Those who open an Active Duty Checking account with direct deposit can get up to $20 in ATM fee rebates and free military checks.
Other perks include a 0.25% APR discount on select loans with direct deposit and 100-percent financing for mortgages. Spouses and family members are eligible to join. Juniors and seniors attending a service academy are eligible for exclusive offers including a Career Kick-Off Loan with 1.25% APR on a 60-month loan agreement and 0% APR for six months on the GO REWARDS credit card. All members have access to specials including refinancing deals on auto loans, mortgage specials, and an interest rate of 3 percent on certificates.
Randolph-Brooks Federal Credit Union
Active military members, retired or military dependents and civil service or contract employees and military retirees in the state of Texas are eligible to join the Randolph-Brooks Federal Credit Union for their military banking needs. Members can take advantage of free notary services, pay lower fees for safe deposit boxes when they are away, and take advantage of members-only pricing on everything from dental plans to vacations. The credit union also offers electronic banking options including electronic deposits and mobile banking services.
All of the accounts at this credit union earn money, including checking accounts with a 0.05% APY and savings accounts with a 0.25% APY.
Read: Best Credit Unions Anyone Can Join
Pentagon Federal Credit Union
The Pentagon Federal Credit Union, also known as PenFed, offers several membership benefits for those who are members of the American Society of Military Comptrollers. This military credit union provides a range of financial products that compete with some of the best banks, including Visa and American Express rewards cards, auto loans, checking accounts and IRA accounts. Members can take advantage of low rates on 15/15 adjustable-rate mortgages and fixed-rate mortgages. The PenFed Defender American Express Card offers benefits including 1.5 percent cash back on every purchase, unlimited cash back rewards, and a 10.24% APR for all purchases and cash advances.
The PenFed Access America Checking account offers a 0.5% APY for daily balances of $20,000 to $50,000 and a 0.2% APY for daily balances less than $20,000. This makes it easier for military members to earn money on active checking accounts and they can access their account 24/7. Free online bill payment, overdraft protection, and access to over 57,000 free ATMs are other perks of this account.
Air Force Federal Credit Union
Military members of the Air Force Federal Credit Union enjoy the benefits of being a part of a credit union with thousands of branches around the world and 30,000 surcharge-free ATMs around the country. By maintaining a checking account with direct deposit and meeting other requirements, credit union members become eligible for rate reduction rewards that let them take up to 0.5 percent off their loan. Members can get better rates on share certificates and earn bonus rewards of 0.2 or 0.1 percent if they meet certain eligibility requirements. Members start earning money as soon as they open their account.
Members can apply for an Air Force FCU Visa Platinum credit card, which lets them choose the types of rewards they want to earn. Cardholders receive 2,500 bonus points for signing up for the card and can redeem points for a retail gift card, travel or merchandise.
Andrews Federal Credit Union
Military members who open a checking account with Andrews Federal Credit Union receive a Visa Check Card and enjoy no per-check fees. Other perks of this account include 24-hour online access and online bill pay and no monthly fees with direct deposit. Members can also consolidate their IRAs to an IRA with the credit union when they are starting their civilian careers. The credit union offers a range of banking, insurance, and retirement planning products for all members, and can provide assistance to military members who are moving across the country, moving overseas or transitioning into a new life stage.
All members have access to attractive loan offers and affordable payment options. Auto loans, for example, have terms available up to 84 months. Loan products include LoanGuard for loan payment production, a valuable option for military members concerned they might need to cancel or reduce repayment of loan debt because of life events.
Security Service Federal Credit Union
Security Service Federal Credit Union offers the Operation Homefront program for active duty and deployed military members to help them best meet their financial needs. This includes being able to qualify for a 6% APR on pre-existing loans as an active member of the armed forces, deployment services to reduce insurance costs, and military deployment loans with attractive interest rates. Members have access to more than 30,000 free ATMs and 5,000 Shared Branching locations across the U.S. Free, expedited direct deposit service for all military service members is available, allowing members to receive a paycheck between one and three days before its posting date.
Another benefit of opening up a savings account with Security Service Federal Credit Union is that the account can earn a guaranteed 0.10 percent annual interest on up to $10,000 in funds. Money contributed to the Savings Deposit Program makes it easier for military members to build wealth at any life stage. A dedicated military line is available 24/7 for those who want to talk to a live person.
Learn: 6 Financial Tips From Military Experts to Service Members
USAA Federal Savings Bank
USAA Federal Savings Bank has been serving military members and their families since 1922. It offers free checking and early paycheck delivery options, savings on auto insurance, competitive credit card rates and rewards programs, and replacement cost coverage with homeowners and renters insurance. There are no monthly service charges and no minimum balance requirement on savings accounts, and no monthly service fees on checking accounts. USAA also makes it easy for military members with checking accounts to coordinate free transfers and bill payments. There is no initial deposit requirement for new recruits.
All members enjoy payday a day early with direct deposit and can take advantage of competitive APRs and a rewards program. Those who are deployed qualify for special APRs during deployment — they can earn rebates on interest rates during a qualified military campaign. Members have access to a wealth of resources for handling life in the military, including reintegration resources and retirement options.
Langley Federal Credit Union
Langley Federal Credit Union offers free checking and 60-month certificates with 1.61% APY. The credit union offers a range of online services, including electronic transfer payments, check scan deposit services and investments services — ideal for military families on the go. Members with a Langley credit card can earn CURewards and bonus points for shopping at the CURewards Mall. Visa credit card options include 1 percent cash back cards and platinum card benefits with an interest rate as low as 7.25% APR. Members can start the loan process for a car loan, mortgage, home equity loan, personal loan or even student loans online.
Members can also join the Active Rewards program for additional benefits on existing accounts. Expanded benefits include rate enhancements on a certificate, a 0.5-percent rate reduction on vehicle and motorcycle loans, free checks, a 20-percent discount on a safe deposit box rental, and discounts on tax preparation services.
Tyndall Federal Credit Union
Tyndall Federal Credit Union has been serving members since 1956 and currently has more than 106,000 members. Military members can take advantage of several member benefits including low rates on all loans competitive rates on deposits, free ATM transactions at Tyndall ATMs, easy online loan applications, and the convenience of safe deposit boxes. Online banking services are available so military members can manage their accounts from any computer or smartphone when they're on the go. The credit union also has a mobile app and offers mobile deposit options.
This credit union does have minimum deposit requirements and minimum balance requirements for its Regular Share  account. Members can open an account with a minimum deposit of $6 — including a one-time membership fee of $1 — and will need to maintain at least $5 in their account in order to maintain membership. There is no waiting period between opening an account and applying for a loan so those who need a loan right away can submit an application the same day they join the credit union.
Fort Knox Federal Credit Union
Active duty military, Reserve members, Guard members, civil service employees, retired military members and retired civil service employees qualify for membership with Fort Knox Federal Credit Union. Members enjoy lower loan rates on various loan products, online account access including budgeting tools with a personal account manager, and attractive interest rates on savings accounts. Military families interested in money market accounts can take advantage of higher rates than traditional savings accounts and more flexibility than a CD.
Members must pay a minimum deposit of $5 to open a savings account. The bank offers mobile banking services so members can make check deposits at their convenience and also pay bills for free with bill pay. Their accounts are linked to a PopMoney feature that makes it easy to pay friends and family directly.
Military members and retired military members can take advantage of several benefits on financial products, rewards programs, and rebates by joining a credit union that specifically supports them and their families. Credit unions can provide a more personalized experience than traditional banks and many cater to the unique needs of military families with online banking features, convenient ATM locations, and early direct deposits.
Read: 10 Best Credit Union Credit Cards
GOBankingRates is a personal finance and consumer interest rate website owned by ConsumerTrack, Inc., an online marketing company serving top-tier banks, credit unions, and other financial services organizations. Some companies mentioned in this article might be clients of ConsumerTrack, Inc., which serves more than 100 national, local and online financial institutions. Rankings and roundups are completely objective, and no institution, client or otherwise, paid for inclusion or specific placement. Any opinions, analyses, reviews or recommendations expressed in this article are those of the author's alone and have not been reviewed, approved, or otherwise endorsed by the companies included in the article.