4 Better Ways To Manage Your Checking and Savings Accounts in 2023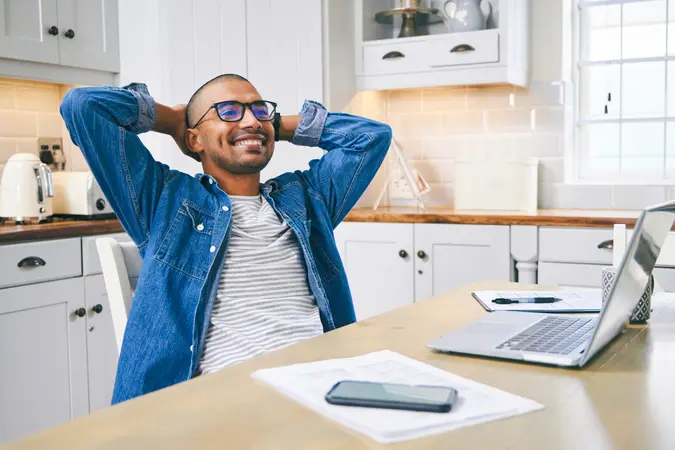 Moyo Studio / Getty Images
Whether you still visit your local branch or you've never owned a checkbook, your choice of bank will play a big role in whether or not your 2023 money resolutions come true. A new GOBankingRates study of 1,000 adults showed that more than nine out of 10 Americans have checking accounts and more than seven in 10 have savings accounts.
We spoke to experts who offered their insight on what you can do to get the most out of your bank or credit union in the new year.
Take Advantage of Today's High Yields — They Won't Last Forever
Less than 15% of the study's respondents said that better rates were the most important factor when choosing a bank. In light of the Fed's ongoing rate increases, it might be time for the other 85% to rethink their priorities.
Upgrade Your Checking Account
"As interest rates rise, you may be able to earn more on your savings by switching to a bank that offers higher rates," said Fluent in Finance founder Andrew Lokenauth, an investing and banking professional who held senior positions at Goldman Sachs, AIG, and other major institutions.
According to the St. Louis Fed, the national average savings yield was just 0.06% from May 2021 to May 2022 — and it wasn't much better before that. Since a return so meager doesn't justify the headache of switching banks even if you find something a little better, most people stuck with what they had out of convenience.
But the ongoing inflation drama has quadrupled the average all the way up to 0.24% — and interest rates are still rising. That kind of increase does warrant a little shopping around. By moving to a new bank, you could increase your emergency fund's yield fourfold or more.
2023 Could Be the Year To Go Online
Around one in three of the study's respondents, the largest plurality by far, keeps their money with a big, national bank instead of a local bank, online bank or credit union.
Upgrade Your Checking Account
Here, too, the masses might want to reconsider.
At the tail end of 2022, Time reported that big, brick-and-mortar banks with a national presence were much less likely to have their yields keep pace with the Fed's rate hikes than their online competitors.
"Online-only banks and mobile banking apps offer higher interest rates, lower fees, and more convenient services than traditional brick-and-mortar banks," said Lokenauth.
Maintaining physical branches is expensive, and online banks can pass their lower operating costs and overhead onto their customers in the form of higher yields. Also, corporate giants are more likely to be flush with cash and less compelled to raise yields to compete for deposits.
According to Time and Forbes, online banks Best Bank, My Savings Direct, UFB Direct and Vio Bank are all paying more than 4% interest at the start of January. Bank of America, on the other hand, pays a nearly invisible 0.01%.
Features Can Be as Important as Yields
If you do decide to change banks, put as much weight on features as you do yields when choosing a new home for your money. Even if you're among the 65% of respondents who have no interest in switching, take the time to reacquaint yourself with your current bank's features, which Clearsurance.com banking expert Shawn Laib says "can do most of the heavy lifting."
Upgrade Your Checking Account
"For example, the BECU app tracks every purchase by type," said Laib, in reference to a well-known credit union. "This is great for people who want to know where their money is going and don't have time to create their own spreadsheet."
Great features and tech can make the banking experience more convenient and less frustrating — but they can also save you money. Ally Bank, for example, automatically refunds out-of-network ATM fees up to $10 per month. That's important because just a handful of ATM hits to your checking account per year can quickly erase any gains you make with a higher-yield savings account.
"Another useful aspect of checking accounts is the ability to get your paycheck earlier," said Goran Luledzija, CEO of fintech localization platform Localizely. "Few people know this, but it depends on the bank whether early access to a paycheck is possible."
For example, the fintech company Chime offers early paycheck access — and they'll spot you $200 on debit card purchases with no overdraft fees.
Other features to look for include integrated p2p payment tools like Zelle, credit tracker tools, budgeting tools and bonuses for direct deposit.
Upgrade Your Checking Account
"If you're not using these features, you're missing out on valuable resources that will help you manage your money more effectively," said Lokenauth.
Leverage Cross-Product Benefits and Never Pay Fees
Just like your insurance company and cable provider, your bank probably offers incentives to consolidate all your financial products and services with them.
"It's worth looking into bonus offers or bundled-account deals that may be available from your bank or other financial institutions," said Lokenauth. "These types of offers can provide extra value by offering perks such as cash back or other rewards for using certain products or services."
One of the simplest but most important cross-product benefits is using your savings account as overdraft protection for your checking account. Many institutions also offer their checking and savings account holders special rates on things like mortgages, home equity and personal loans.
Finally, with so many banks offering truly free checking and savings accounts, there's simply no reason to pay fees of any kind. In fact, many checking accounts now pay modest yields with no minimum deposit or balance requirements.
Upgrade Your Checking Account
The study showed that more than 40% of the people surveyed are most concerned with fees — the largest group by far — but many industry players still haven't gotten the memo.
"Some banks live off hidden charges, e.g., maintenance, overdraft fees, and many other fees," said Janet Patterson, loan and finance expert with Highway Title Loans. "You must change your bank if you see your balance shrinking without even withdrawing or spending."
More From GOBankingRates
Methodology: GOBankingRates surveyed 1,000 Americans aged 18 and older from across the country on between December 7 and 12, 2022, asking nineteen different questions: (1) What category does your current financial institution fall under?; (2) Have you considered changing Banks within the past year?; (3) If you have considered changing banks in the past year, were any of the following factors? (select all that apply):; (4) Which feature, perk, or other offering is most important to you when opening an account with a new institution?; (5) Are you currently satisfied with all your banking products and services offered by your Bank/Credit Union?; (6) Would you ever have different types of accounts across multiple banks? (i.e. Checking at Chase, but Savings at TD Bank); (7) What is your most preferred method of banking?; (8) Which of the following is the biggest factor of you staying with your current bank?; (9) Which of the following bank accounts do you currently use/have open? (Select all that apply); (10) How much is the minimum balance you keep in your Checking Account?; (11) How much do you currently have in your Savings Account?; (12) What amount of a sign-up bonus would make you consider switching banks?; (13) Have you considered using any app-only banking platforms (aka neobanks) in the past year (e.g. Current, Upgrade, Chime, Dave, etc.); (14) How important is it to you for your bank to be affiliated with a crypto exchange/platform?; (15) In the past year how often have you written a physical check?; (16) When was the last time you visited your bank in-person?; (17) Why would you choose to visit your bank in-person? (Select all that apply); (18) When you think about banking, do you think of it as something you need or don't need?; and (19) What services/products do you expect from your Bank and/or Credit Union? (Select all that apply). GOBankingRates used PureSpectrum's survey platform to conduct the poll.
Upgrade Your Checking Account