5 Best Checking Accounts for Teens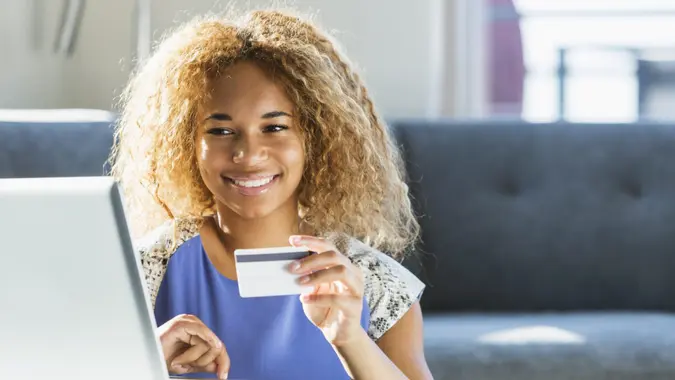 kali9 / Getty Images
For teenagers today, money is all about the app or the swipe — getting paid via Venmo for babysitting or cleaning the neighbor's pool, for instance, or buying at the fast-food joint with Apple Pay. But those easy payment apps are linked to some sort of account somewhere.
And that could be a checking account. Your teen might not have any concept of checking accounts, checks or when to use them. After all, you probably don't write that many checks these days. But the checking account is far from obsolete, and the best time for your child to open one is as a teen, before college, while you can teach the ins and outs of a checking account. You don't want to get that emergency call from college about bounced checks and service charges.
Keep reading to learn more about the best checking accounts for teenagers.
What Are the Best Checking Accounts for Teens?
While many financial institutions offer checking accounts designed for older teens, such as college students, not many have banking products available for younger teens, like high school students. Here are some of the best accounts available nationwide at banks and credit unions.
Earn Perks With A New Checking Account
Capital One: Money Teen Checking
Capital One's offering in the teen checking market, the Money account, is open to preteens, too. In fact, any child at least 8 years old is eligible to have a checking account. Your child doesn't need a lot of money to open an account, either. Capital One's account doesn't require a minimum balance or assess monthly service fees.
The account comes with a debit card, too, to make depositing — and spending — that paycheck or birthday check from Aunt Debbie easy. Parents can get account alerts through the app and lock or unlock the card with parental controls. If parents want to directly deposit money into their teen's account, they can do it from any account. A Capital One account isn't required.
And if you're wondering whether you can open a teen checking account online, the answer is yes. You'll conduct Capital One's transactions, beginning with the account opening, entirely online.
Pros: Access to more than 70,000 fee-free ATMs nationwide, no maintenance charges
Con: Limited branches should you want your teen to sit down with a banker
Navy Federal Credit Union: Free Campus Checking
Navy Federal Credit Union offers its Free Campus Checking to students ages 14 to 24. The account carries no monthly maintenance fee, and it doesn't have a minimum balance requirement. It comes with up to $120 a year in rebates of ATM fees.
Earn Perks With A New Checking Account
Account holders also earn APY and dividends at the same rate. The account comes with a free debit card and has an array of digital banking options. Complete the account application online.
To qualify for an account, the teen must have ties to the armed forces, Department of Defense or National Guard through a parent, grandparent or guardian.
Pro: Rebate of ATM fees
Con: Membership required
Connexus Credit Union: Teen Checking Account
Members of the Connexus Credit Union can sign up their children ages 10 to 17 for a Teen Checking Account. When the account holder turns 18, the account will convert to a standard adult account.
Until then, account holders can earn an APY of on balances of up to $1,000; balances above that amount earn a lower APY. There aren't any minimum balance requirements, either.
Account holders won't pay to use their free Visa debit cards at a network of 67,000-plus surcharge-free ATMs across the country.
Free membership is limited to employees of specific companies or residents of various communities in Illinois, Minnesota, Ohio or Wisconsin, but anyone in the 50 states can pay $5 to join the Connexus Association, which grants membership.
Earn Perks With A New Checking Account
Pro: Interest rate of APY
Con: Membership required
Axos Bank: First Checking
The First Checking account is for teens 13 through 17 (18 in Alabama), and it requires an adult co-owner. Your teen will need $50 to open the account at Axos Bank, which is an online bank.
While it is called a "checking" account, there are no check-writing privileges. Since you can't bounce a check, that means no non-sufficient funds or overdraft fees. It pays APY interest.
The account comes with preset limits: $100 in cash withdrawals or $500 in point-of-sale transactions per day. Up to $12 in domestic ATM fees are reimbursed each month, and there aren't any maintenance fees.
Pro: Strict limits to help control spending
Con: No check-writing privileges
Alliant Credit Union: Teen Checking
Alliant Credit Union offers a checking account specifically designed for members ages 13 to 17. The parent who is the joint owner also must be an Alliant member, and the nationwide credit union is easy to join. Once you join and open your account, you won't face a monthly service fee or minimum balance.
Teens can manage their money through an app or use their debit cards and one of more than 80,000 fee-free ATMs. If teens incur an ATM fee anywhere, they are eligible for up to $20 a month in ATM fee rebates.
Teens will get their first box of checks for free, and the account is eligible for APY, provided the account meets certain qualifications: agreement to receive electronic statements instead of paper ones and a monthly recurring electronic deposit.
Pro: No money service charges or minimum balance
Con: Interest earned only if account meets specific conditions
Can I Open a Checking Account for My Teenager?
You will be part of the process when your teenager opens a checking account. That's because minors can't open a bank account on their own.
To be eligible to open an account at a U.S. bank, applicants must:
Be 18 or older
Have a government-issued identification card
Have a second form of ID, such as your Social Security card, your birth certificate or a bill bearing your name and address
Fund the opening deposit
Given those requirements, your child can't open an account without the help of an adult. So you'll open the checking account as a joint owner with your teenager, most likely.
What Should I Be Teaching My Teen About Money?
Teenagers today see so much plastic that they need to learn it's backed by hard-earned paper. You probably started your children's journey toward financial literacy very early by showing them how 10 dimes equal one dollar, for example, or that they needed to use those same 10 dimes to buy a pack of gum.
As they get older, the lessons get more complex, especially when it comes to managing a checking account and the attached debit card. Start by discussing how we pay for the needs first, followed by savings and then the wish list. And while having $100 in the bank might seem like a big amount to a 13-year-old, take your child on a few errands with you to show just how fast $100 can go in real money.
Go to the ATM with your kids and deduct $100 from your account, for example, that you will spend to accomplish your list of errands. After $19 at the dry cleaner, $14.56 at the drugstore and $65.12 at the supermarket, all on the "must-have list," they'll see there just isn't enough money left for your "wish" of a large smoothie. The lesson is clear when it is learned in cash and not just with a swipe of the card at the register.
At the same time, teach your child how to keep their checkbook register, whether on paper or via their app. Each one of those debit card purchases or cash withdrawals needs to be accounted for, either on paper or via a budgeting app, so that both of you know how much money is in the account. Schedule a regular financial meeting to go over the register, talk about spending and saving patterns and discuss upcoming events where your teen might want to pull out the debit card.
Final Take
It's never easy to talk to our kids about money. A CNBC/Momentive poll conducted in early 2022 showed that 83% of parents with children under 18 said they were most responsible for teaching their children about money, but 31% acknowledged they never did. But talking to your kids about all those money cliches from early on — pennies grow into dollars, a penny saved is a penny earned, money doesn't grow on trees, save for a rainy day — will help to instill a good foundation when it comes to money. And you'll be able to build on that foundation when they open that first checking account under your watchful eye before they head off to college.
Rates are subject to change; unless otherwise noted, rates are updated periodically. All other information on accounts is accurate as of Aug. 15, 2022.
GOBankingRates is a personal finance and consumer interest rate website owned by ConsumerTrack Inc., an online marketing company serving top-tier banks, credit unions and other financial services organizations. Some companies mentioned in this article might be clients of ConsumerTrack Inc., which serves more than 100 national, local and online financial institutions. Rankings and roundups are completely objective, and no institution, client or otherwise, paid for inclusion or specific placement. Any opinions, analyses, reviews or recommendations expressed in this article are those of the author alone and have not been reviewed, approved or otherwise endorsed by the companies included in the article. All fees and rates are subject to change at the issuers' discretion. Some interest rates might be short-term or promotional offers only, and it is possible additional terms and conditions must be met to obtain the interest rates listed. Rates and availability might vary by region. Verify terms and conditions before opening an account.
GOBankingRates bases its assessment of "best" and "top" products on the above-stated parameters to create a baseline for comparison. This assessment is an approximation of "best" and "top" designed to help consumers find products that might be appropriate for them. There could be other options available as well. Consumers should consider various options appropriate for their circumstances.
Earn Perks With A New Checking Account