7 Little-Known Bonuses of Checking Accounts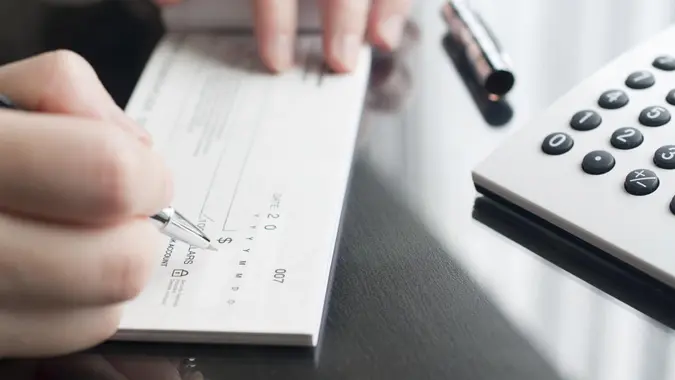 ©iStock.com
Your checking account may seem boring, but it actually might be packed with some amazing perks that you don't know about.
See the List: GOBankingRates' Best Banks of 2023
Also: 4 Best Places To Keep Your Money That Aren't a Checking Account
While most people use their checking accounts for day-to-day money tasks like deposits, withdrawals and bills, there are several features available that allow you to do so much more. From international access to earning rewards, some checking accounts offer a wide range of services and other benefits.
Here are seven little-known bonuses of checking accounts.
Also see what to know if you deposit more than $10,000 into your checking account.
Government Protection (FDIC Insurance)
Did you know the government protects the money in your checking account?
U.S. banks are required to cover deposits into checking accounts through FDIC insurance. This insurance will pay you up to $250,000 (per person) for deposits in a checking account, if for some reason the bank loses your funds or goes out of business.
Earn Perks With A New Checking Account
This protection is backed by the Federal Deposit Insurance Corporation, an independent agency that was created by Congress after the Great Depression to protect your money. So, even if a bank goes bankrupt, your money is safe.
Take Our Poll: Do You Think Bankruptcy Is an Acceptable Way To Escape Student Loan Debt?
High Interest Rates
While checking accounts are not known for their high yields, some actually offer high interest rates. High-yield checking accounts offer the same services as other banks, but with interest rates closer to high-yield savings accounts.
If you typically keep a high balance in your checking account, this can be a great way to earn some passive income with the money you already have. Some of these checking accounts are paying 3% APY or more and still offer things like direct deposit, free checking and no ATM fees.
There might be some limits on the interest earned, such as paying a high rate up to the first $10,000 deposited. You also might have to set up direct deposit or meet minimum transaction requirements to qualify for the higher interest rates. But if you are already doing those things, this can be a great perk.
Earn Perks With A New Checking Account
Automatic Bill Pay
While many services let you pay bills automatically through the company website, managing all of your bills in one place can make things simpler. Many checking accounts offer bill pay services, letting you set up automatic payments for each one.
Bill pay services are fairly easy to set up. You just need to navigate to your bank's online bill pay service and select the company you want to pay. If the company is not on the list, you may need to add in your account number and the company's address and information to pay.
Most bill pay services let you select a date on which to pay the bill automatically, and some will even send out paper checks to services that don't allow online payments.
Bill payment is a simple perk that buys you some time back, and offers less hassle than individually paying dozens of online bills.
Earn Rewards
Did you know that some checking accounts offer rewards?
Earn Perks With A New Checking Account
While most people think of credit cards for earning rewards, some checking accounts now offer cashback rewards for using a debit card. The rewards can be up to 1% cashback on debit card purchases and typically deposit the funds back into your account each month.
It is important to note that rewards checking accounts typically limit the amount of rewards you can earn each month, and they might require a high minimum deposit. You also might need to set up direct deposit or execute a minimum number of transactions each month to qualify.
But if you want to earn rewards for using your debit card like you normally would, a rewards checking account may be a good option.
Automated Transfers
While most checking accounts allow direct deposit and automatic bill pay, did you know you can automate most of your financial life through automated transfers? Sometimes referred to as a "recurring transfers," you can set up regular money transfers to other accounts through your checking account.
If you want additional organization, you can open up multiple savings accounts and name them for each savings goal. Then you can set up a regular automatic transfer to save small amounts toward your goal each month. This is a great way to save for large upcoming purchases automatically.
You also can automate transfers to your investment accounts or your debt payoff, helping you reach your financial goals faster. Just make sure you have the money in your account when each scheduled transfer goes through.
Sign-Up Bonus
If you are considering getting a new checking account, many banks offer sign-up bonuses for joining and using their checking accounts. You can earn up to $300 at many banks, and this money is deposited right into your account after you meet the requirements.
You will most likely need to deposit a minimum amount to earn the bonus, and you also might need to set up direct deposit. In addition, bonuses typically require you to maintain a minimum balance for a specified amount of time.
But, if you are in the market for a new checking account, finding one with a sign-up bonus is a quick way to earn free money.
Get Paid Early
If you set up direct deposit on your checking account, some banks are now offering access to those funds before you actually get paid. Since deposits may take a day or two to clear, some banks will give you access to your upcoming deposit up to two days early.
You might need to opt in to the early paycheck service through your bank, and the funds might not always be available two days prior to getting paid. Most banks will need to see the pending deposit before giving you access to the funds.
But if you already use direct deposit and want to potentially get paid early, find a bank that offers early access to paychecks through a checking account. 
Bottom Line
Checking accounts are a part of our everyday lives, but they offer more than just basic money services. These perks can help you earn passive income, automate your financial life and even get free rewards.
Just make sure you always read the fine print before signing up for a checking account with extra perks. Make sure it makes sense for your finances and that you can meet the requirements to access those benefits.
More From GOBankingRates
Earn Perks With A New Checking Account