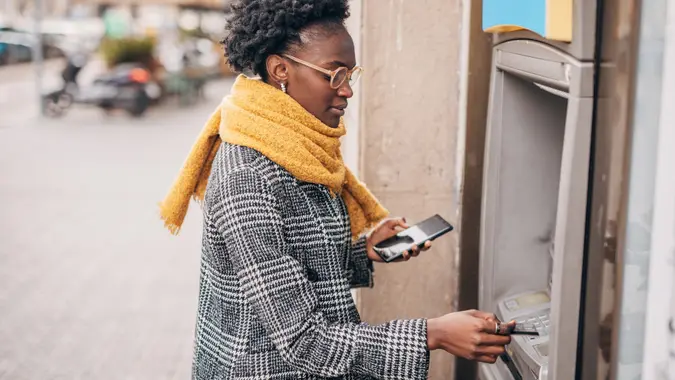 South_agency / iStock.com
Spending money is a necessary part of daily life. How you spend it can affect not only your larger financial picture but also your short-term and long-term budgetary goals. Whether it is writing a check, borrowing money or just your next online shopping spree, every swipe should make sense.
Read: How To Guard Your Wealth From a Potential Banking Crisis With Gold
Debit Card Definition and How It Works
A debit card is a payment card that lets you pay for purchases or withdraw money directly from your checking account in your bank, credit union or other financial institution. It is often also referred to as an ATM or bank card, and offers the convenience of cashless transactions without incurring debt you'd have to repay with interest.
With this type of card, be aware that even though they don't accrue monthly interest charges, your bank might charge other debit card fees, such as:
ATM fees
Out-of-network charges
Monthly maintenance fees
Foreign transaction fee
Is It Easy To Get a Debit Card?
The good news is that getting a debit card is easy. When you open a checking account at a financial institution, you usually will receive a free debit card as part of the process. If not, you can request one.
When you're considering opening a checking account and getting a debit card, look for a bank that offers a free checking account or makes it easy to avoid fees. Compare each bank's monthly fees for opening and using a checking account. Some banks have daily account balance minimums to avoid fees, while others do not. Careful planning can help you save money.
Upgrade Your Checking Account
Where To Use Debit Cards
This form of payment is valid for in-store or online purchases wherever the payment processing network indicated by the card's logo such as Mastercard or Visa debit card, is accepted. You can also use a debit card to withdraw money from your bank account, whether via an ATM or by requesting cash back at the register when you pay with the card in a personal identification number, or PIN, transaction.
Pros and Cons of Debit Cards
Debit cards have both advantages and disadvantages, so once you understand how they work, you can better decide on the best uses for you.
Pros:
It helps to manage your money. You can only spend what you have, so you won't have the repercussions of high-interest rates and suffocating monthly balances.
It can be a way to simplify your finances because you see all your purchases and withdrawals on a single bank statement.
You don't have to meet credit requirements.
Provide the convenience of plastic but don't rack up debt as credit cards do.
Cons:
It's not reported to the credit bureaus, so it doesn't help you establish or strengthen your credit.
There are daily spending and withdrawal limits that can cause your card to be declined if you try to make a large purchase or ATM withdrawal.
Rewards programs are usually not as robust as those offered by credit cards.
Some merchants, such as gas stations, place a temporary hold on funds in your account to ensure you have enough money to pay for the purchase. These holds are usually released within 48 hours.
Debit Card vs. Credit Card: What's the Difference?
There are many forms of plastic in either your wallet so it is good to know the nuances of how they work. Debit cards and credit cards differ in several ways:
Whereas you access your own money with debit cards, credit cards are funded by credit card companies, and you pay them back for the amount you charge — plus interest, when applicable
Credit cards are more secure because they are not directly attached to a bank account.
Credit cards usually offer more rewards for purchases.
You can incur interest charges with credit cards, but not with debit cards.
Whereas debit and credit cards both have payment processing network logos, your debit card has the word "debit" somewhere on the face of the card to help you differentiate between it and a credit card.
Upgrade Your Checking Account
Are Debit Cards Safe?
The general fear about debit cards is the risk of becoming a victim of fraud because the card is directly attached to your bank account. But banks have anti-fraud measures in place to keep your card and your account secure.
The cards currently being issued by banks have an embedded chip that drastically reduces the risk of fraud. You'll know your merchants' card readers are chip-enabled if they require you to insert your card rather than swipe it. PINs and security codes also help to secure your account.
Final Take To GO: Money Management
A debit card can help you manage your finances as long as you track your account balance and remember that you're essentially spending cash directly from your account. The interest charges you save by spending carefully and choosing debit over credit might even free up money you can use to build savings.
Daria Uhlig contributed to the reporting for this article.
Our in-house research team and on-site financial experts work together to create content that's accurate, impartial, and up to date. We fact-check every single statistic, quote and fact using trusted primary resources to make sure the information we provide is correct. You can learn more about GOBankingRates' processes and standards in our editorial policy.