Here's Your BECU Routing Number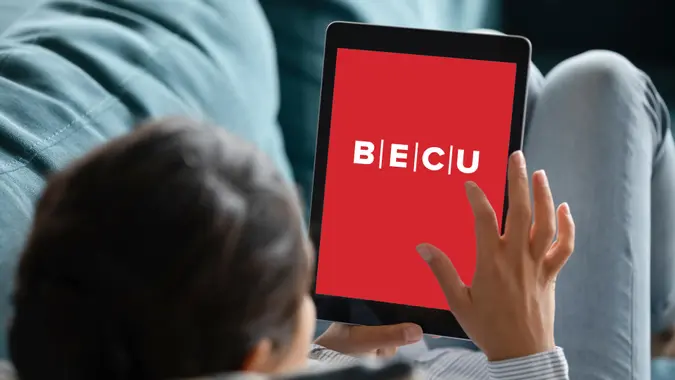 fizkes / Getty Images/iStockphoto
When filling out a form for a direct deposit, setting up an automatic payment or even ordering checks, you will need to provide your routing number, as well as your checking or savings account number. Using a routing number will ensure that the money is debited or credited to the correct account.
If you have an account with BECU, whether you visit your local branch or primarily use BECU online banking, you'll need to know your routing number for a number of reasons.
What Is Your BECU Routing Number?
The routing number for BECU is 325081403. The BECU routing number is the same for every state in the country. 
How to Find Your Routing Number
There are a few ways to find a BECU routing number. BECU only has one routing number, so you can simply refer to the number above or follow the steps below.
If you have a BECU checking account, you can also find your routing number on a check — the check routing number is the first nine numbers in the lower left corner.
You might not have a check handy, however, so you can also call BECU any time at 800-233-2328 to find the routing number for your account. If you are at all confused about which number to use, you should consider calling BECU, because using the right number could mean the difference between your money going into the right or wrong account.
Understanding Your BECU Routing Number
Your routing number is basically the address for the bank, whereas your account number is the specific address of your account.
These numbers work in a similar way to how your BECU online banking login gives you access to your account. The routing number allows the banking system to process your check through the local processing department and send the information to the correct bank, which then uses your account number to either debit or credit your account the right amount of money.
Each routing number is nine digits long. The first four digits refer to the Federal Reserve Routing Symbol, the next four digits serve as the institution identifier for the ABA and the last is the check digit. Both banks and credit unions have nine-digit routing numbers.
When You Will Need Your BECU Routing Number
You'll need your routing number in a variety of different situations, including any time you're setting up an automatic transaction that will affect your account. Often these services will require a copy of your voided check to make sure the number is correct. Services that have this requirement can include:
Direct deposits
Automatic payments
Tax refunds and payments
Automatic transfers between bank accounts
Mortgage payments
Different Routing Numbers for Wire Transfers
The routing number on your checks is used primarily to help move money between your bank account and someone else's account. Wire transfers have fees and they use a different set of numbers.
You'll also want to verify the exchange rate if you are transferring to a foreign bank. You can verify this with BECU online or by calling.
Here are the BECU routing numbers for wire transfers:
Information is accurate as of Jan. 30, 2023.
Editorial Note: This content is not provided by any entity covered in this article. Any opinions, analyses, reviews, ratings or recommendations expressed in this article are those of the author alone and have not been reviewed, approved or otherwise endorsed by any entity named in this article.