How To Get Money Back From Cash App If Scammed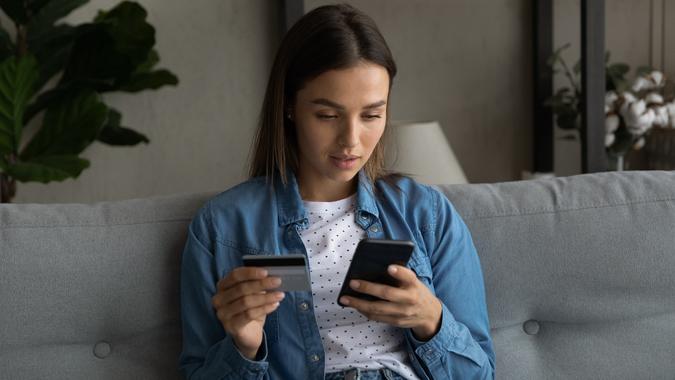 fizkes / iStock.com
While many people act in good faith, there are plenty of con artists and scammers out there, too. According to the U.S. Federal Reserve, there were 2.8 million reports of fraud across the country in 2021, with losses growing 70% year-over-year to $5.8 billion.
As scammers continue to look for new ways to get their hands on consumers' hard-earned money, financial institutions are fighting back, providing ways for their customers to recoup that money. Filing a dispute with their credit card companies is one way consumers can get their money returned. But what about Cash App? How do scammed Cash App users get their money back?  
Can You Get a Refund on Cash App If Scammed?
One of the most popular mobile payment apps in the United States, Cash App offers basic fraud protection services. These services include canceling pending transactions, requesting a refund from the receiver in transactions and ultimately disputing transactions if the receiver of the money won't provide a refund. 
How Do You Get a Refund on Pending Transactions?
Cash App transactions generally happen instantly and users typically can't cancel them, but they do have the option to do so before a transaction is completed in some rare cases. If you believe a pending transaction is fraudulent and want to try to cancel it:
Log in to Cash App. 
Tap the clock icon in the top right-hand corner of the screen to view recent activity. 
Locate the transaction you believe is fraudulent. 
Tap the fraudulent transaction.
Look for a "Cancel" link. If there is no cancel link, Cash App has already finalized the transaction. Click the link if the option is available to cancel the transaction.
How Do You Get a Refund on Completed Transactions?
There are two options for users to get their money back from Cash App even if the transaction is already finalized. These options are requesting a refund and reporting the scam to Cash App in an effort to dispute the transaction.
Request a Refund on Cash App
Requesting a refund is the first course of action Cash App members have to get their money back once the app has completed a transaction. To do so:
Log in to your Cash App account. 
Tap the clock icon in the top right-hand corner of the screen to view recent transactions.
Locate the transaction in question.  
Tap the transaction.
Tap the "Refund" option. 
Tap "OK."
Cash App will send the refund request to the merchant once the process is complete. Cash App requires merchants to respond to refund requests within 10 days, but the decision of whether to provide refunds based on these requests is solely up to the merchant. Unfortunately, fraudsters aren't likely to be willing to just hand their stolen money back to their victims.  
If they don't receive their money back within 10 days, users should escalate the issue by disputing the transaction. 
How Do You Report a Scam to Cash App and Dispute the Transaction?
Con artists aren't known for returning money they've stolen unless they're forced. Disputing a transaction is a way to coerce a merchant to return the money you paid if they can't prove they've provided the product or service expected.
Users should only file disputes after they have attempted to contact the merchant, requested a refund through Cash App and failed to get a resolution. If that's the case, follow the steps below to report the scam and dispute the transaction:
Log in to Cash App.
Tap on the clock icon in the top right-hand corner of the screen to view recent account activity.
Locate the fraudulent transaction and tap on it. 
Tap the icon that looks like three small dots. 
Tap on the "Need Help & Cash App Support" option.
Tap "Dispute Transaction."
Fill out all fields, answering all questions as accurately as possible to complete the dispute request. 
Once you've filed the dispute, the Cash App team will investigate the claim. In many cases, the team sends the claim to the Visa network for further investigation. Visa contacts the merchant on the other side of the transaction to request evidence of the promised product or service and the actual product or service provided. 
After a thorough investigation, Visa will determine whether the transaction was a legitimate payment for products or services. If Visa finds that the user didn't receive the promised product or service, Cash App will issue a full refund to the user's account.    
How Do You Report a Cash App Scam to the Government?
There are two common ways to report fraud to the government: through the Federal Trade Commission or the IC3. Both agencies will require information to identify the victim and the con artist as well as details of the fraudulent transaction.
There are two key benefits to reporting scams to the government:
Receive help getting your money back. Fraud victims may receive help having their money returned. 
Help protect others. Reporting fraudsters to the government could lead to the government catching up to the scammers and arresting them so they don't prey on others. 
What Can Be Done To Avoid Cash App Scams?
There are several things users can do to avoid Cash App scams. To stay safe from scammers, you should:
Avoid sending money to someone you don't know. 
Double-check all information before sending money. 
Avoid sending money to someone who promises future products or services. 
Double-check the other person's profile before sending money to make sure it's going to the right recipient. 
Good To Know

Cash App includes optional security features like fingerprint scans, face identification and notifications. Users should take advantage of these features to reduce their chances of becoming fraud victims. 
FAQ
It's common for fraud victims to have questions about the activity itself and how they can get their money back. Here are answers to some of the most commonly asked questions.
Will Cash App refund my money if I get scammed?

Yes, in most cases Cash App will refund money to fraud victims. Scammed users should log in to their Cash App accounts, locate the fraudulent transaction and notify the platform by filing a dispute.

What happens if I get scammed on Cash App?

What happens after a scam takes place on Cash App or otherwise is up to the victim. While some victims will ultimately accept the loss, they don't have to. Instead, they should follow the steps above to work toward getting their money back and reporting the scam to the proper authorities.

Can someone hack your Cash App with your email?

Cash App offers multiple security features to help keep your account safe, and it's unlikely that anyone will be able to access an account without the account holder offering up sensitive information. Cash App users should take advantage of enhanced security features like face ID and fingerprint scans as well as push, email and text notifications, adding multiple layers of security to keep hackers out.
Information is accurate as of April 13, 2022.