7 Best Money Transfer Apps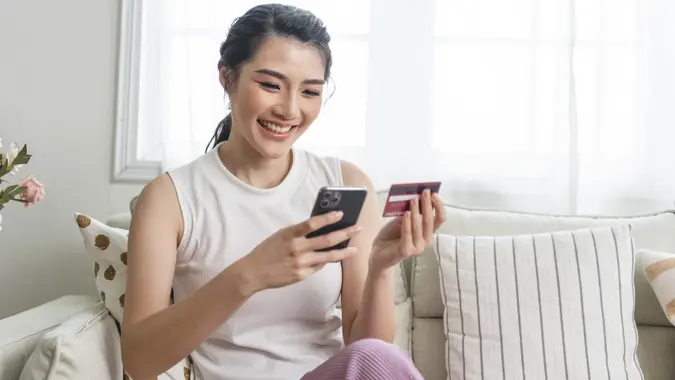 baramee2554 / iStock.com
It used to be that when you wanted to transfer money, you would have to go to a bank, credit union or other financial institution in person. Now you can send money — to your friend across the table or your relative across the globe — through money transfer apps on your phone.
Payment apps are convenient and popular. Most adults in the United States have used one, and approximately $893 billion passed through these services in 2022. That number should increase to around $1.6 trillion by the end of 2027, according to the Consumer Financial Protection Bureau.
7 Best Money Transfer Apps
When sending money to a friend or family member, you want a service that's easy to use, protects your information and gets the money to them as quickly as possible. Other considerations include fees and funding sources. So which service is right for you? Take a look at seven of the best money transfer apps and find out.
Best for simplicity and ease of use: Cash App
Best for transfer limits: PayPal
Best for international delivery options: Remitly
Best for social money transfers: Venmo
Best for service coverage: Western Union
Best for international transfers: WorldRemit
Best for no-fee transfers: Zelle
1. Cash App
Best for simplicity and ease of use
Cash App is the No. 1 finance app in the App Store and Google Play — and there is a reason more than 55 million people have an account. It's easy to use, and you can transfer money quickly to anyone in the U.S. as long as they have an email account or phone number and are willing to sign up for an account.
Why Cash App Stands Out
Compared to other money transfer apps, Cash App does more than peer-to-peer transfers. Users can pay for purchases from Square Sellers, buy and sell bitcoin, invest in the stock market and file taxes. Cash App now partners with Sutton Bank to provide banking1 services like direct deposit and a debit card, which makes it possible for some users to use the app for their primary banking needs.
Fees
You can avoid paying fees by using your Cash App balance or linked bank account to send money and if you are willing to wait to receive a cash-out. Otherwise, here's what you can expect to pay:
Standard cash-out: $0
Instant cash-out: 0.5% to 1.75% (25-cent minimum)
ATM withdrawal: $2.50
Send money from linked credit card: 3%
Paper money deposit: $1
Pros
Free to use basic services
Free debit card
Cash Boosts (instant discounts with select merchants) available
Cons  
3% processing fee when using a linked credit card
No refunds if you send money to the wrong person
2. PayPal 
Best for transfer limits
Dating back to 1998, PayPal has become synonymous with money transfers in the digital age, and there's a reason more than 428 million people still use the platform to send and receive money. It's super easy to install and very user-friendly, plus it's available in over 200 countries/regions and supports 25 currencies.
The only downsides are that there can be high transaction fees to send money and PayPal may place a hold on funds, delaying accessibility to them. Additionally, customer service can be a pain to get ahold of, largely because this app is just so incredibly popular.
Why PayPal Stands Out
PayPal's history and size set it apart from the other apps on this list. Not only does the company have more users, but it also provides additional benefits. One notable perk is the PayPal credit card that gives you six months of no interest when you use it for purchases greater than $99. You also have access to higher transfer limits — you can send as much as $60,000 in a single transaction if you meet the company's criteria.
Fees
PayPal's fees are similar to what you find on other money transfer apps. However, the fee for transferring money internationally is high if you need to convert the currency. Here's an overview of what you may pay:
Standard withdrawal to bank account or linked debit card: $0
Instant transfer to bank account or card: 1.75%
Paper check: $1.50
International transfer fee: 5% (99-cent minimum and $4.99 maximum)
Pros  
Widely accepted by businesses and individuals
No charge to send money domestically to a friend from PayPal balance, bank account or Amex Send® Account
Paper check option for receiving money
Cons
International transaction fees can be high compared to other apps
Sender and receiver need a PayPal account
Funds may be held for up to 21 days
All information about the Amex Send Account has been collected independently by GOBankingRates and has not been reviewed or approved by American Express. The Amex Send Account is not available through GOBankingRates.
3. Remitly
Best for international delivery options
Created as a platform for immigrants who need to send money to friends and family members back home, Remitly's app is great for international transfers to more than 170 countries. It even gives you multiple delivery options. In addition to having your money directly transferred to a bank or your recipient, you can also have it delivered to their home as opposed to a cash pickup. It is a reliable and secure money transfer service that will refund your fees if the money isn't transferred on time, and new customers can try out the service at a reduced rate.
Why Remitly Stands Out
Since Remitly was designed for immigrants, the company offers a number of features catered to their needs. The home delivery option is convenient for recipients who may not have access to transportation. Many customers will appreciate 24/7 access to customer service and a robust FAQ section with information and instructions in 15 languages.
Fees
Fees vary depending on the country you're sending money to, the amount you want to send and the recipient's preferred currency. The fee for sending money to someone in China ranges from $0 to $2.99, and the fee for sending money to India can be as high as $3.99. If you send money to someone in the Philippines and the recipient receives it in U.S. dollars, you'll pay a scaling fee of 0.5% to 1.5% in addition to a transfer fee of $2.99. In Vietnam, the fee to receive money in U.S. dollars can be as high as $94.99.
Pros
Can cancel or edit transfers before the recipient receives the money
Free delivery options available for some countries
Home delivery available
24/7 phone customer service in English and Spanish
Cons
Low sending limits
Can take as much as five days to complete transfer
4. Venmo 
Best for social money transfers
Owned by PayPal, the popular money transfer app Venmo is a favorite way to split the bill because it makes it so easy to send cash directly from one's bank account to someone. Although there have been past security concerns around privacy, Venmo is still a viable option for transferring money, and it offers additional features like a debit card, cash-back credit card and crypto. Make sure you lock down your privacy settings when using the app and send money only to people you know and trust.
Why Venmo Stands Out
Venmo includes a social interaction component that sets it apart from other money transfer apps. Users can send stickers and emojis to friends, leave comments and like posts within the app. This makes it more than just a money transfer service — and having the ability to customize a payment with a symbol appeals to many users. Venmo also links to popular apps like Uber and Uber Eats.
Fees
Venmo's fees are similar to what other money transfer apps charge. You can save money when you send from a linked bank account and will pay more if you use a credit card.
Send money from a linked bank account, debit card or Venmo balance: $0
Send money from a credit card: 3%
In-network ATM withdrawal: $0
Out-of-network ATM withdrawal: $2.50
Instant cash-out transfer to bank account: 1.75% (25-cent minimum and $25 maximum)
Pros
Instant transfers to and from your Venmo balance
Links to rideshare and delivery apps
Can be used to pay for online purchases from select vendors
Cons  
No protection for funds sent to the wrong recipient
5. Western Union
Best for service coverage
Western Union has been around for over 150 years, making it the oldest of the companies offering money transfer apps on this list. It also has the greatest reach, with more than 600,000 agent locations that can help you send and receive money. In addition to money transfers, the company lets you pay bills and find Western Union locations in the app.
Why Western Union Stands Out
Western Union has a presence in all but two countries in the world. This means you can send money to anyone anywhere except North Korea and Iran. You can even send money to people living on military bases and inmates in prisons. Western Union also allows you to start a transaction in the app and finish it in the store if you want to pay with cash, a significant advantage if you don't have a debit or credit card.
Fees
The fees Western Union charges to facilitate money transfers vary depending on several factors, including the country, currency and delivery method. Fees typically range from $0 to $21.49 — picking up the money in person costs more than sending it to a bank account or mobile wallet. You'll see fees for additional countries in the app when you set up a transaction.
Pros
Fast transfers — can arrive within minutes 
Can pay with cash at a counter
Accepts Apple Pay
More coverage than other transfer apps — can send to military bases and prisons
Cons
Steep fees compared to other apps
Fee structure can be confusing
6. WorldRemit 
Best for international transfers
WorldRemit is available in over 130 countries, making it almost as popular as PayPal and Western Union. Most money transfers made on this app are complete within 24 hours, no matter where you're sending the money to or from. First-time transfers are free. After that, fees depend on the country, and it can all get rather complicated. However, it is an ideal service for international money transfers as it's typically faster than a bank wire transfer.
Why WorldRemit Stands Out
Like other money transfer apps, WorldRemit has a cash pickup option in select countries. What sets WorldRemit apart is the number of places this option is available. Currently, cash pickup service is available in more than 50 countries.
Fees
Fees typically range from $0 for mobile deposits to $3.99 for a cash pickup. The receiving country and currency can influence the final cost of sending money. However, WorldRemit reports its fees are 41% lower than bank wire transfers.
Pros
Multiple delivery options
Links with most payment methods
Transparent exchange rates
Cons  
Fees aren't always clear
Some institutions charge additional fees for pickup
7. Zelle 
Best for no-fee transfers
Zelle could very well make the business of traditional bank wire transfers obsolete — that's how breezy it is to complete bank-to-bank money transfers from the palm of your hand. This free service is already included in more than 2,100 banking apps, so there's a good chance you already have access to it without downloading a separate app. Zelle transfers typically take a couple of minutes to process, but the catch is it's only been adopted by banks based in the U.S. International users will need to use one of the money transfer services that process foreign transactions.
Why Zelle Stands Out
Zelle is different from other money transfer apps because it's owned by seven of the biggest banks in the nation. When you send money through Zelle, it moves directly from your bank to the recipient's bank account without going through an intermediary. There's no balance waiting for you to cash out because your balance is what's in your bank account — which likely has FDIC protection.
Fees
Zelle is free to use. You do not have to pay to send or receive money.
Pros
Send money directly from your bank account
Instant transfers
Bank balance is likely insured by the Federal Deposit Insurance Corp.
Cons  
Only available in the U.S.
No credit card option
Final Take
Money transfers may not be a new concept, but we've come a long way since the days when Western Union wired funds via telegram. Today, sending money is as easy as tapping a few buttons in a money transfer app. When using a money transfer app, pay attention to who you're sending money to — scammers may try to get you to send them money, and there's little recourse if you send it to the wrong person.
Money Transfer App FAQ
Here are some answers to frequently asked questions about money transfer apps.
What money transfer apps work immediately?

All of the money transfer apps listed above will let you send express transfers, but you may need to pay a fee for the faster service. In most cases, recipients can see the money in their account within a few minutes after you send it even if they have to wait a few days to have access to the funds.

Is Zelle safer than Venmo?

Both Zelle and Venmo take steps to protect your sensitive information on the app. Zelle does not share your account information, and Venmo uses encryption to keep your details secure. Venmo also gives you the option to add a PIN code to the app, an extra layer of protection that can keep people out of your account. However, scams do target users on both platforms, so be aware of who you are sending money to.

What is the easiest app for transferring money?

Identifying the easiest app for transferring money depends on a few variables — what's easy for one person may be challenging for another. Consider factors like delivery methods and access. For example, if the person you're sending money to needs to pick up the cash in person, you need to use an app that has a local office or home delivery. If you're using Zelle, the recipient needs a U.S.-based bank account that supports the service. PayPal requires both the sender and recipient to have a PayPal account.

What app can I use to send money with a routing number and account number?

Several apps give you the option to send money directly from your bank account, including MoneyGram, PayPal, Western Union and WorldRemit. Zelle only offers bank-to-bank transfers, but you don't have to provide your routing and account numbers because the service links directly to your account.
Nicole Spector and Caitlyn Moorhead contributed to the reporting for this article.
Information is accurate as of Oct. 30, 2023. 
Editorial Note: This content is not provided by any entity covered in this article. Any opinions, analyses, reviews, ratings or recommendations expressed in this article are those of the author alone and have not been reviewed, approved or otherwise endorsed by any entity named in this article.
1Cash App is a financial platform, not a bank. Banking services provided by Cash App's bank partner(s).