3 Best Cash Advance Apps That Don't Require Direct Deposit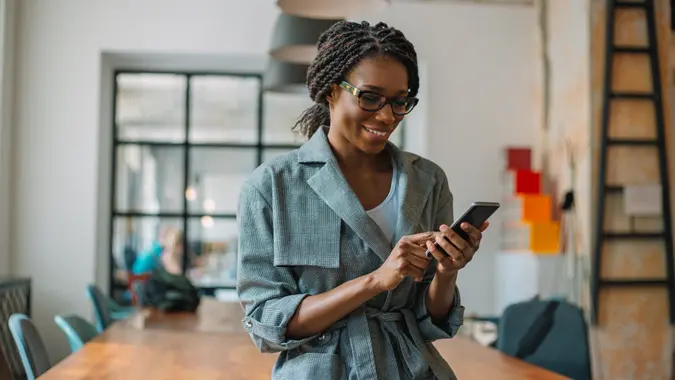 Obradovic / iStock/Getty Images
Cash advance apps are a great financial tool when you need an affordable cash infusion quickly. However, some of these apps require you to have direct deposit for repayment purposes.
Unfortunately, this can be a problem for people who don't receive direct deposit payments, such as freelancers, gig workers or those without traditional bank accounts. For those people, finding a cash advance app without the direct deposit requirement is a must for their financial well-being.
To shorten your search, here are three cash advance apps that don't require a direct deposit, so you can get cash when you need it. 
1. Dave 
Cost: Free, but donations are encouraged
When you use Dave, you do have to link your bank account, but you don't need to have direct deposit. Dave can help you out in a financial pinch by offering a boost of up to $500, which is considered the largest advance amount offered in the industry. However, don't expect to get that much at first; Dave reports that most users get a cash advance of $160 or more. The best part is that you don't have to fill out a long application or sit through a waiting period to get the cash you need.
If you open a Dave Spending account, you can transfer the advance to it instantly for a small fee. You can also transfer the funds instantly to a debit card for a small fee or to an external bank account for free, which takes one to three days. Once you take an advance, you'll pay it back on your next payday if Dave can determine the date from your linked bank account. If not, your settlement date will be the following Friday.
2. Cleo
Cost: $5.99 monthly subscription fee
With a monthly subscription that offers cash-back opportunities and credit coaching, users can also get up to $250 in cash advance funds without interest charges, credit checks or direct deposits. But don't expect to qualify for $250 initially. Cleo advises that first-timers usually only qualify for $20-$70, so it might be best to use the app a few times before you actually need a larger amount.
However, don't get in a hurry to receive your funds. Once you request the cash advance and choose your payback date — any time between three and 14 days — you'll have to wait several days for the funds to be available. If you need the funds within 24 hours, you can pay a $3.99 express fee.
3. Vola
With its free Basic membership, Vola offers users cash advances up to $300, with no interest or hidden fees. However, you'll have to wait up to five hours (or maybe longer) for your cash unless you have a Vola card, which will allow you to receive the cash advance instantly. 
To use Vola, you don't need direct deposit but you do have to connect a bank account that's more than 3 months old, an average balance of over $150 and frequent activity. The bank account also has to show evidence of income and deposits.
Cash Advance Apps: No Direct Deposit Required
In the past, if you needed money before payday, you might have resorted to a payday loan with sky-high interest rates. But today, thanks to fintechs — aka financial technology companies — there are better choices. Fintechs use modern technology to improve and automate the use of financial services.
One way fintechs have made things easier and faster when it comes to managing finances is the creation of cash advance apps — specifically those that don't require you to have direct deposit as a form of payback. This means even if your paycheck doesn't arrive directly in your bank account each month, you can still use them.
Cash advance apps, like Dave or Cleo, offer ways to get money before your next paycheck without the need for high fees or a direct deposit. Some even provide tools to help you manage your money better. With the help of fintechs, getting a cash advance has become simpler and more user-friendly. It's an updated solution for an age-old problem.
Takeaway
When you're looking for a cash advance app that doesn't require direct deposit, Dave, Cleo and Vola are all solid choices, but can differ when it comes to cash advance amounts, eligibility requirements and whether or not you have to pay a subscription fee. Before you commit, go over the details and pick the one that's the best fit for your financial needs. 
FAQ
Here are the answers to some of the most frequently asked questions about cash advance apps.
What app will let me borrow $250 instantly?

MoneyLion, Brigit, Dave, Albert and Vola all provide cash advances of $250. However, MoneyLion, Brigit and Albert all require direct deposit.

How can I borrow $50 instantly?

For an immediate $50 advance with direct deposit, the Dave app offers this service. Dave reports that most users will receive at least $160. However, if you don't mind a direct deposit requirement, there are other cash advance apps that can advance you $50, including Brigit and Albert.

How do you get instant cash on Cash App?

Cash App has a Borrow feature that's available to limited users. To find out if you're eligible, open Cash App and look for the word "Borrow" on the home screen or banking screen. If it's there, click on it and follow the prompts.