8 Apps Like MoneyLion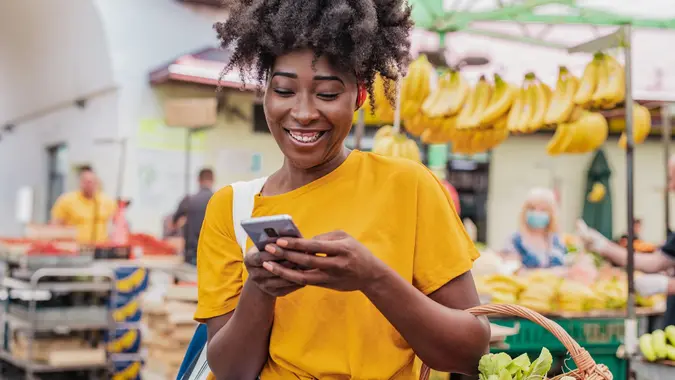 blackCAT / iStock.com
When the going gets tough and the money runs out, the big banks charge you. The average American pays $250 a year in overdraft fees, according to the Consumer Financial Protection Bureau. To help solve this problem, a slew of financial apps have popped up to offer cash advance and early payday services to workers, enabling them to essentially borrow money from their future — wealthier — selves. 
Top Cash Advance Apps
Of these apps, MoneyLion is one of the most well known, but there are so many others out there that are worth knowing about.
Earnin'
Best for: Cash advances for small expenses
"Make any day payday" is Earnin's slogan, and it stands by its word. Founded in 2012, Earnin' is an app that allows users to take out cash advances of up to $100 a day, from the hours you've already worked. There are no fees and no interest.
The app is free, but does tote an optional feature that allows users to leave a tip. Users also can pay up to $3.99 for shorter funding times with Lightning Speed. The only downside is that this app requires access to your bank account, but as you'll learn, most of these apps do.  
Dave
Best for: Earning rewards
Founded by three friends who were sick and tired of bank overdraft fees, Dave is an app that allows users to take a payday advance of up to $500. It charges no interest, no matter the advance amount, and tacks on no late fees. The app also doesn't require any credit checks or make any inquiry or soft pulls. Dave offers instant transfer to your Dave Spending account, which comes with a Dave Debit Mastercard that earns cash back.
The only downsides are that Dave requires access to your bank account and costs $1 a month to use. It also charges a fee to transfer your advance to an external card — but there's no fee to transfer the money into an external bank account.
Brigit
Best for: Building credit
Branded as a financial health app, Brigit offers several services, including cash advances of up to $250 with no interest and a Credit Builder account. You can either get your cash advance for free in two to three business days or pay a fee for Express Delivery. The Credit Builder account sets you up with a 24-month installment loan and reports your on-time monthly payments to all three major credit bureaus to help improve your credit score.
There is a major downside though — you must enroll in the plus plan and pay a monthly fee of $9.99 to get cash advances via the app. Plus, $250 isn't really that much money compared to the limits that other apps offer. And it requires access to your bank account.
Branch
Best for: Gig workers
Branch's mission statement is "to work together on big ideas and address the financial challenges millions of hard working Americans experience everyday." Part of how it does this is by providing earned wage access, which you might also think of as cash advances on one's paycheck.
Using Branch, workers can access up to 50% of their earned wages with no changes to their existing payroll and no pre-funding or escrow. Unlike many cash advance and early payday apps, Branch even has options for gig and contract workers — you can even get early payouts on tips and mileage reimbursements. The cons are that you must have a debit card from a bank that is supported by Branch, and you must have a Branch card to receive your pay instantly. 
PayActiv
Best for: Users with no bank account
PayActiv created Earned Wage Access (EWA) in 2012. The service allows users to take up to 50% of their wages earned in advance of payday. A big perk here is that no bank account is required, which is rare in this space, but options are limited if one's employer is not enrolled in PayActiv. Additionally, to get paid early for no fee you need to sign up for a Payactiv Visa Prepaid Card. Without the card, fees apply.
Klover
Best for: Budgeting tools
Klover, launched in 2019, is an app that allows users to access up to $200 up to two weeks ahead of their payday — with no interest and no late fees. It offers tools to help you track savings goals and your credit score. You can also take surveys and watch ads for points, which you can turn into a bigger payout or use to enter Klover's sweepstakes.
The cons are that users must share personal and financial info, including linking to a bank account. Plus, there are fees for expedited cash advances.
Chime
Best for: Banking accounts
Chime* is a financial app that offers a number of services, including early payday — users can set up direct deposit and get their paycheck up to 2 days earlier1 than they would if not using Chime or a similar app. While plenty of other banks allow early paycheck access, Chime also meets other financial needs, like open a checking or savings account.
Chime also offers SpotMe®2, which offers up to $200 in overdraft coverage with no fee. While it's not exactly a cash advance, it does provide you with a similar cushion for expenses.
Even
Best for: Bill payment tracking
With Even's Instapay feature, workers can get an advance of up to 50% off of their paycheck based on the hours they've put into the job. And they can get it the same day, which is pretty fast. Even also offers budgeting and saving tools, including finding bills you pay from your connected bank account and helping you allocate portions of each paycheck toward bills — though it does not currently have an option to set up autopay for your bills.
The cons are that Even's website doesn't offer a whole lot of information, so it's hard to know exactly what you're getting into before diving in. Also, Even's Instapay costs $8 a month to use and one's employer must be partnered with Even.
When Should You Use Apps Like MoneyLion? 
You should use apps like MoneyLion and those cited on this list if you're in a crunch at the end of the month — or pay cycle — and need to borrow money from yourself. This really should be a once-in-a-while affair and not a monthly habit.
Also, take into consideration any fees the app charges, like monthly fees and instant transfer fees, before you sign up. Consider whether the app's features make the fees worth it.
When Should You Avoid Using Apps Like MoneyLion?
You should avoid using apps like MoneyLion and those cited on this list if you have a history of overspending or of making bad financial decisions. Paying yourself early can easily become a bad habit that can land you in hot water financially.
Final Take
If you're interested in using an app like MoneyLion, it's recommended that you take your time exploring each of the apps listed here. Since most of them require providing personal information, including your bank account, make sure you're ready to pull the trigger. Additionally, for those that require your employer to be partnered with them, make sure to check with your HR department before diving in.
FAQ
Cash advance apps aren't the best choice for everyone, but they can be a useful tool when used wisely. Here are the answers to some common questions about cash advance apps.
What is similar to MoneyLion?

Plenty of apps out there are similar to MoneyLion including, but not limited to, Earnin', Even, Klover, Brigit, Dave, Chime, PayActiv and Branch.

What apps let me borrow money instantly?

Most cash advance apps will let you borrow money instantly

–

but usually not without a fee. Some apps that will allow you to borrow instantly are: Earnin', Klover, Dave, Brigit, PayActiv and Branch.

Which is the best app like MoneyLion?

Two good options are Earnin' and Dave, based on budget-friendliness and high cash advance limits. However, the best option is ultimately up to you and your experience.
Consider what you need before you sign up. For example, if paying bills always leaves you struggling, consider Even for its bill tracking tools, or if you want to work on building your credit, Brigit might be a good choice.
Amber Barkley contributed to the reporting for this article.
Information is accurate as of Dec. 30, 2022, and is subject to change.
*Chime is a financial technology company, not a bank. Banking services provided by, and debit card issued by, The Bancorp Bank, N.A. or Stride Bank, N.A., Members FDIC.
1Early access to direct deposit funds depends on the timing of the submission of the payment file from the payer. We generally make these funds available on the day the payment file is received, which may be up to 2 days earlier than the scheduled payment date.
2Chime SpotMe is an optional, no fee service that requires a single deposit of $200 or more in qualifying direct deposits to the Chime Checking Account each month. All qualifying members will be allowed to overdraw their account up to $20 on debit card purchases and cash withdrawals initially, but may be later eligible for a higher limit of up to $200 or more based on member's Chime Account history, direct deposit frequency and amount, spending activity and other risk-based factors. Your limit will be displayed to you within the Chime mobile app. You will receive notice of any changes to your limit. Your limit may change at any time, at Chime's discretion. Although there are no overdraft fees, there may be out-of-network or third party fees associated with ATM transactions. SpotMe won't cover non-debit card transactions, including ACH transfers, Pay Friends transfers, or Chime Checkbook transactions. See Terms and Conditions.
Our in-house research team and on-site financial experts work together to create content that's accurate, impartial, and up to date. We fact-check every single statistic, quote and fact using trusted primary resources to make sure the information we provide is correct. You can learn more about GOBankingRates' processes and standards in our editorial policy.