5 Cash Advance Apps That Don't Use Plaid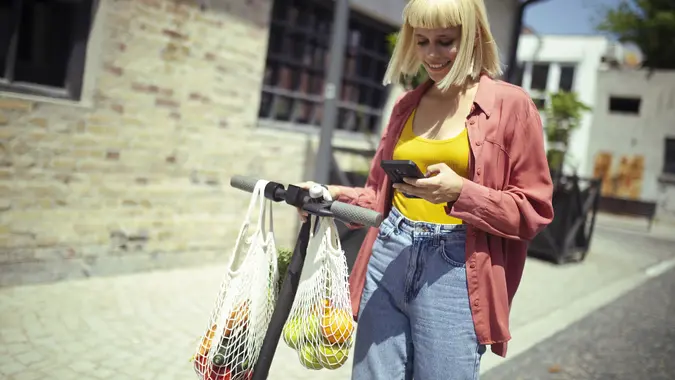 LukaTDB / iStock.com
Before the digital era, people would sometimes visit storefronts that offered something called payday loans. With exorbitant interest rates, these companies would provide upfront pay when you needed it, using your upcoming paycheck as collateral.
For the unbanked or those who didn't have good enough credit to secure a credit card, these loans could be lifesavers to put food on the table, help keep a car from being repossessed, keep the electricity on or to pay the rent. These loans could also be used for emergency circumstances like car repairs, medical issues or a sudden death in the family.
But they came at a high price. The Consumer Financial Protection Bureau says the average payday loan is $320, but the average interest for that loan is $520.
Today, payday loans have been largely replaced by cash advance apps. The apps serve the same purpose: Providing people with money before payday to get through a tight situation. While some charge interest and fees, others don't charge fees unless you need the money expedited. But, let's face it, if you are using a cash advance app, it's probably an emergency that requires expediting funds.
Still, the fees on cash advance apps tend to be lower than payday loans and many have no interest charges. But most require you to download an app called Plaid that links all your bank accounts and finance apps for security and ease of use. Some people shy away from Plaid because it requires them to link their bank account to a third-party app that is not their payment provider. In other words, Plaid is a middleman in transactions between consumers, banks and payment platforms, including many cash advance apps. People may trust the app they are using — whether it's PayPal or a cash advance app — but they might be hesitant to trust a third-party that they haven't researched or, in some cases, even heard of.
What Is Plaid?
Plaid powers many well-known financial apps, including Venmo, Betterment, Chime and Dave. Plaid connects with more than 11,000 financial institutions across North America and Europe, according to the company website.
Plaid encrypts data and transmits it securely, acting as a conduit between banking and finance apps and businesses or consumers who use the apps.
Is Plaid Trustworthy?
Plaid employs security and encryption protocols to protect your data. It also offers 2-factor authentication protocols, which some banks may not. Plaid provides convenience and security when it comes to managing your money online. The company's terms of service promise to never rent or sell your information to other companies, allowing you to control which companies have access to your data and specifically what data can be shared with those companies.
However, even with protocols and certifications in place, Plaid faced a class action lawsuit alleging that the company took "improper actions" when securing connections between users' bank accounts and online apps or financial services, according to a report from Fox29. The suit alleged that Plaid obtained more data than was necessary for the transactions and also obtained user login credentials through its interface, Plaid Link. Plaid users between January 2013 and Nov. 19, 2021, may have received money as part of the class action lawsuit. However, the lawsuit took place prior to Plaid's acquisition by Visa, the highly reputable, and largest credit card network in the U.S.
Still, bad publicity, especially when it comes to security and finance apps, tends to linger and many people may remain hesitant to download Plaid for their banking and personal finance needs. You may be wondering, are there cash advance apps that don't use Plaid?
Fortunately, yes, there are cash advance or earned wage apps that do not use Plaid.
Cash Advance Apps That Don't Use Plaid
If you are looking for cash advance apps that don't use Plaid, keep reading to find out more about them.
1. B9 Advance
B9 Advance is a membership-based cash advance app that allows you to access up to 100% of your paycheck instantly once your account is set up. The membership fees range from $9.99 to $19.99, depending on your membership level. The basic $9.99 account allows you to withdraw up to $300 instantly during each pay cycle.
To use B9, you must have a checking account that is set up to receive direct deposits from your employer. According to the B9 privacy policy, users can connect to the B9 cash advance app through Argyle Systems instead of Plaid, but only if their employer uses Argyle to manage employee data. Otherwise, you'll need to use Plaid to connect and receive your advance payment.
You also need to have made at least $300 via direct deposit within the past two weeks prior to receiving a cash advance through the app to qualify for the service.
2. CashMaster
CashMaster offers a variety of services, including title loans, loans that are backed by your vehicle as collateral, and cash advances or payday loans of $50 to $500. If you prefer not to use the app, you can receive a check advance in person at a CashMaster location in Tennessee or Alabama.
Otherwise, you can download the Cashmaster app. You'll need to provide a photo ID, current bank statement, proof of income and social security verification.
3. Line
Available as an app for Android or Apple, Line allows users to access anywhere from $20 to $1,000, depending on the service plan they choose. Currently, for just $1.97 per month, you can access up to $100 in funds, direct deposited into your account at no extra cost. You can also get instant delivery to a Line debit card for $4.
The $9.97 plan gives you access to as much as $500, which can gradually increase to as much as $1,000 with your on-time payments.
Line offers the option of collecting information through a payment processor that facilitates a transfer to your bank account, or through a third-party secure access tool "such as Plaid." That means depending on your bank and how you set up your account, Line may or may not use Plaid.
4. DailyPay
DailyPay is a cash advance app provided as a service by many employers, including Kroger, McDonald's, Lid, T-Mobile, Dollar Tree and Six Flags. Once you set up your account you can access your pay in advance, immediately, and have it sent to your bank account, debit card or pre-paid card instantly for a small fee or by the next day. You can also refer friends and co-workers to DailyPay and earn an extra $5 when they sign up and access their pay through the app.
The app also allows you to set up AutoSAVE, DirectSAVE and RoundupSAVE tools, making it easier to manage your money and build an emergency savings account to reduce your reliance on cash advances. AutoSAVE lets you save a set amount each payday, while DirectSAVE lets you choose how much you'd like to save every time you get paid. RoundupSAVE transfers money into your savings account each time you make an early transfer using the DailyPay app.
Unlike other cash advance apps, DailyPay does not mention Plaid in its privacy policy. It does indicate that you may choose to create or supplement your account by using a third-party website or service. However, this doesn't appear to be necessary if you use DailyPay's online registration form and provide an email address, mailing address, mobile phone number, date of birth, proof of identity documentation and a password.
5. Dave
The Dave ExtraCash account allows you to access up to $500, which you pay back the next time you get paid or — if Dave can't determine your next payday — on the nearest Friday after you took out the advance. You'll receive the funds in 1 to 3 business days with no fees, or you can pay between 99 cents and $6.99 to have money deposited into your Dave Spending account in seconds. For a fee ranging from $2.99 to $11.99, you can have the funds transferred to an external bank account.
According to the Dave privacy policy, Dave uses Plaid or Galileo to transfer information between the platform and your financial institution, making Dave one of the cash advance apps that does not necessarily use Plaid.
Final Take
If you use peer-to-peer payment platforms, it might be harder to find cash advance apps that don't use Plaid as a third-party conduit between the platform and your financial institution. But some cash advance apps use other means to receive and verify bank account information, including third-party services like Argyle Systems or Galileo Financial Technology.
FAQ
What apps give you cash advances instantly?

Once your account is set up, the B9 app gives you instant access to up to 100% of your salary as a premium member, and $300 with their basic account. CashMaster also provides immediate cash advances in person or through the app. Line lets you access funds instantly on a debit card for a small fee. DailyPay allows you to start accessing your pay immediately beginning from day 1 of using the app. For a small fee, you can receive cash instantly into your Dave Spending account using Dave ExtraCash.

Does Brigit use Plaid?

Like many cash advance apps, Brigit uses Plaid to connect its platform to your financial institution.

What app will give me $100?

Users of Line, B9, CashMaster and DailyPay can access $100 instantly depending on the membership plan you choose and the amount of your paycheck.

Does Dave use Plaid?

Dave uses either Plaid or Galileo Financial Technology to obtain banking account and transaction information.
Information is accurate as of Nov. 7, 2022. 
Our in-house research team and on-site financial experts work together to create content that's accurate, impartial, and up to date. We fact-check every single statistic, quote and fact using trusted primary resources to make sure the information we provide is correct. You can learn more about GOBankingRates' processes and standards in our editorial policy.