Buying Money Orders with a Credit Card: Here's All You Should Know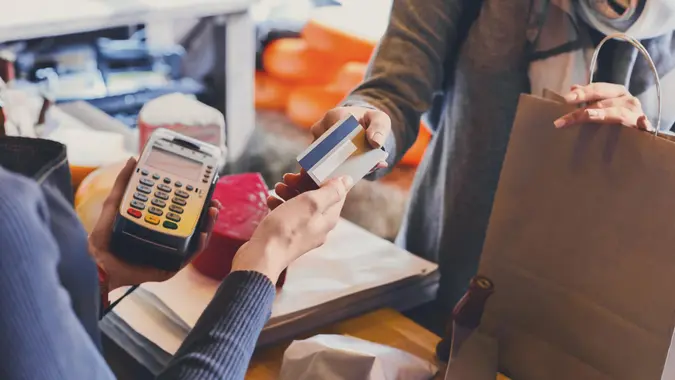 Milkos / Getty Images/iStockphoto
Most people will rarely come across a situation where they need a money order. However, if you do ever need to use a money order, you should know how it's done.
One common question is: can you buy a money order with a credit card? The simple answer is: yes. A detailed explanation will be discussed below.
Can You Buy a Money Order with a Credit Card Anywhere?
While it's true that you can buy a money order with a credit card, it's not possible everywhere. You can only find this service at specific locations.
7-Eleven and Western Union do credit cards as a form of payment for a money order; you'd only need to visit one of their branches, give your credit card details and purchase a money order.
However, the process is trickier and longer now as it is seen as a cash advance through a bank branch or an ATM on your credit card before buying a money order. A cash advance is a small cash loan you take from the line of credit on your credit card.
You have to pay additional fees when you do this, so bear that in mind when you buy a money order using a credit card.
How Much Does It Cost?
Buying a money order using your credit card costs quite a bit since you get a cash advance first.
Money Order Fees:

Cash Advance Fee: Your bank will charge you a 3% to 5% cash advance fee on each transaction. The minimum fee ranges from $5 to $10, depending on the amount you're taking as an advance. If you're buying a money order worth $1000, the fee could be up to $50, depending on your credit card.
Cash Advance APR: Banks and credit card unions charge a high annual percentage rate on every cash advance you take compared to a regular purchase. Depending on your bank, the APR could be anywhere between 25% and 30%.
No Grace Period: Typically, banks will give you a grace period in which if you pay the amount, you do not have to pay any interest. However, there is no grace period with a cash advance, so the interest begins accumulating from the day of the transaction.
Is It Possible to Get a Refund?
You can get a refund on your money order if it has not been used. If you have not entered the recipient's information, you can simply fill in your information as the recipient and cash the money order.
However, if you have already written the recipient's information, you must contact the issuing agency. They may charge you a fee for canceling. For instance, Western Union has a $15 fee for canceling your money order.
Additionally, Western Union increases the fee up to $30 if you don't show a receipt. Be sure to save your receipt to avoid this additional fee in case of cancellation. At the time of cancellation, you can choose to get a refund or a replacement money order.
Should You Buy a Money Order with a Credit Card?
You should only buy a money order with a credit card if you have no other choice. Keep in mind that doing so should be your last resort since purchasing a money order with your credit card has many fees associated with it.
Drawbacks of Buying a Money Order with Credit Card

Expensive: As discussed earlier, buying a money order with your credit card comes with plenty of fees. On top of that, the fees differ based on your bank, so you can never really be sure how much it will cost you.
High APR: If you already have a high APR for regular purchases, an even higher APR due to cash advances will only make it harder for you to pay back the amount.
No Rewards: When you take a cash advance on your credit card, it does not count towards any incentives or minimum spending. Moreover, you do not get any cash back rewards on this purchase.
Hard to Find: It's challenging to find a merchant that will let you buy a money order using your credit card. Even the U.S. Postal Service won't accept credit cards for purchasing money orders.
More Difficult to Pay Off: In the long run, it is harder to pay off your cash advance because card issuers allocate your payment to a balance with a lower interest rate. The APR on your regular purchases is lower than that on a cash advance. So, if you make a minimum payment, the card issuer will allocate it to paying off the regular purchases since they have a low APR. As a result, the cash advance takes longer to be paid off and keeps accruing interest, and at a higher rate.
Alternative Options
Considering the many drawbacks and higher costs of buying a money order with a credit card, it's often better to opt for alternatives.
Loans: The Federal Reserve's data from the first quarter of 2021 showed that the average interest on a personal loan is 9.46%, which is much lower than the APR on a cash advance. If you have a good credit score, consider getting a personal loan.
401(k) Loan: If you have a 401(k) plan, you can take a 401(k) loan and pay it back in time. The primary benefit of this loan is that no lender is involved, as you're taking a loan out of your retirement savings. Moreover, no credit check is required for this kind of loan.
Final Take
Buying a money order using a credit card is an option, but it should be the last one on your list. If you need money immediately, try one of the alternatives we have discussed above.
If nothing else is available, you can buy a money order using a cash advance taken out on your credit card. Make sure you correctly understand the costs associated with the process to avoid any surprises later.
Our in-house research team and on-site financial experts work together to create content that's accurate, impartial, and up to date. We fact-check every single statistic, quote and fact using trusted primary resources to make sure the information we provide is correct. You can learn more about GOBankingRates' processes and standards in our editorial policy.