What's the Average Interest Rate for Savings Accounts?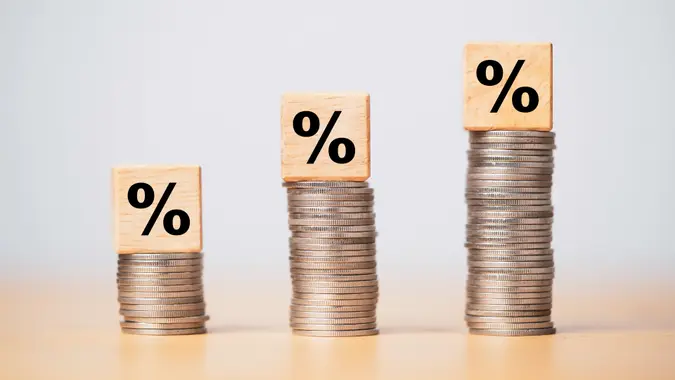 Dilok Klaisataporn / Getty Images/iStockphoto
Banks use the money you deposit into your savings account or other interest-earning accounts to make loans to other banks. In return, the bank pays you interest on your account balance. The more interest you earn, the more your money grows, so it's worth doing your homework to make sure you're earning the highest rate possible.
What Is the Interest Rate on a Savings Account?
The national average savings account rate has an annual percentage yield, or APY, of 0.40% according to the FDIC, but many of the largest financial institutions in the U.S. pay rates up to 5.00% APY or even higher. What you earn on your savings can add up, so make sure to find the best rate you can.
Savings Account Interest Rates: Quick Take
When choosing the best savings account for you, it's important to weigh all the factors. Here are some key takeaways about savings account interest rates:
Some high-yield savings accounts come with monthly maintenance fees or other service charges, so make sure the interest you earn outweighs the fees you pay.
Average savings account interest rates at traditional banks are often on the low side — they generally land under 1%.
When the Fed raises federal interest rates, savings account rates also trend upward.
There is a wide range of interest rate options available, so don't feel you have to save your money in the same financial institution you've always used.
Savings Account Rate Examples
GOBankingRates has identified 10 of the best savings account interest rates available right now.
Historical Savings Account Interest Rates
Over the last 50 years, interest rates have ranged from a high of 20% to a low of 0.25%. Although rates reached their lowest level around December 2008, rates remained essentially unchanged from then until December 2015, when they began to creep up slightly, reaching 2.00% to 2.50%.
At the onset of the COVID-19 pandemic in the U.S., the Federal Reserve cut rates to stimulate the economy by encouraging Americans to borrow money. The more consumers borrow and ultimately spend, the more money they pump into the economy.
One potential drawback of injecting all that money into the economy is that it can spur inflation, where the price of consumer goods and services increases. The Fed can increase rates to keep inflation in check. In fact, it's been doing exactly that, with several consecutive rate hikes in the past year.
As of October 2022, the all items index surged 7.7% — before seasonal adjustment — according to the Bureau of Labor Statistics, so other rate increases are likely throughout 2023.
How To Find the Best Savings Account Rates
Online banks often don't pay for overhead costs like brick-and-mortar banks do, so they can pass those savings on to their customers. For example, American Express National Bank offers an online savings account with some of the highest interest rates — about 10x the average interest rate and more than 300 times the rates of some of the biggest banks in America.
Credit unions are another good option. They're non-profit and member-owned, so paying competitive rates is a priority.
Wherever you bank, a high-yield savings account is often your best bet if you can meet the minimum balance requirement.
To get the best savings rate at a bank that meets all your needs, do your research. In addition to looking at interest rates, consider minimum opening deposit requirements and balance requirements, as well as maintenance and other fees that can reduce the value of that higher rate.
Good To Know

Some banks offer relationship rewards to customers who have multiple linked accounts at the bank. For example, Bank of America, Member FDIC, offers several reward tiers that boost its Advantage Savings account rates when you maintain a qualifying minimum balance across eligible accounts. Other rewards include discounts on credit cards and loan interest rates.
Alternatives to Savings Accounts
Even the best savings account don't earn enough to stay ahead of inflation. Consider safe alternatives for cash you don't expect to need any time soon. Here are three examples of other accounts where you can earn interest:
Education savings plans
Retirement plans
1. CD Accounts
Certificates of deposit, or CDs, are a no-risk alternative to a savings or checking account. Although you can't touch the money during the term of the CD, you can choose from a range of terms to find the one that gives you the best return for the commitment you're comfortable making.
Depending on the bank, terms can be as short as a few months or as long as 10 years. Interest rates depend on the size of the CD and the length of the term, with larger CDs and longer terms usually paying better rates.
2. Education Savings Plans
A 529 plan can help you save for your children's education and enjoy tax benefits to boot. As long as you use the money for a qualified education expense, your contributions and withdrawals are tax free.
3. Retirement Accounts
Consider increasing your contributions to your individual retirement account or 401(k) — or opening a retirement account if you don't already have one. A 401(k) can be especially lucrative if your employer matches your contributions.
Final Take To GO 
Despite the recent Fed rate hikes, most banks have been slow to raise their rates, leaving the average interest rate on savings at just 0.40%. However, a savings account can still be a good place to park an emergency fund, especially if you bank with a financial institute with above-average rates.
The bottom line is the average savings account interest rate is admittedly low. However, if you're willing to shop around, you can find a rate that's monumentally higher. You might also decide an alternative to a savings account is best for you. Every situation is unique, so spend time conducting research to determine the right move for your money.
FAQ
Which bank gives 7% interest on savings accounts?

You won't find a 7% interest rate on any savings account in the U.S. To get a 7% interest rate, you would have to consider moving your money to a bank account outside of the United States, which comes with potential security issues and more difficulty accessing your money.

What is a good interest rate on a savings account?

With the average interest rate on savings at 0.40%, any rate higher than that could be considered a good rate. However, you can find rates of 3% and higher at many banks, so it's a good idea to look at several options to find the best rate.

Which bank gives 5% interest on a savings account?

Though rates can vary depending whether you meet certain requirements, like minimum balance and direct deposits, here are some examples of banks that offer 5% interest on select savings accounts:

Varo Bank
Digital Federal Credit Union
UFB Direct
Centier Bank
Caitlyn Moorhead contributed to the reporting for this article.
Rates are subject to change; unless otherwise noted, rates are updated periodically. All other information on accounts is accurate as of June 9, 2023.
Our in-house research team and on-site financial experts work together to create content that's accurate, impartial, and up to date. We fact-check every single statistic, quote and fact using trusted primary resources to make sure the information we provide is correct. You can learn more about GOBankingRates' processes and standards in our editorial policy.