4 Key Signs It's Time To Ditch Your Old Savings Account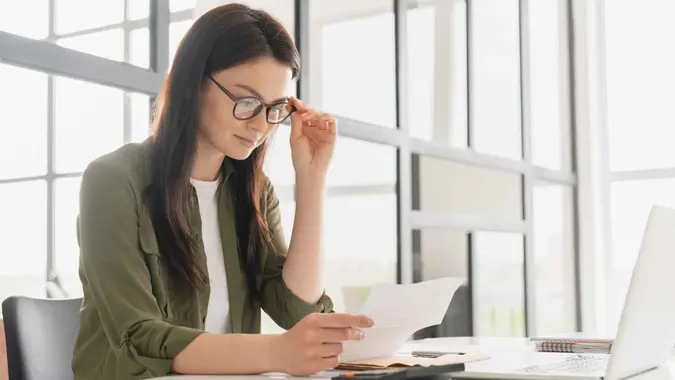 Inside Creative House / Getty Images/iStockphoto
With interest rates at a 22-year high, now is a great time to stash away your cash for a good return. But if you've stuck with your current savings account for many years, you might be missing out on benefits such as higher interest rates, lower fees and a better banking experience. Whether you're willing to choose a new bank or prefer to just switch to a new account type, consider these five key signs to know if you should make the move.
1. You're not earning a competitive interest rate.
If you just have a basic savings account, chances are you're not earning much interest.
As of July 17, the Federal Deposit Corporation (FDIC) reported a national average rate of just 0.42% for regular savings accounts. However, some banks paid a much lower annual percentage yield (APY) of 0.01%. Even with a large savings account balance, the interest won't add up significantly.
Switching to a high-yield savings account, money market account or certificate of deposit could get you an APY exceeding 4%. And if you're willing to work with an online-only bank such as Ally, you may find the most competitive rates. Just make sure you weigh the benefit of a higher return against any account downsides, including early withdrawal penalties for CDs and minimum balance requirements for money market accounts.
2. You qualify for appealing new account promotions.
Banks often offer cash bonuses for opening a new account and meeting certain deposit requirements.
As of Aug. 2, for example, Discover is offering a $150 bonus if you deposit $15,000 during the first 30 days of getting a new savings account. Chase, on the other hand, gives new checking customers $200 for setting up a direct deposit agreement during the first 90 days.
Ditching your current savings account to take advantage of such promotions can make sense if you can get a large bonus and, ideally, receive ongoing account benefits. However, read the fine print for the offer, and take the potential interest rate into consideration, too. If you move to a checking account, be aware that your money might not earn any interest.
3. Your current account comes with fees.
If you check your latest savings account statement, you might see multiple fees deducted from your balance.
These could include a monthly maintenance fee and possibly an inactivity fee if you don't use your savings account much. You might be paying other costs if you overdraft the account, send wire transfers, make too many withdrawals or request paper statements.
Since fees can easily offset any interest earned, it's likely time to shop around for other banks and accounts that minimize or eliminate common charges. Savings accounts without monthly maintenance fees are usually easy to find. Some banks, like SoFi and Huntington, even waive overdraft charges under certain conditions.
4. You want a better banking experience.
Even if your current savings account has a high rate and minimal fees, you might consider ditching it if your banking experience is lacking.
Maybe your bank has no local branches or convenient ATMs, or you've experienced subpar customer service. You might also not have access to online banking features such as remote check deposits or financial education tools for saving and budgeting.
In these cases, you could benefit from researching the best banks and checking out their savings account options. You'll want to consider important details such as interest rates, fees, account access and digital banking features and look at current customer reviews. During the process, you can seek new account promotions to get extra cash.
More From GOBankingRates