What Should You Do if Your Dependent Drains Your Bank Account?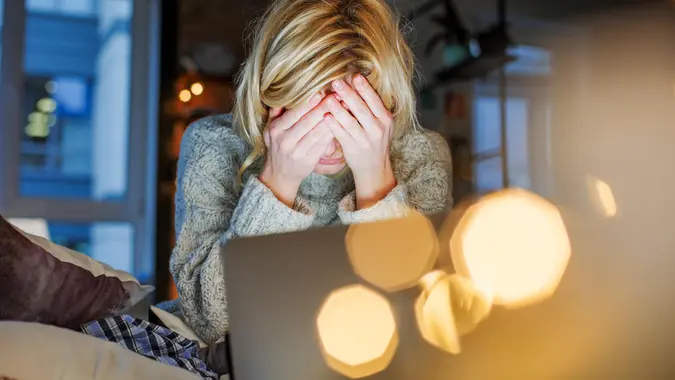 YakobchukOlena / Getty Images/iStockphoto
Your children must be younger than you and younger than 19 to qualify as dependents — unless they're students. Then they can qualify up to age 24. If they pass the IRS's qualifying relative test, there's no age limit at all. Those situations usually involve biological relatives, but they don't have to. An in-law, for example, could satisfy the IRS's standards as a qualifying relative.
Either way, not all dependents are children or even blood relatives. No matter the familial connection, though, the relationship is always financial in nature because — as the name implies — the dependent must depend on the taxpayer for material support.
Claiming a dependent comes with credits and other advantages at tax time. However, those incentives mean nothing if the person receiving the support decides how much to take. Here's what you can do if a dependent of yours deletes some of your money.
Maximize Your Savings Potential
An Ounce of Prevention
In almost all cases, you can sidestep the problem altogether by following basic financial data best practices. Never share your accounts, passwords, apps or card numbers with anyone, including your children or other dependents. Unless there's a compelling reason, why would you? Children, after all, do childish things without understanding the consequences.
"Take the single mom whose child drained $900 from her bank account to play a popular game," said Jake Hill, CEO of DebtHammer.
Hill is referencing a 2021 story about a Roblox-loving seven-year-old in Phoenix. But the same rule applies to young adults, who might be inexperienced, irresponsible, or naive and vulnerable to financial predation even if they don't have bad intentions.
If you don't give them access, they can't do any damage.
"If you're considering adding your child's name to your bank account or otherwise giving them unsupervised access, you may want to think twice," said Hill.
Take Our Poll: Are You Concerned About the Safety of Your Money in Your Bank Accounts?
If Money Comes Up Missing, Take a Breath Before You React
Considering that you're supporting them financially, it's likely that your dependents aren't financially fluent, even if they're legal adults. Before you react, find out whether the incident was a result of malice or a mistake.
Maximize Your Savings Potential
"My first advice would be to remain calm and assess the situation," said personal finance expert Susannah Harmon, a lending-industry veteran and founder of Car Title Loans 123. "It's essential to understand why the child or dependent drained their account and if they did so unintentionally or deliberately. Depending on the reason, the approach may differ."
Blunder and Plunder Are Two Different Conversations
Presuming your dependent isn't a criminal who robbed your account while you weren't looking, you'll hopefully discover that the incident happened because you put too much trust in them or did too little to guard your accounts. If so, accept that at least some of the blame lies with you and find a way forward.
"If it was an accidental overspending or a mistake, it's crucial to help them understand their mistake and find a way to remedy the situation, such as setting up a payment plan or negotiating with the bank," said Harmon.
Once that discussion wraps up, make sure to prevent a repeat occurrence.
"If their actions weren't malicious, chalk it up to immaturity and immediately change your passwords and block their access to apps connected to your accounts," said Laura Adams, MBA, a personal finance expert with Finder.com.
Maximize Your Savings Potential
The Many Degrees of Possible Consequences
If it's something more nefarious, you'll have to decide what kind of lesson you want to teach and just how tough the love is that you're willing to dish out.
"You likely won't have any recourse unless you consider the funds stolen and file a police report," said Adams.
A call to law enforcement is one that you can't un-make, and many parents and guardians simply won't be comfortable with that level of escalation even if it's justified. But if a dependent took money without asking, scaled-back consequences are better than no consequences at all.
"Make them work for the money they need to open another account," said Chris Thomson, CFA and contributing author at Management.org. "Draining a bank account, for whatever reason, is a financial irresponsibility. It is very important for them to feel the consequences of their irresponsibility and learn from them. This way, they know the hardships of earning money, so there is a lower possibility of them becoming financially irresponsible again."
Either Way, It's a Teachable Moment
As bad as it is to lose money to a child or other dependent who was irresponsible or worse, you can use the moment to serve your primary purpose as a parent or guardian — fostering improvement.
Maximize Your Savings Potential
"It's important to have a frank discussion with them about the consequences of their actions and help them develop responsible financial habits moving forward," said Harmon. "This might include setting up a budget, educating them about saving and investing and discussing the importance of financial responsibility. Ultimately, the key is to remain calm, supportive and focused on finding a solution that helps the child or dependent learn from their mistakes and grow into a responsible, financially savvy adult."
More From GOBankingRates
Maximize Your Savings Potential