How To Do a Balance Transfer With American Express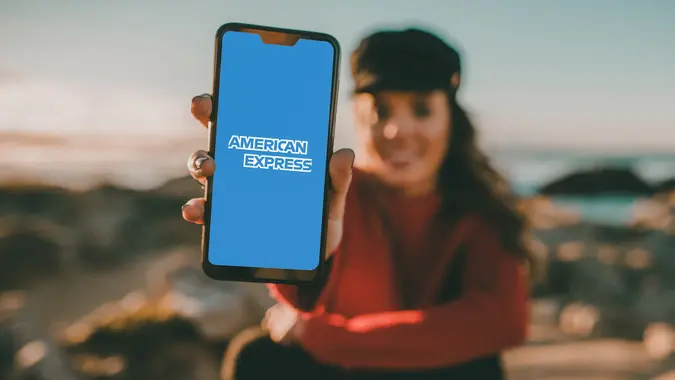 American Express/MarioGuti / Getty Images/iStockphoto
American Express National Bank, Member FDIC, began in 1850 as a freight forwarding company and slowly transitioned into the financial market while maintaining a reputation of trust and commitment with its customers.
Many of the company's credit card offerings are specifically designed for balance transfers, giving Card Members access to promotional interest rates for periods ranging from 12 to 15 months. 
As Federal Reserve interest rate hikes lead to higher interest charges, options for reducing credit card interest rates are quickly becoming more appealing.
What Is an American Express Balance Transfer?
A balance transfer is the process of transferring a credit card balance from one card to another, essentially using one credit card account with more appealing terms to pay off another account to save money in the long run.
An American Express balance transfer is the same, but it specifically entails paying off debt held at outside lenders using an American Express® credit card. Card Members cannot transfer a balance from one American Express account to another.
How To Do an American Express Balance Transfer
American Express offers balance transfers for new and existing customers. Those interested in transferring a balance to the lender should follow the steps below.
How To Do a Balance Transfer to a New American Express Card

For those who don't have an American Express credit card, or have one that doesn't offer balance transfer capabilities, the best option is to apply for a new card specifically designed for this feature and transfer balances during the application. Here's how it's done:

Compare Options. American Express offers various credit cards with promotional periods for balance transfers. However, each comes with a different promotional period, fee structure and rewards program. Be sure to find the option that's the best fit for you.
Click "Apply Now." Navigate to the blue "Apply Now" button below the balance transfer offer you're interested in. 
Fill Out the Application Accurately. Be sure that everything on the application is accurate.
How To Do a Balance Transfer to an Existing American Express Credit Card

Existing American Express® Card Members may enjoy promotional interest rates when they transfer balances to their accounts. Here are the steps to doing so:

Log In Online. Begin by logging into your online account management dashboard.
Check Eligibility. If a balance transfer offer is available, American Express will clarify that information in the account management dashboard, including availability and terms.
Keep in mind that most American Express balance transfers take between five and seven business days to complete the process. However, in some cases, the transaction may take up to six weeks to complete. It's important for borrowers to continue making payments on their existing cards until their transfers are complete to avoid any late payment fees or damage to their credit scores.
What Happens After a Cardholder Requests a Balance Transfer?
When a Card Member requests a balance transfer from American Express, the lender reviews the application to determine the customer's eligibility. If the Card Member is eligible for the transfer, American Express pays off balances with outside financial institutions and adds them to the current balance on the Card Member's account, plus any applicable transfer fees. 
The company typically charges a balance transfer fee amounting to $5 or 3% of the transaction amount, whichever is greater. 
Things To Know Before You Transfer Balances
Balance transfers, and the 0% interest rates they typically come with, are enticing, but there are a few things to consider before taking advantage of this type of transaction:
Pay attention to the length of the promotional period, which can vary wildly from one offer to the next.
Any remaining balance associated with the balance transfer will be charged the standard rate of interest when the promotional period expires, so you should compare your card's standard interest rates to balance transfer offers, especially if you don't think you can pay the balance off entirely during the promotional period.
Balance transfer fees at American Express are typically 3% of the transaction amount or $5, whichever is greater. 
Final Take
An American Express balance transfer can make it easier to pay down debt thanks to promotional interest rates. Borrowers should strongly consider comparing offers today to avoid the increasing cost of rising interest rates. 
More on American Express Bank
FAQ
Here are the answers to some of the most common questions about American Express balance transfers:
Does American Express do balance transfers?

Yes, American Express does offer balance transfers. They even have a lineup of five offers that provide promotional interest rates for anywhere from 12 to 15 months.

Why is American Express not offering balance transfers?

American Express stopped offering 0% balance transfers in the wake of COVID-19. American Express moved to protect its finances as economic conditions waned. However, the company brought these offers back in 2022 as the threat posed by the COVID pandemic waned.

Does American Express do 0% balance transfers?

American Express offers five different credit cards with 0% balance transfer promotions. The promotional periods on these cards range from 12 to 15 months and could help Card Members make a significant dent in their credit card debt. However, it's important for potential applicants to compare all five options before they apply, because each card comes with its own rewards scheme, fee structure and terms.
Editorial Note: This content is not provided by any entity covered in this article. Any opinions, analyses, reviews, ratings or recommendations expressed in this article are those of the author alone and have not been reviewed, approved or otherwise endorsed by any entity named in this article.
All information about American Express card offers has been collected independently by GOBankingRates and has not been reviewed or approved by American Express. These offers are not available through GOBankingRates.
Our in-house research team and on-site financial experts work together to create content that's accurate, impartial, and up to date. We fact-check every single statistic, quote and fact using trusted primary resources to make sure the information we provide is correct. You can learn more about GOBankingRates' processes and standards in our editorial policy.