American Express Application Requirements and Rules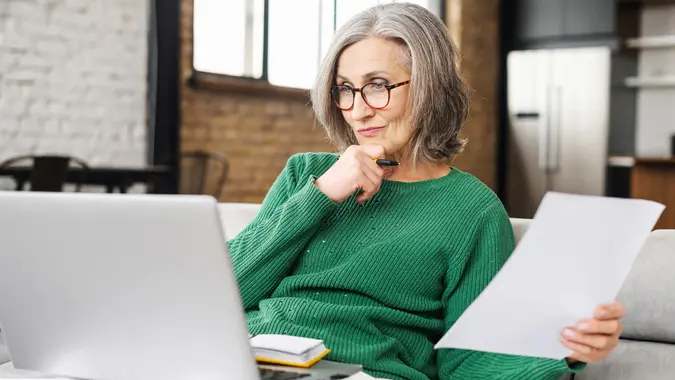 Vadym Pastukh / iStock.com
The credit cards that American Express, Member FDIC, issues are status symbols as much as they are payment facilitators. From a daily-use card like Blue Cash to the iconic Centurion card — which is reserved only for the world's wealthy elite — the American Express name can add a degree of status to any wallet.
But not just any wallet is worthy.
All that prestige comes from American Express' reputation for exclusivity. Compared to garden variety cards from Visa, Mastercard and Discover, American Express is famous for weeding out all but those with the most pristine credit profiles.
That's not to say they're out of reach. Plenty of average people with sub-800 credit scores carry American Express® cards, but you'd be wise to treat an American Express application with a little more care and caution than you would a typical provider.
Here's what you need to know.
How Long Does American Express Take To Approve an Application?
American Express expects that most people can fill out an application in about 10 minutes. As with most online credit card applications, applicants typically receive their approvals or denials almost instantly. In rare cases, a decision could take a few weeks, but that's unlikely. According to Experian, "If you're notified that the card issuer's decision is pending, you'll typically get an answer within 7 to 10 business days."
To check your American Express application status, call 1-877-239-3491. If American Express denies your application, you can call 1-800-567-1083 and ask them to reconsider. The company does not guarantee that it will reverse its decision, but even if it doesn't, an agent might be able to help you work to improve your chances of being approved in the future. The customer service department states that applicants who were denied in the past often qualify on future tries.
No matter the outcome, American Express cautions applicants to wait at least 30 days before applying for another card.
What Is the Minimum Income Needed for American Express?
American Express does not publish minimum income requirements — at least not in the United States. The company's application page in Australia reads, "Each American Express card has a minimum income requirement. When choosing your card, please ensure you meet the minimum income requirement before applying."
The U.S. site doesn't mention income at all, but that doesn't mean it's not an important determining factor in whether your application will be approved or denied.
Exact Requirements Are Unclear but You Can Bet That Income Matters
All credit card providers require income that's sufficient to cover the annual fee and make at least the minimum payments. With most credit cards, your income will have the biggest impact on your credit limit, but even people with high incomes can be rejected if they've missed payments, have excessive debt or harbor other high-risk blemishes on their credit reports.
Industry blogs commonly cite $50,000 a year as the likely minimum income needed to satisfy American Express, but it's implausible that a single dollar amount could apply to American Express' entire suite of cards across all its many tiers and categories.
For example, the iconic Centurion, or Black card, is so exclusive that regular people can't even apply without securing an invitation — and the privilege of membership comes with an annual fee of $5,000.
The idea that Centurion would have the same $50,000 income requirement as the Blue Cash Everyday Card is not a reasonable assumption to make. 
What Is the Minimum Credit Score Needed for an American Express Card?
Generally speaking, American Express tends to have stricter qualifying standards than its competitors. That aside, American Express does not list official credit score requirements, and different segments and cardholder tiers — Gold, Platinum, Blue, Green, etc. — can have different credit score requirements.
First, it's important to know how American Express classifies different credit scores. The American Express VantageScore Tool organizes credit profiles into three tiers:
660 or less: Fair or poor
661 to 780: Good
Above 780: Excellent
According to Forbes, higher-tier cards like American Express Platinum — and its famously long list of perks and benefits — are available only to applicants with excellent credit. Those with good or excellent credit might shop a tier or two down for cards like American Express Green or Gold.
It's important to note, however, that virtually all industry publications agree that only those leaning toward the excellent side of good should apply. Anything below 700 probably won't suffice, even if it's technically classified as good credit.
Does American Express Have an Option for Bad Credit?
Visa, Mastercard and Discover offer both secured and unsecured cards for people with bad credit or no credit. American Express does not, which adds to American Express' reputation for exclusivity.
Even if you have fair credit, your chances of getting approved for any card in the American Express line are dim. Industry leaders like Experian agree that good credit is the floor for American Express — and even that is not a guarantee.
Another Issuer Might Be More Forgiving
Banks, credit unions and other financial institutions are typically the entities that issue credit cards, and each will have its own standards and application processes. According to Experian, however, American Express stands out by issuing most of its own credit cards directly. Applicants, therefore, are mainly held to American Express' famously rigid standards — mostly. In a few rare cases, applicants with shaky credit might be able to land an American Express card through a third-party issuer.
The Credit One Bank American Express Credit Card, for example, is designed for applicants with "average to excellent credit," according to the bank's site. It has a high APR, it doesn't allow balance transfers and it doesn't deliver the top-shelf perks that made American Express famous — forget about lounge access and concierge service — but it does offer unlimited 1% cash back and fraud protection. Terms Apply.
You won't get the full American Express experience, but if you want to add the American Express name to your wallet, a card like this could be a good place to start.
An Alternative Option: American Express Optima
While American Express is mostly off limits to applicants with bad credit, there is one notable exception: American Express Optima.
The general public can't apply to American Express Optima. Available by invitation only, Optima is reserved only for former American Express members who have settled debts related to previous defaults with American Express and are looking to get back into the company's good graces.
It's as basic as they come — no rewards, zero fraud liability protection, a high penalty APR and an annual fee. According to Forbes, "this card is truly for those who have no other choice."
Filter Through Pre-Qualification
If you're unsure which card gives you the best chance of approval according to your income, credit history and other qualifying factors, your best bet is to use the American Express pre-approval and pre-qualification tool.
All you have to do is enter some basic information, then American Express will assess your credit profile and deliver your results in as little as 30 seconds. While there are no guarantees — everyone has to complete a formal application — American Express will showcase the cards that you're eligible for and that offer the best chance of approval. You might also receive special personalized offers like a lower APR or a higher welcome bonus.
The tool uses only a soft credit check so your credit will not be impacted, although it likely will if you do decide to fill out a full application.
Other Things To Consider
As with most major credit card providers, American Express application rules include caveats that limit the number of cards and the number of bonus points any cardholder can receive, including:
The "one in five" rule: Although it's known to vary its policy, American Express currently allows any one member to hold a maximum of five American Express cards at the same time.
The "two in 90" rule: American Express will issue no more than two cards to the same cardholder in any 90-day period.
The once-per-lifetime bonus rule: Cardholders are ineligible to receive a welcome bonus for any card they've had and received a bonus for opening in the past.
How Can I Get Approved for American Express?
In conclusion, American Express is now accepted at 99% of the merchant locations that take credit cards — but it's more than just your standard-issue plastic. American Express offers a unique menu of cards that deliver an impressive array of benefits and perks — and cardholders get the prestige that only comes with the American Express name.
Be aware of the company's higher standards, but don't be intimidated. The conditions for approval are the same as they are with any other higher-end card: healthy finances and a strong credit profile. To increase your odds of approval by American Express or any other card provider, you should:
Check your credit report and score before applying.
Pay on time, every time — a single missed payment will sink your score and your odds of approval.
Maintain a healthy credit utilization ratio. Most lenders like to see that you're using less than 30% of your available credit.
Don't apply for too much credit too frequently, which can make you appear desperate or irresponsible to lenders.
More on American Express Bank
Information is accurate as of July 29, 2022.
All information about American Express credit cards has been collected independently by GOBankingRates.com. American Express credit card products are not available through GOBankingRates.com.
Our in-house research team and on-site financial experts work together to create content that's accurate, impartial, and up to date. We fact-check every single statistic, quote and fact using trusted primary resources to make sure the information we provide is correct. You can learn more about GOBankingRates' processes and standards in our editorial policy.