American Express Preapproval: How To Prequalify for American Express Credit Cards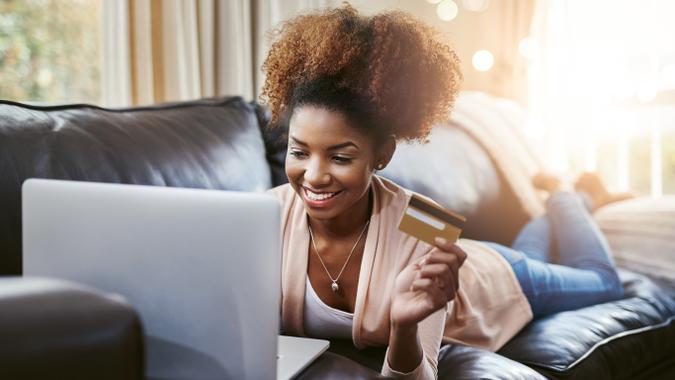 Peopleimages / iStock.com
American Express is one of the most popular credit card issuers in the world. This financial services company offers a vast number of prepaid, charge and credit cards for applicants with good to excellent credit scores — which FICO considers is typically above 670.
Because of this exclusivity, the chances of getting rejected for an American Express credit card are high. Fortunately, there's a way to find out which alternatives a person may qualify for without risking a hard pull on their credit: American Express preapproval offers. Here's a closer look at what these offers are all about. 
How American Express Is Different
When looking to apply for a credit card, many people often go to their bank of choice, which is considered a card issuer. If they're approved for a card, they typically receive one from a prominent network like Visa or Mastercard. American Express is both a credit card issuer and network — it doesn't just create and manage accounts, but also processes all transactions. 
Most major card issuers provide options for applicants of all credit levels, but American Express gears its products toward those who already have well-established credit. That's why cards from this financial institution can be so hard to get.
The Benefits of Having an American Express Card
American Express offers numerous perks for individual Card Members. These benefits, which vary by card type, include but are not limited to:
Purchase and return protection
Extended warranty
Trip cancellation and delay insurance
Rental car insurance
Emergency card assistance
Additionally, some American Express cards offer access to Membership Rewards programs that give users redeemable points with every purchase. Select American Express® Card Members are also eligible to earn referral points, which are granted when a referred friend has their application for a card accepted. 
How To Get Preapproved for an American Express Card
When applying for any major credit card, including American Express, it's standard practice for the card issuer to make a hard inquiry on the applicant's credit. This can negatively impact the applicant's credit score. With preapproval, potential applicants are screened for eligibility before a formal application is submitted, so their credit score isn't affected. 
Once the applicant has made their final decision, they can go ahead and submit a credit card application through the card issuer's site. It's important to have all relevant information handy to expedite the process. Anyone interested in prequalifying for an American Express credit card should:
Prequalification Guide:

Visit the American Express site.
Run its preapproval tool.
Compare all available offers and select one.
Click on the "Apply now" button of the desired option.
Provide the requested information in the application form.
Submit the completed and revised application.
Applying for an American Express card online should take no longer than 10 minutes. Once the application has been submitted successfully, American Express will send a confirmation email. After approval, it should take up to 15 days for applicants to hear back from the card issuer.
Increasing the Chances of Getting Approved
Credit is incredibly important for American Express to ensure that applicants have a good financial history and will use their cards responsibly. Building a remarkable credit history is the best way of boosting an applicant's probability of getting approved. Some good practices to keep a good credit score are:
Paying bills and credit card balances on time.
Only taking new credit when absolutely necessary.
Keeping credit card balances low.
Keeping credit accounts open, even when unused.
Becoming an authorized user on accounts of family members with a good history. 
Disputing incorrect data on all major credit reports.
Where To Check for American Express Preapproval Offers
Applicants can easily learn which credit cards suit their needs and lifestyle on the American Express website. It offers an easy-to-use tool to find out the best options for each specific person.
Good To Know

Prequalification is not the same as approval. Applicants can prequalify for an American Express card and still be denied once their application form is reviewed. However, a preapproved offer significantly increases the chances of getting a credit card.
Top American Express Cards
When American Express prequalifies an applicant, the credit card issuer typically presents them with various options from its comprehensive credit card portfolio. These options depend on the information the applicant provided during the preapproval process and may include any of the following credit cards.
American Express Platinum Card
Platinum Card Members can earn up to 100,000 Membership Rewards points if they spend $6,000 during the first six months. For a $695 annual fee, this card offers access to exclusive lounges, up to $200 in Uber Cash and 5 points per dollar on all flights booked through airline sites directly
American Express Gold Card
The American Express Gold Card has a $250 annual fee and lets users earn 60,000 Membership Rewards points after spending $4,000 within the first six months. Additionally, it gives 4 points per dollar at international restaurants and local supermarkets. 
American Express Blue Cash Preferred and Blue Cash Everyday Cards
These options have a low intro APR during the first 12 months of card membership and offer reduced plan fees when paying in installments. New Blue Cash Everyday Card Members are eligible for a $200 cash back welcome offer after spending $2,000 during their first six months of card membership. For Blue Cash Preferred, new Card Members are eligible for a $300 cash back welcome offer if they spend $3,000 on purchases during their first six months of membership. 
Delta SkyMiles Gold American Express, Delta SkyMiles Platinum American Express and Delta SkyMiles Reserve American Express Cards
As part of its partnership with Delta Airlines, American Express offers several travel cards that allow users to earn bonus miles for eligible purchases within the first three months. They also offer airline perks such as Delta Sky Club Access, baggage fee waivers and Delta flight credit.
American Express Cash Magnet Card
Like the Blue Cash options, the American Express Cash Magnet Card has a low intro APR of %0 for the first 15 months and allows dividing purchases into installments for reduced fees. It has a $0 annual fee and includes a $200 statement credit when a new cardholder spends $2,000 during the first six months of membership. The Cash Magnet card also offers unlimited 1.5% cash back. 
Hilton Honors, Hilton Honors American Express Surpass and Hilton Honors American Express Aspire Cards
These Hilton-powered cards give users bonus points towards the hotel's loyalty program and free reward nights after spending a minimum amount in the first three months. It's $1,000 for the basic Hilton Honors card, $2,000 for the Surpass card and $4,000 for the Aspire card.
Marriott Bonvoy Brilliant American Express Card
With a $450 annual fee, this card offers up to 75,000 Marriott Bonvoy bonus points if a new cardholder spends $3,000 during the first three months of membership. The Marriott Bonvoy Brilliant American Express Card also includes up to $300 in statement credits every year. 
American Express Green Card
This classic American Express credit card lets account holders earn up to 40,000 points for spending $2,000 in the first six months. It has a $150 annual fee and offers 3 points per dollar for travel, transit and dining purchases. 
AmEx EveryDay and EveryDay Preferred Credit Cards
These cards let account members earn reward points after spending at least $2,000 on qualifying purchases in the first six months. This comes out to 10,000 points with the Amex EveryDay card and 15,000 points with the Amex EveryDay Preferred card.
Blue from American Express
This no-annual-fee option allows American Express® Card Members to gain Membership Rewards and earn 1 point per dollar spent on each purchase, with a variable APR of 24.24% on items you buy. Some of the features include access to American Express Experiences, insurance for car rentals and damage and up to 2 points per dollar on travels booked at AmexTravel.com.
Final Take
Applicants who have a good or excellent credit score can certainly benefit from American Express's competitive reward programs, welcome offers and travel benefits. Those who are still building their credit — or have poor credit health — should steer clear until their situation improves. Preapproval is an excellent way to learn if applying for an American Express credit card is worth it before the issuer does a hard pull on the applicant's credit.
While American Express offers some great cards with attractive characteristics, its products aren't cheap. To avoid late payments down the line, American Express® Card Members need to make sure they're able to pay the card's annual fees, interest rates and balance every month before applying.
Editorial Note: This content is not provided by American Express. Any opinions, analyses, reviews or recommendations expressed in this article are those of the author's alone and have not been reviewed, approved, or otherwise endorsed by American Express.
Our in-house research team and on-site financial experts work together to create content that's accurate, impartial, and up to date. We fact-check every single statistic, quote and fact using trusted primary resources to make sure the information we provide is correct. You can learn more about GOBankingRates' processes and standards in our editorial policy.