How To Do A Balance Transfer With Capital One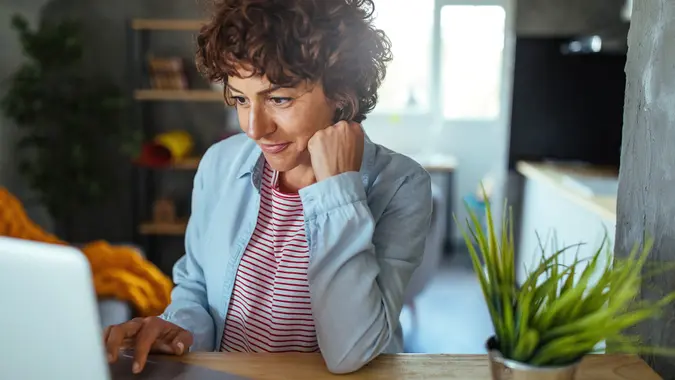 mixetto / Getty Images
Capital One offers a wide range of credit cards, all of which come with their rewards, perks and payment terms. Four come with promotional periods of 0% introductory APRs on balance transfers, though most credit cards offer balance transfers at standard interest rates. 
Nonetheless, those new to the balance transfer concept may find it challenging to start. Here's everything cardholders and potential applicants need to know when transferring balances to Capital One. 
Should You Consider a Balance Transfer Credit Card?
When a cardholder processes a balance transfer, they use one credit card to pay off another, thus transferring the balance from one account to another. Cardholders typically enjoy lower interest rates on the account they move to. Also, many offers come with promotional periods of 0% interest rates for the first several months after the transfer. But, there's a caveat to consider. 
Although balance transfers reduce cardholder interest rates, they also typically come with transfer fees. Capital One's balance transfer fees range from 3% to 5%. Although these transfer fees cut into the savings from balance transfers, they're typically still worth the effort.  
How To Do a Capital One Balance Transfer
Cardholders who want to transfer a balance to a Capital One credit card have two options. They can apply for a new card and transfer a balance immediately upon approval or transfer a balance to their existing Capital One credit card. 
How To Do a Balance Transfer to a New Capital One Card
Customers who want to transfer balances from existing credit cards to a new Capital One credit card should follow the steps below:
Compare offers. Capital One offers four credit cards with promotional periods of 0% introductory interest rates, but they also provide more than a dozen credit cards to which you can transfer balances at standard rates. Applicants should compare their options to find the card, terms and rewards program best for them. 
Apply. Next, applicants should fill out the application, ensuring all their personal information is correct. 
Fill out the balance transfer request. During the application, the bank will ask if they'd like to transfer balances. They should click the "Yes" option and fill out the information about the balances they want to transfer. 
Wait for the transfer. Balance transfers typically take up to two weeks to process. 
How To Do a Balance Transfer to a Capital One Credit Card You Already Have
Cardholders with a Capital One credit card to which they'd like to transfer their balances are one step ahead. Here are the steps they should follow:
Log in. The easiest way to transfer a balance to Capital One is online. Cardholders should start by logging into their online account management platform. 
Request a transfer. Click "Transfers" and fill in the form to tell Capital One which balances to pay off. 
Approval. Capital One may approve the balance transfer immediately. If not, the lender will typically provide a decision within a few days. 
Wait for the transfer. Once the bank approves the transfer, cardholders must wait for the bank to complete it. As mentioned, this typically takes up to two weeks to process. Cardholders should continue making minimum payments on their existing accounts until the transfers are complete. 
What Happens After a Cardholder Requests a Balance Transfer From Capital One?
When cardholders request a balance transfer from Capital One, and the bank approves that balance transfer, they use the cardholder's line of credit on their credit card to pay off balances on other credit cards. 
Keep in mind that Capital One has no control over accounts with outside lenders. Cardholders who want to close their accounts after the balance transfer must call their lenders directly.
Things To Know Before You Transfer Balances
Balance transfers could save cardholders substantially on interest charges, but there are also a few things they should know before they get started. 
The bank will require cardholders to pay higher interest rates once the promotional period expires. It's essential that they pay attention to the higher interest rates and whether the transfer will offer long-term savings.
Balance transfers with promotional interest rates typically come with balance transfer fees. Capital One offers several credit cards that allow cardholders to transfer balances with no transfer fee, but those options don't come with 0% promotional interest rates. 
Some balance transfer credit cards may charge retroactive interest on balances that aren't paid off by the end of the promotional period. Applicants should read the terms closely and avoid these offers if they can't pay their balances off within the promotional period. 
Final Take
Balance transfers are a great way to help cardholders pay down credit card debt with reasonable terms. A period of a 0% interest rate can help borrowers over time. Consider transferring a balance today to save hard-earned money! 
More on Capital One Bank
Capital One Balance Transfer FAQ
Balance transfers can save money, and anything having to do with money tends to be the center of several common questions. Some of the most common questions about Capital One balance transfers include:
Does Capital One allow balance transfers?

Capital One offers several credit cards with balance transfer features.

Do balance transfers hurt credit scores?

Balance transfers may harm or improve credit scores depending on the overall credit makeup of the borrower. Balance transfers lead to lower credit utilization rates and fewer cards with balances on them, which is good for credit scores. On the other hand, they can also reduce the borrower's average age of credit accounts and hit them with a hard inquiry, both of which are bad for credit scores.

How long does a balance transfer from Capital One take?

Capital One balance transfers are typically processed within three days to two weeks.

Can I use my Capital One card to pay off another credit card?

Yes, provided applicants select and are approved for a Capital One balance transfer card.
Information is accurate as of Sept. 30, 2022.
Editorial Note: This content is not provided by any entity covered in this article. Any opinions, analyses, reviews, ratings or recommendations expressed in this article are those of the author alone and have not been reviewed, approved or otherwise endorsed by any entity named in this article.