How To Open a Capital One Account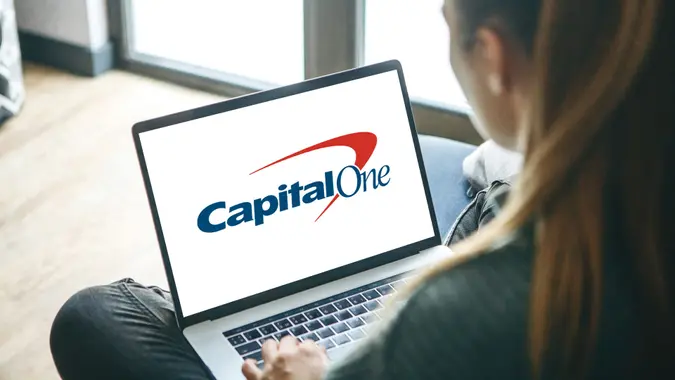 franz12 / Getty Images/iStockphoto
Capital One is the ninth-largest bank in the United States, and if you landed on this article, there's a strong chance you're considering opening an account. However, if you've never opened an account with Capital One, you may have a few questions about the process or about some of Capital One's unique features, such as earning interest on a no-fee checking account or banking in a Capital One Café.
See: How To Guard Your Wealth From a Potential Banking Crisis With Gold
Read the guide below to learn everything you need to know about signing up for and using Capital One checking and savings accounts. 
How To Open a Capital One Account
Find detailed instructions for opening your Capital One account below. 
1. Determine Which Bank Account You Want To Open
Capital One offers five different types of bank accounts. When you open your account, it's important to choose the account type that best fits your needs. Consider the following:
360 Checking: Capital One 360 Checking is the financial institution's take on a traditional checking account. It comes with no fees and offers interest.
Money Teen Checking: Money is Capital One's teen checking account. This account gives teens the freedom and safety that comes with a checking account while making it easy for parents to pay allowances, incentivize chores and track spending.
360 Performance Savings: The 360 Performance Savings account offers APY on savings with no minimum balance.
360 CDs: Capital One is currently offering one-year CDs at APY, two-year CDs at APY and five-year CDs at APY.
Kids Savings Account: Capital One makes it easy to teach your kids the benefits of saving with this account.      
2. Gather Your Personal Information
It's a good idea to prepare for your application by gathering your personal information. You'll need everything you'd need to open a checking account with any traditional bank. This includes:
Your name and address
Your Social Security number
Your address, phone number and email
Your employer's name and your income
If you decide to go to a branch to open an account, you'll want to bring your driver's license, state ID or military ID to verify your identity. 
3. Apply Online or in Person
Once you have all of your information, you can apply for an account online or go to a Capital One location for in-person service. 
To apply online, follow these steps:
Go to the Capital One page for the banking product you'd like to sign up for. 
Click "Open Account."
If you already have a Capital One login, use it to speed the process up. If not, create a new profile.
Follow the prompts to complete the application.
If you are new to Capital One or banking in general, you can also visit your nearest Capital One branch and have a representative walk you through the application process. To find a Capital One location near you, use its branch locator and enter your location.
What To Do If You Need Help From Capital One Customer Service
Capital One offers 24/7 interactive phone service and human support from 8 a.m. to 8 p.m., seven days a week. Here are the phone numbers to call for these services:
Interactive phone service: 888-464-7868
Speak with a representative: 800-289-1992  
Checking Account Fees and Features
You won't pay any fees to use either one of Capital One's checking accounts. Here are the most exciting features of each:
360 Checking: Access to more than 70,000 ATMs, mobile deposits, interest on stagnant balances, instant alerts and overdraft protection. You'll also get paid up to two days early when you use direct deposit.
Money Teen Checking: Easily transfer money to your teen's account, give your teen access to a debit card and keep track of your teen's financial activity.
Savings Account Fees and Features
As is the case with Capital One's checking accounts, the financial institution's savings accounts are fee-free. Here are the most exciting features of each account type:
360 Performance Savings: Earn APY on your stagnant funds with no minimum deposit or balance, check in on your savings on the go with an intuitive mobile app and open your account in as little as five minutes.
360 CDs: Access competitive, fixed-rate returns with no minimum balance and no market risk.
Kids Savings Account: Teach your kids the value of saving with no fees or minimum balances and a APY. You can also link your accounts and send regular allowance deposits.
How To Avoid Unwanted Fees
None of Capital One's bank accounts come with fees. So, you won't have to worry about any unwanted fees or meeting obscure requirements to avoid them.  
Monitoring and Protecting Your Bank Account
Capital One offers an intuitive mobile app that makes it easy to keep track of what's happening with your account at any time from anywhere in the world. Accounts with the bank also come with robust security and fraud protection features.
Should You Open a Capital One Account?
If you're looking for a no-fee alternative to the traditional banking experience, you should strongly consider opening a new Capital One account. You won't have to worry about the nickel-and-dime fees you've likely come to expect from other major financial institutions, and you'll have the ability to earn meaningful interest on the money you save. 
At the same time, Capital One gives you access to advanced features, like tools that make it easy to teach your children about money and how to manage it.  You'll also have access to Capital One's mobile app and enjoy a new take on banking with access to Capital One Cafés. 
More on Capital One
Compare to Other Banks
Levi Leidy contributed to the reporting for this article.
Rates are subject to change; unless otherwise noted, rates are updated periodically. All other information on accounts is accurate as of June 20, 2023.
Editorial Note: This content is not provided by any entity covered in this article. Any opinions, analyses, reviews, ratings or recommendations expressed in this article are those of the author alone and have not been reviewed, approved or otherwise endorsed by any entity named in this article.