Capital One's Holiday Hours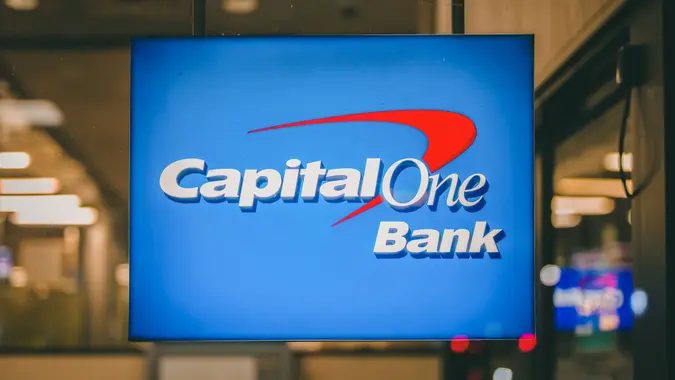 Goran Bogicevic / Shutterstock.com
Capital One is one of the largest banks in America, controlling around $330 billion worth of assets. It might be best known for its credit cards and online savings accounts, but the company also operates physical bank branches located mostly on the East Coast. If you wonder when you can visit one of Capital One's branches, keep reading to learn about their hours of operation.
Capital One Hours on Normal Days
Capital One typically keeps its branches open from 9 a.m. to 5 p.m. Monday through Friday, though some branches stay open until 6 p.m. on Friday. There are also branches that open at 8:30 a.m. and close at 4 p.m. on weekdays.
Choose Wisely: Is Capital One the Right Bank for You?
Is Capital One Open on Weekends?
Some Capital One branches are open on Saturday. The ones that do usually have hours from 9 a.m. to 12 p.m. or 1 p.m., but others open at 10 a.m. and close at 2 p.m. No branches are open on Sunday.
Here's a quick look at Capital One's typical hours:
Capital One Hours
Day
Hours
Monday through Friday
9 a.m. to 5 p.m. (varies based on branch)
Saturday
9 a.m. to 1 p.m. (varies based on branch)
Sunday
Closed
You can use Capital One Bank's branch locator to find a local branch or service center, most of which are located in Virginia, Maryland, New Jersey, New York and Washington, D.C.
Capital One Hours for Holidays
Capital One, like most of its banking brethren, shuts down for federal holidays. The table below lists the rest of the 2023 federal holidays when you can expect Capital One and others to close up shop.
Capital One Bank Holiday Schedule
Holiday
Date
Memorial Day
Monday, May 29
Juneteenth
Monday, June 19
Independence Day
Tuesday, July 4
Labor Day
Monday, Sept. 4
Columbus Day
Monday, Oct. 9
Veterans Day
Saturday, Nov. 11
Thanksgiving
Thursday, Nov. 23
Christmas Day
Monday, Dec. 25
Check Out: Full List of All Bank Holidays
How To Bank With Capital One Outside of Business Hours
If you want to conduct banking business after hours you can do so using Capital One's online banking and mobile banking platforms, as well as Alexa. Unlike many banks, Capital One is compatible with Amazon devices. With an Amazon Alexa-enabled device you can use voice commands and questions to track spending, pay your bills and more. Meanwhile, the mobile app also lets you pay your bills and set up account notifications to get alerts for suspicious activity.
Also See: How To Get Money Orders and Other Urgent Bank Items When Your Bank Is Closed
How To Contact Capital One Customer Service
Capital One's customer service numbers for bank support are:
1-800-655-2265 for retail branch bank accounts
1-800-810-4013 for non-branch accounts
1-877-442-3764 for online banking assistance
You can reach automated services every day, but the best time to call is between 8 a.m. and 7 p.m. Eastern time. The retail branch bank account line is available a little later until 11 p.m.
GOBankingRates' Best Banks 2023
More on Capital One
More on Bank Hours
Information is accurate as of January 12, 2022.
Editorial Note: This content is not provided by Capital One. Any opinions, analyses, reviews or recommendations expressed in this article are those of the author alone and have not been reviewed, approved or otherwise endorsed by Capital One.