Capital One Interest Rates: How To Get the Bank's Best Rates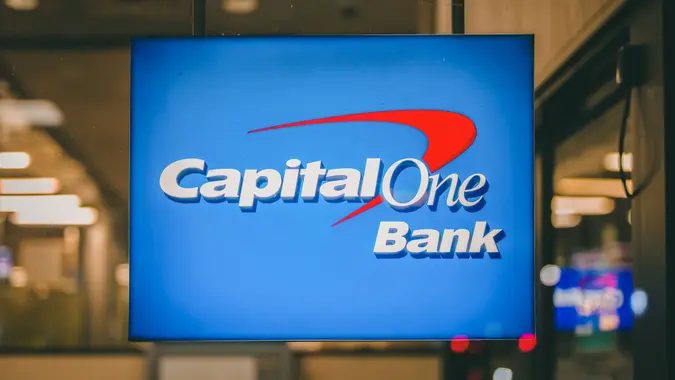 Goran Bogicevic / Shutterstock.com
Capital One is a bank holding company that specializes in credit cards, auto loans, banking and savings accounts. It also offers consumers financial wellness tools, cash back on dining and entertainment, as well as your own personal Capital One assistant, Eno. Capital One customers can earn interest without any hidden fees. Check out current Capital One interest rates and suggestions on how you can get the best rates at Capital One:
How To Get the Best Capital One Interest Rates
Capital One boasts personal banking services and products to fit your life, promising ease and simplicity when opening a bank account. Both checking and savings accounts have no fees or minimum balance requirements to open an account. Consumers can also get five times the national average savings rate. You can open an account from virtually anywhere, and manage your money on the go with tools like CreditWise and Zelle. Interestingly, Capital One has its own Capital One Cafes, which are spaces where customers can enjoy a coffee and meet a brand ambassador — versus a bank teller. You can learn more in-person about the type of accounts Capital One offers, how to get the best interest rates and attend free financial events where everyone is welcome. Here's an overview of the account types offered by Capital One:
Capital One Accounts
Account/Product
Product Type
360 Checking
Checking Account
MONEY
Checking Account (Teen)
360 Performance Savings
Savings Account
Kids Savings Account
Savings Account
360 IRA Savings Traditional
IRA/Savings Account
360 IRA Savings Roth
IRA/Savings Account
12-Month 360 CD
CD
24-Month 360 CD
CD
60-Month 360 CD
CD
Read: Capital One Bank Review: Full-Service Menu and No Fees
Capital One Checking Account Interest Rates
Capital One's 360 Checking account is a fee-free online and mobile account. There are no minimum balance requirements to keep or open the account, with free ATMs at over 39,000 Capital One or Allpoint locations at no cost. You can earn APY every month, regardless of the amount of money stored in your checking account. Capital One also offers a MONEY account, which is specifically geared toward teens. There are no fees associated with this account or minimum balance requirements, which is extra beneficial when starting a checking account for your kids. Your teen will also receive a free MasterCard debit card in their name, giving them some much-wanted buying power. Parents, however, should have no fear — Capital One allows you to set up text alerts so you can track your teen's spending, and see when their balance is low. Your teen can also earn APY on all balances, which can help create better saving habits for the future.
Capital One Savings Account Interest Rates
The Capital 360 Performance Savings account is high-yield with no hidden fees. Just like the checking accounts, there are no minimums to open or maintain the savings account. This high-yield savings account allows you to earn higher than the average interest rate on your balance amount. This 360 Performance Savings will earn five times the national average savings rate on all balances, with the current interest rate at . Since there are no fees or minimums with Capital One, this means every dollar that you earn is yours to save. Capital One also offers a Kids Savings Account. This account has many of the same features of Capital One's regular savings accounts. One such feature is an automatic savings plan that allows parents to send their child's allowance on schedule as well as make regular deposits. The account has a 0.30% APY, and you can link to multiple accounts or create accounts for different savings goals. The 360 IRA Savings accounts comes with a 0.40% APY and has tax advantages included. This account also offers FDIC protection and are solely meant for retirement savings. If you want to save in the short-term, the 360 Performance Savings or 360 CDs would make for better options.
Check Out: Best Savings Accounts
Capital One CD Interest Rates
Capital One offers several different CD accounts based on term length, such as 12 months, 24 months and 60 months. You can find the interest rates for these CD accounts below:
Capital One CD Interest Rates
Account
APY
Minimum Balance
12-Month CD
$0
36-Month CD
$0
60-Month CD
$0
There's no market risk for these CD accounts, so you can set and forget your funds with peace of mind. However, it's important to remember you cannot access these funds until the term length ends. If you do so, there is a considerable penalty. Interest rates for CD accounts are often much higher than traditional bank account rates. As a result, CDs may be a great way to save more efficiently if you don't need the funds for immediate use. You should be sure to keep your savings goals in mind when opening this particular account, as term lengths vary.
Related: Capital One Walmart Card Review: Is the Rewards Credit Card a Good Deal?
How Do Capital One's Rates Compare To Other Banks?
Capital One has earned a reputation as one of the best regional banks for consumers, and its competitive rates reflect that. Here's how Capital One compares to financial institutions in the regional bank category:
How Do Capital One's Rates Compare?
Bank
Checking Account APY
Savings Account APY
12-Month CD Account APY
Capital One
KeyBank

0.01%

0.05%

Fulton Bank

0.02%

0.50%

TD Bank

0.05%

1.00%
Capital One interest rates sweep the board. Again, there are no monthly fees or minimum balance requirements on any of its products, which makes it an even better choice when it comes to your checking and savings account. Capital One interest rates can compete with the larger national banks but may hold less weight when it comes to online banks' interest rates. When trying to find an account that best fits your lifestyle, consider whether having physical branches — and, in Capital One's case, cafes — is more important to you than the higher interest rates offered by online banks.
More on Capital One
More Bank Interest Rates
This article was updated on October 6, 2022, to reflect Capital One's updated CD rate APYs and Savings APYs.
Rates are subject to change; unless otherwise noted, rates are updated periodically.