Investing in the stock market for the first time might feel overwhelming, but with modern technology it's easy to get involved and start making returns on your investments quickly. Ideally, you look for an app with lots of investing research and data available, as well as low costs and a good user interface.
These 11 free investing apps can help you transition from an inexperienced first-time investor to someone who knows where to put his money.
Related: 25 Money Experts Share the Best Way to Invest $1,000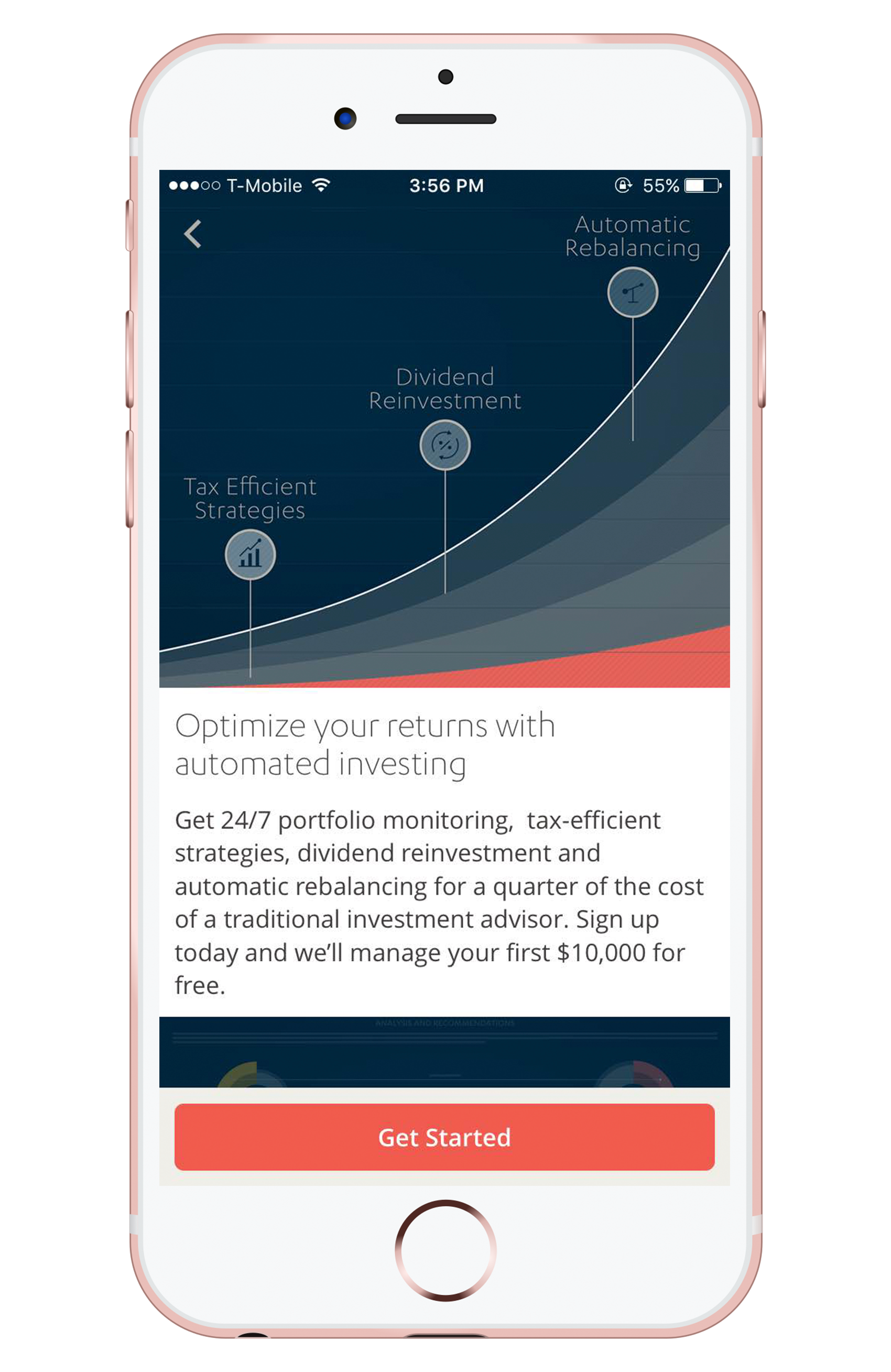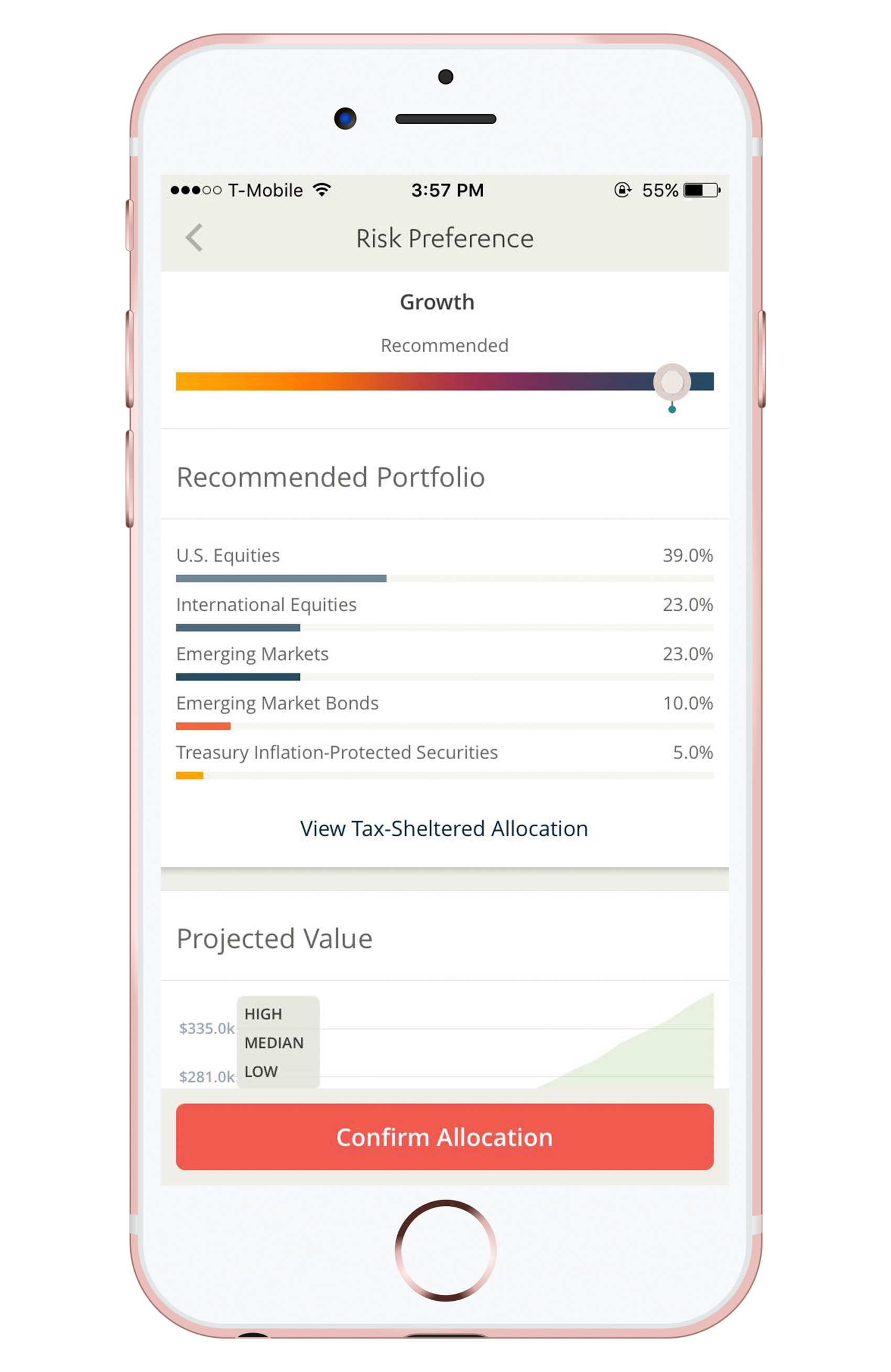 1. SigFig
Unlike many other investing apps, SigFig allows its users to manage 100 percent of their investments. When you sign up, SigFig gives you a personalized investment plan to get you on the right track. And if you don't want to do the work yourself, it's just 0.25 percent annually for SigFig to handle your account for you.
Another thing that separates SigFig from the pack is that the app guides new investors to a better understanding of their investments by tracking their own returns and staying educated on current stock news and research. Whereas other apps might simply pursue as much profit as possible, SigFig advises you on your investments through education as well.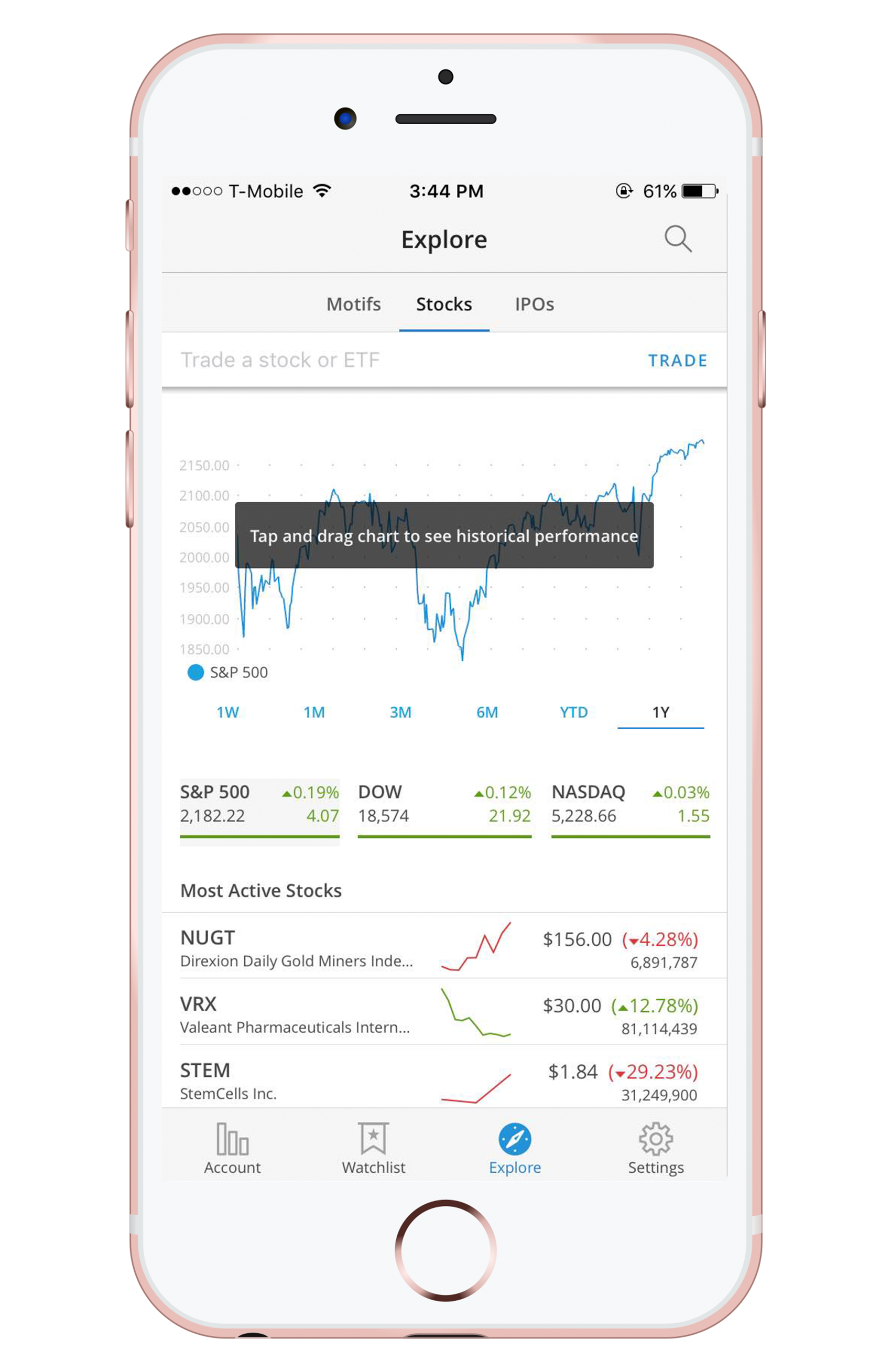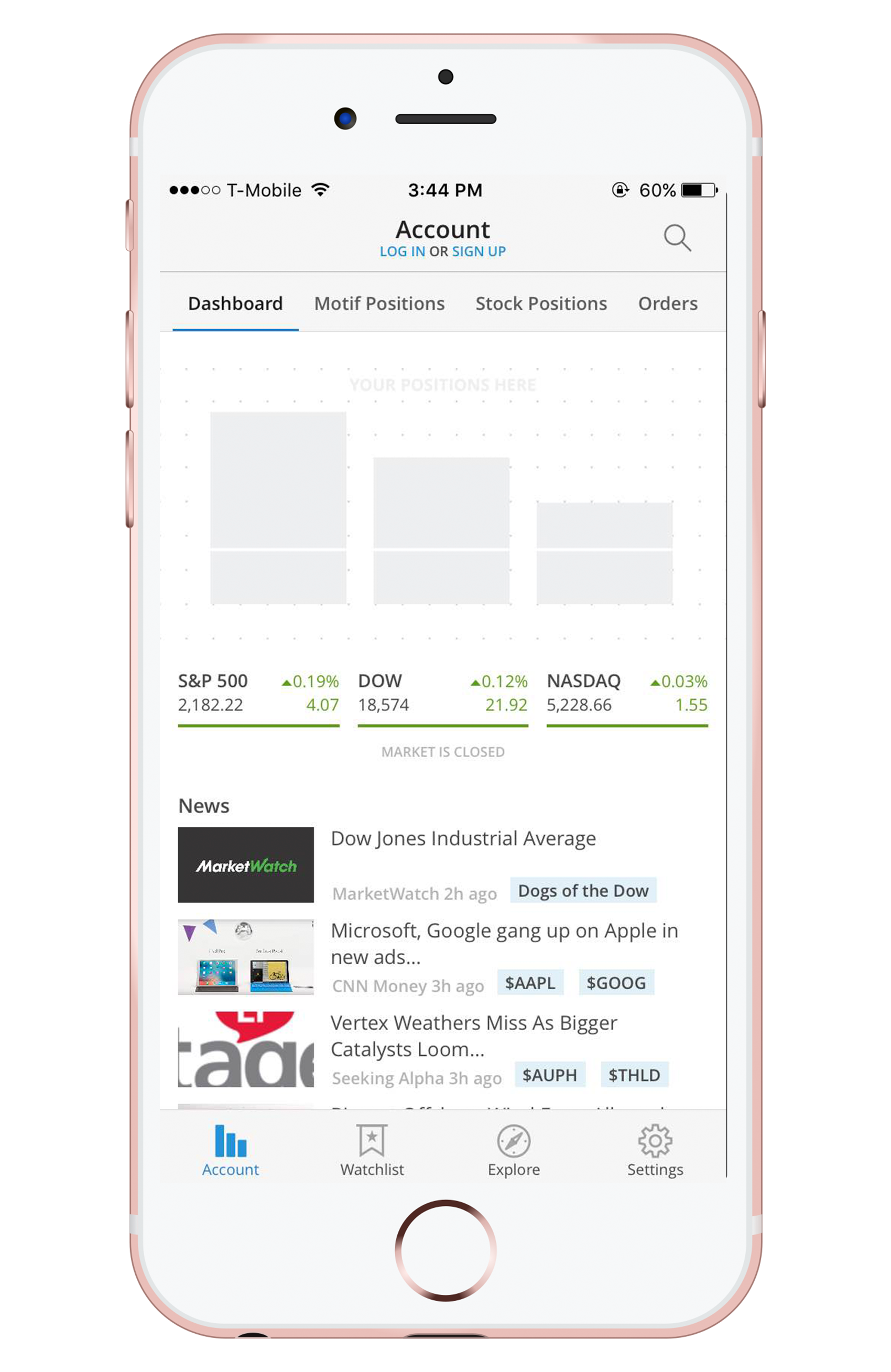 2. Motif
Rather than offering a jungle of different stocks, ETFs and other assets, Motif divides assets into different motifs — or mini investment portfolios — built around a specific niche in the economy. There are over 150 professionally made motifs for the new investor, but you can also start your own motif if you'd like to branch out.
Each motif that you create costs $9.95. Although this rate might sound exorbitant, what's important to remember is that the $9.95 is acquiring about thirty stocks and ETFs for you. If you only want to trade one stock, however, that can be done for the price of $4.95 per trade.
Motif is a great app for investors just starting out. If you don't know what stocks you want to put your money in, it's made easier with Motif — all you have to do is decide what niche you want your money to be in.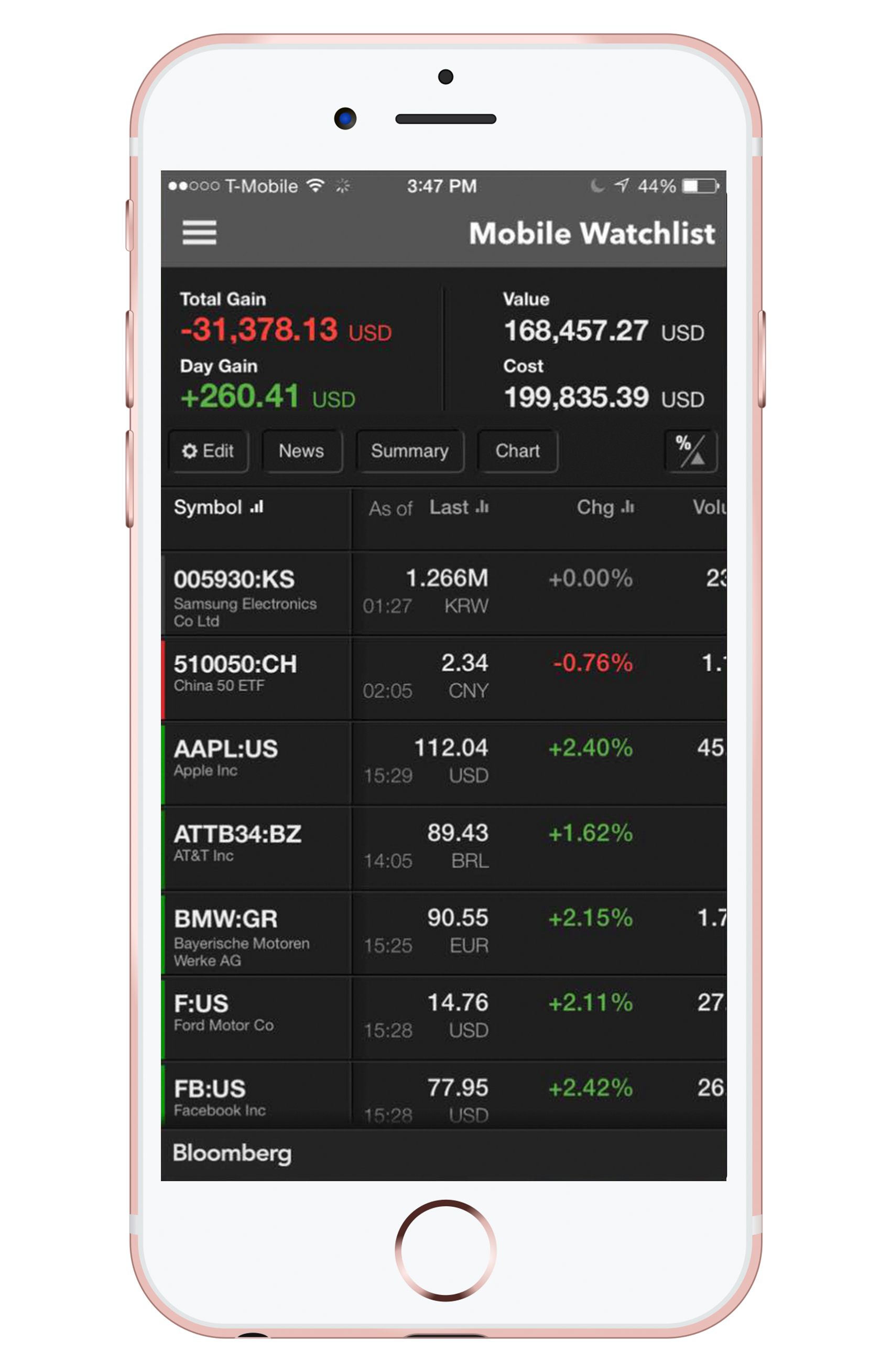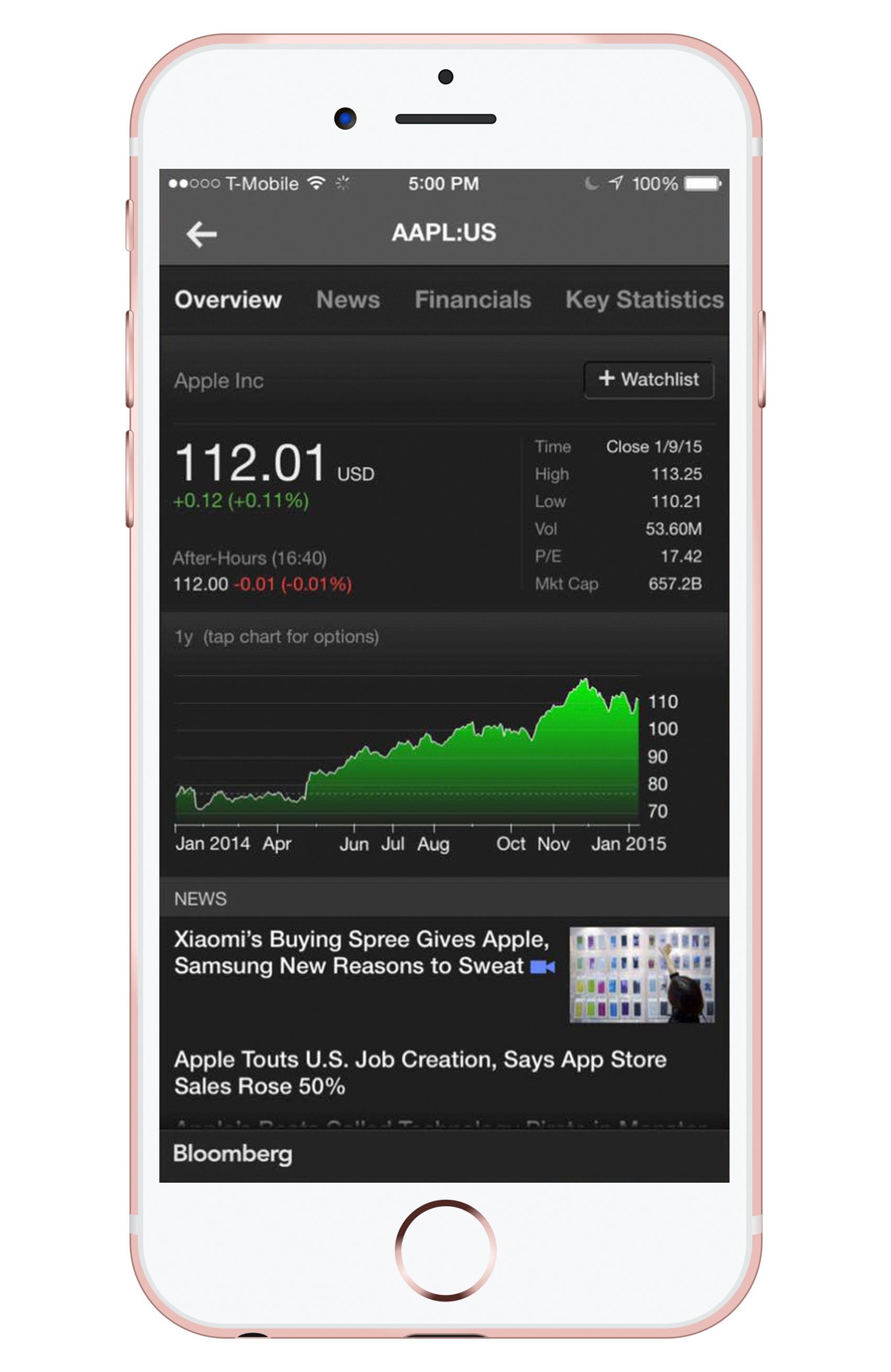 3. Bloomberg
Bloomberg provides lots of information for a free app. And although you can't invest directly from the app, nor will the app handle your money for you, it has plenty of available information that will help you to invest. The app provides current news — both throughout the world as well as news on the market and current finances — and has a platform that's easy to use.
Although the app is free and easy to use — and provides lots of information as well as customization options — it does have a few setbacks. The app has lots of news and data, but it's not endless. Therefore, whereas most beginning investors would be fine with Bloomberg's offerings, those looking for a more diversified portfolio — maybe with some under-the-radar stocks and less prominent ETFs — might find that there's not quite enough diverse information available.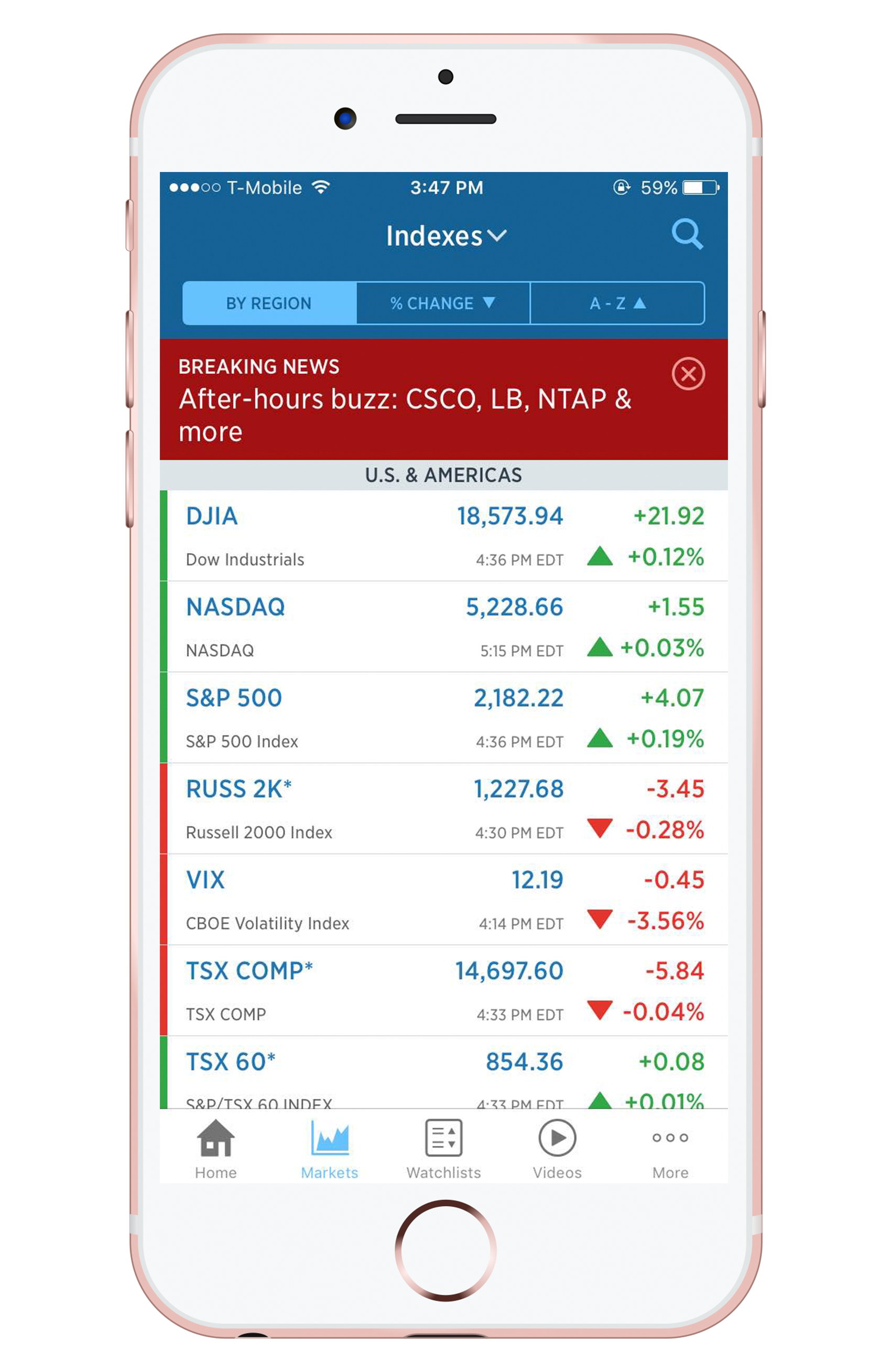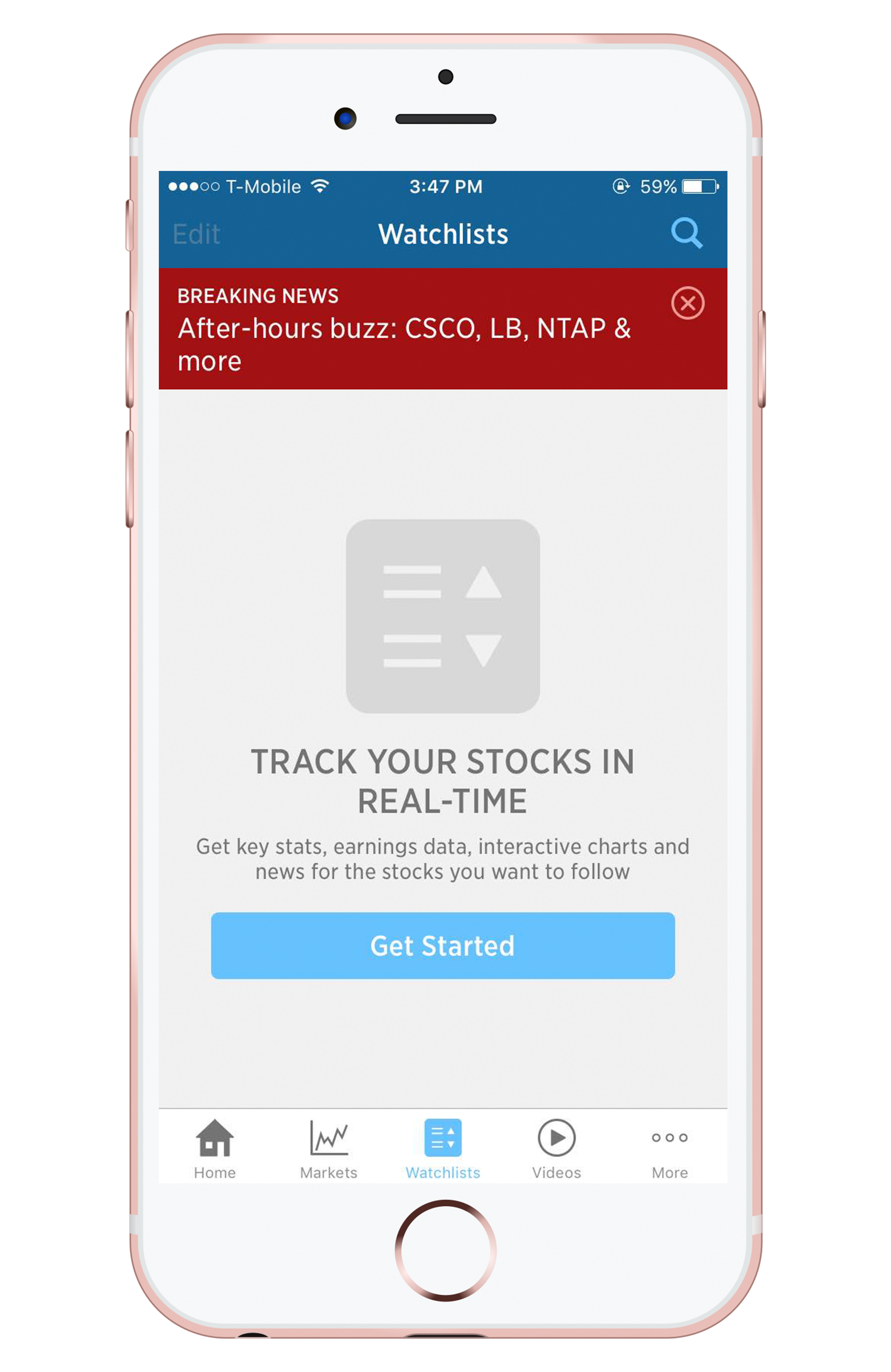 4. CNBC
Like the Bloomberg app, CNBC provides daily news coverage with real time stock quotes, videos and access to full-length CNBC programs. If you can't find the time in your day to watch TV or read a newspaper to get your investment news, the CNBC app serves as an alternative. The app has drawn positive reviews, with one Android user saying the app is "Easy to Navigate. Quick, dependable access to all the news and stats of interest to me. Great way to start the day, and keep up as well."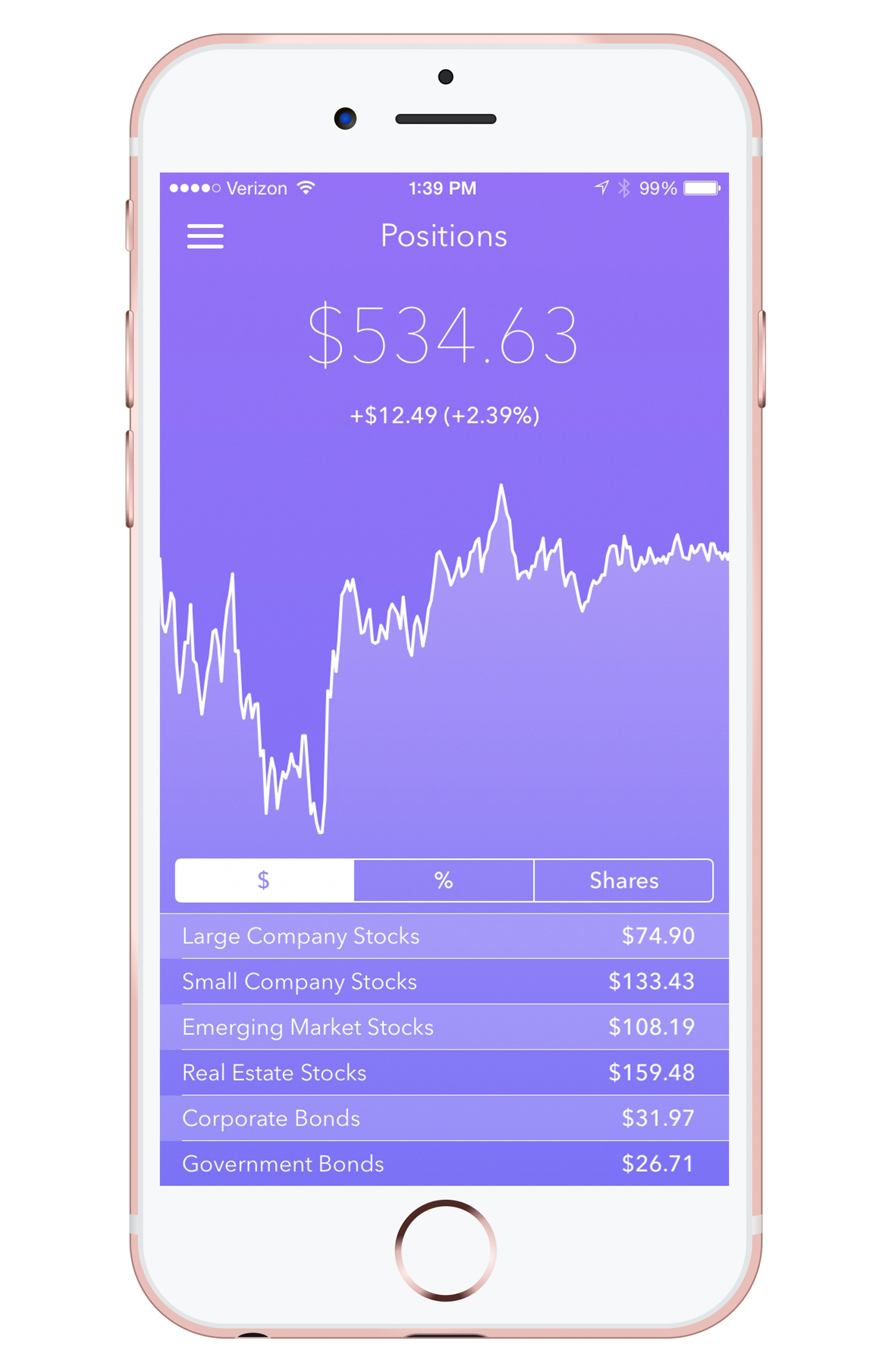 5. Acorns
Acorns is built around the idea that saving up and investing your spare change can get you to retirement. This could be hyperbole, but by taking and investing your spare change, Acorns is one of the most innovative savings ideas in the world today — the company calls it "micro investing." The way it works is simple: every time you make a purchase, the price is rounded up to the nearest whole-dollar amount and the difference is put into your Acorns account and invested.
Acorns is extremely affordable, costing just $1 a month for accounts under $5,000, and 0.25 percent for accounts over $5,000. However, you might incur another fee with Acorns: taxes. The returns you make on your investments are taxable income. The app wants to be known as an alternative retirement fund, but money put in your 401k isn't taxable. Because of this, Acorns shouldn't be your main retirement fund — but it is a great way to start investing and earning some extra money.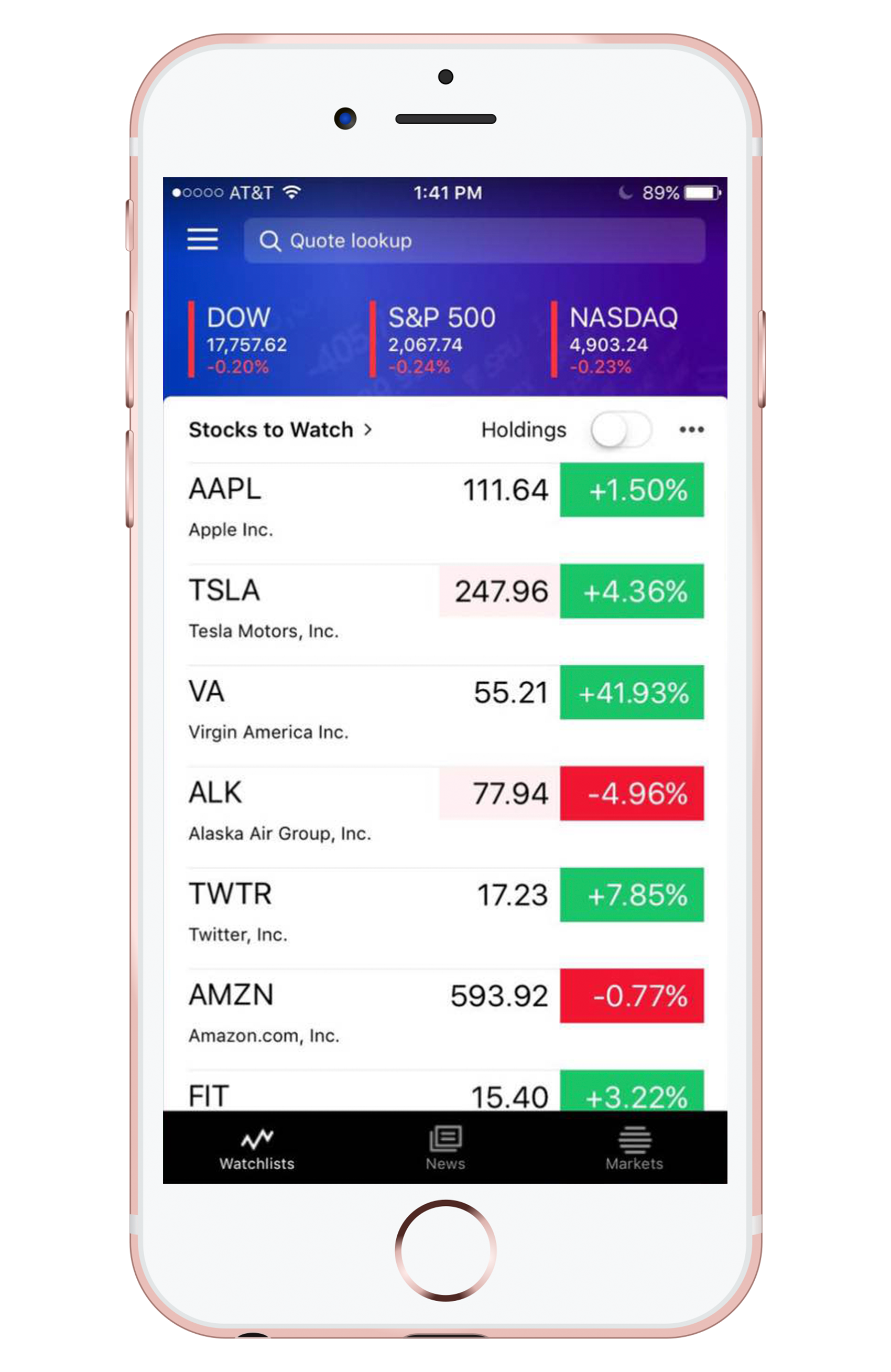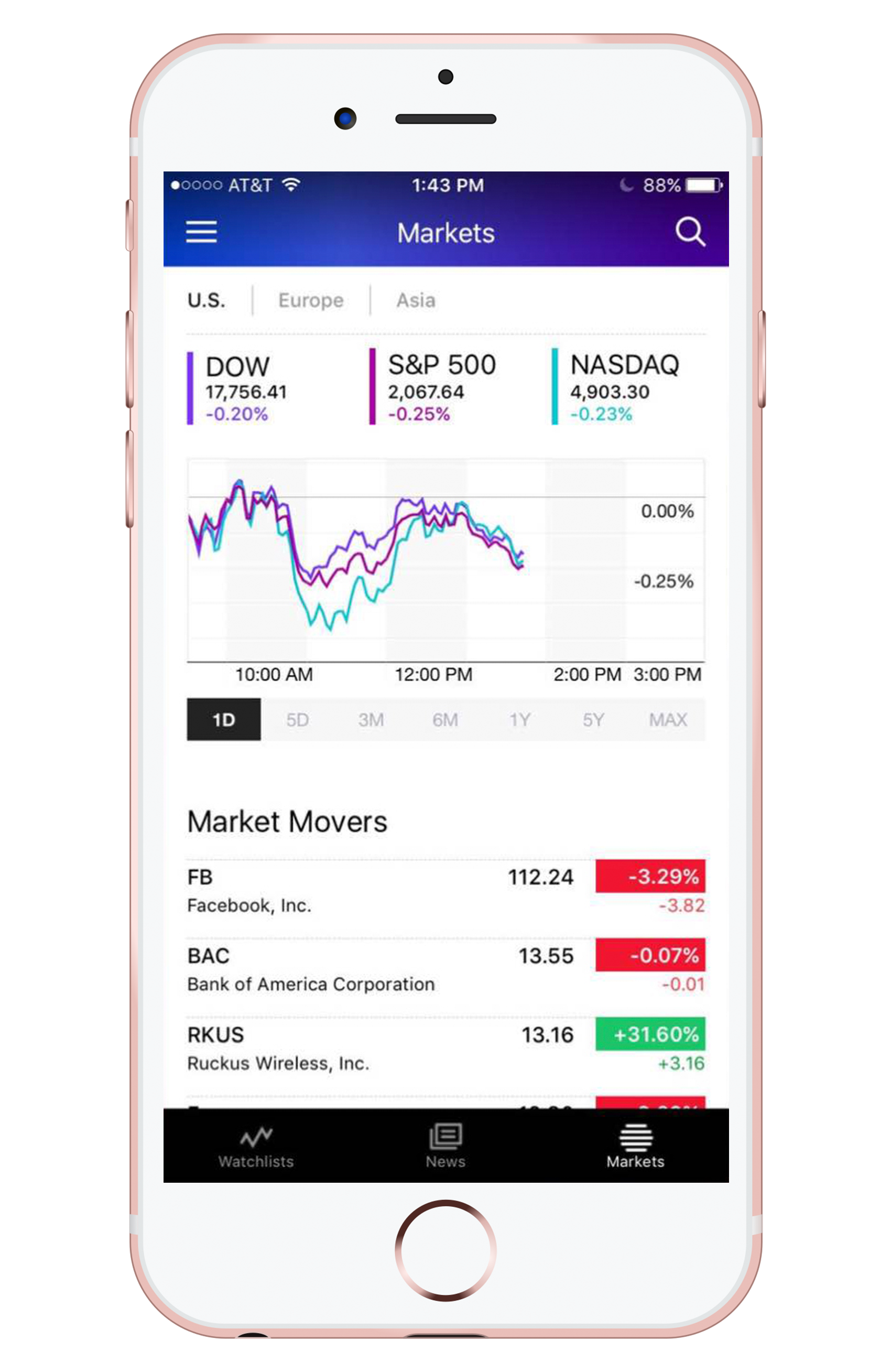 6. Yahoo Finance
Although it won't invest your money for you or let you directly invest using the app, Yahoo Finance will give you all the information you'll ever need to invest money efficiently. It covers market trends and financial news, and provides market research and data to help you make informed decisions with you money. You can also link your brokerage accounts to Yahoo Finance to get more relevant real-time tickers, data and research.
Because it provides only information and no customized advice or investment guidelines, the app and all of its amenities are free. Yahoo Finance provides endless free information and should be utilized by any investor, whether you've been in the market for one week or fifty years.
Investing for Beginners: What First-Time Investors Need to Know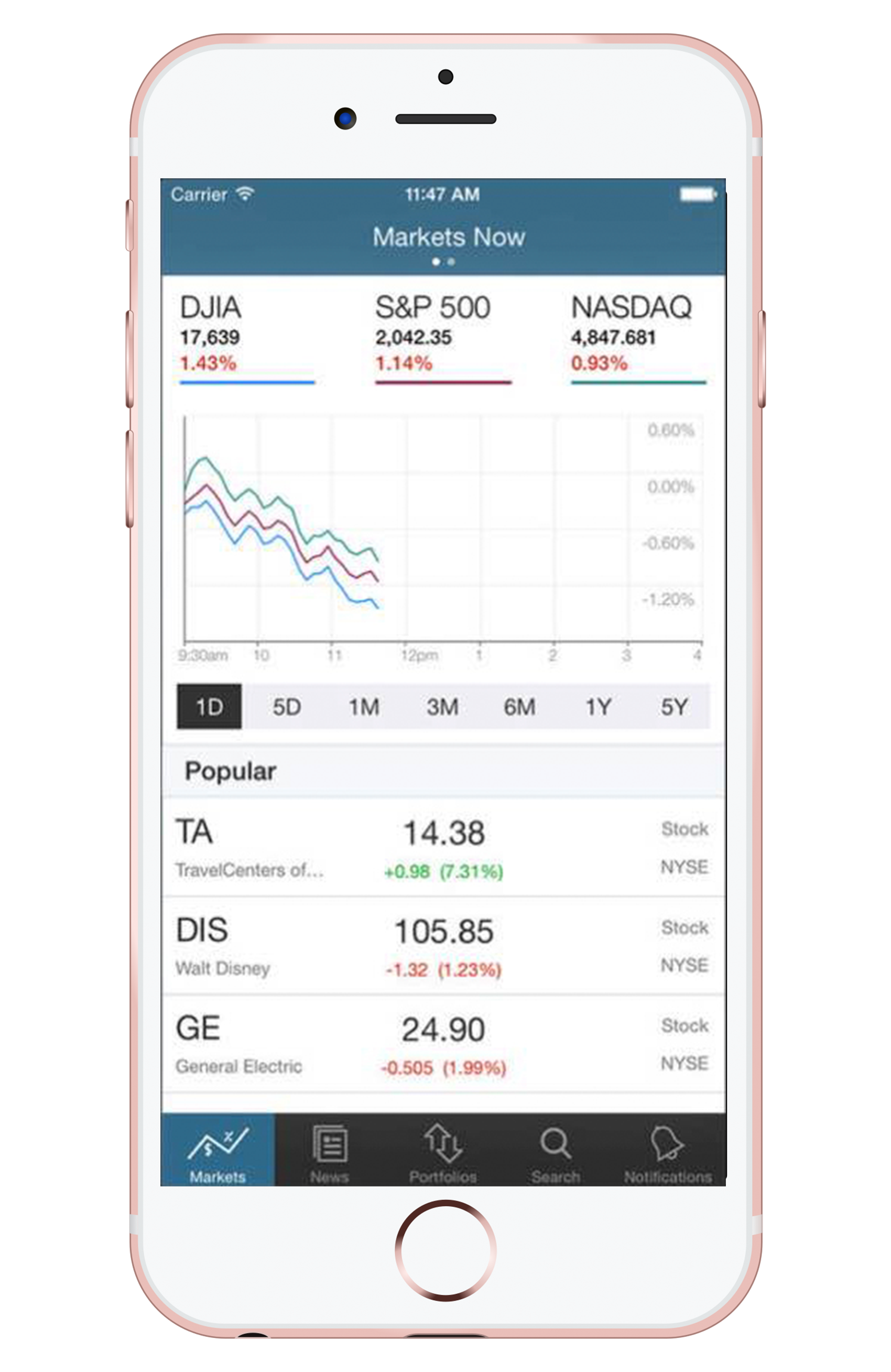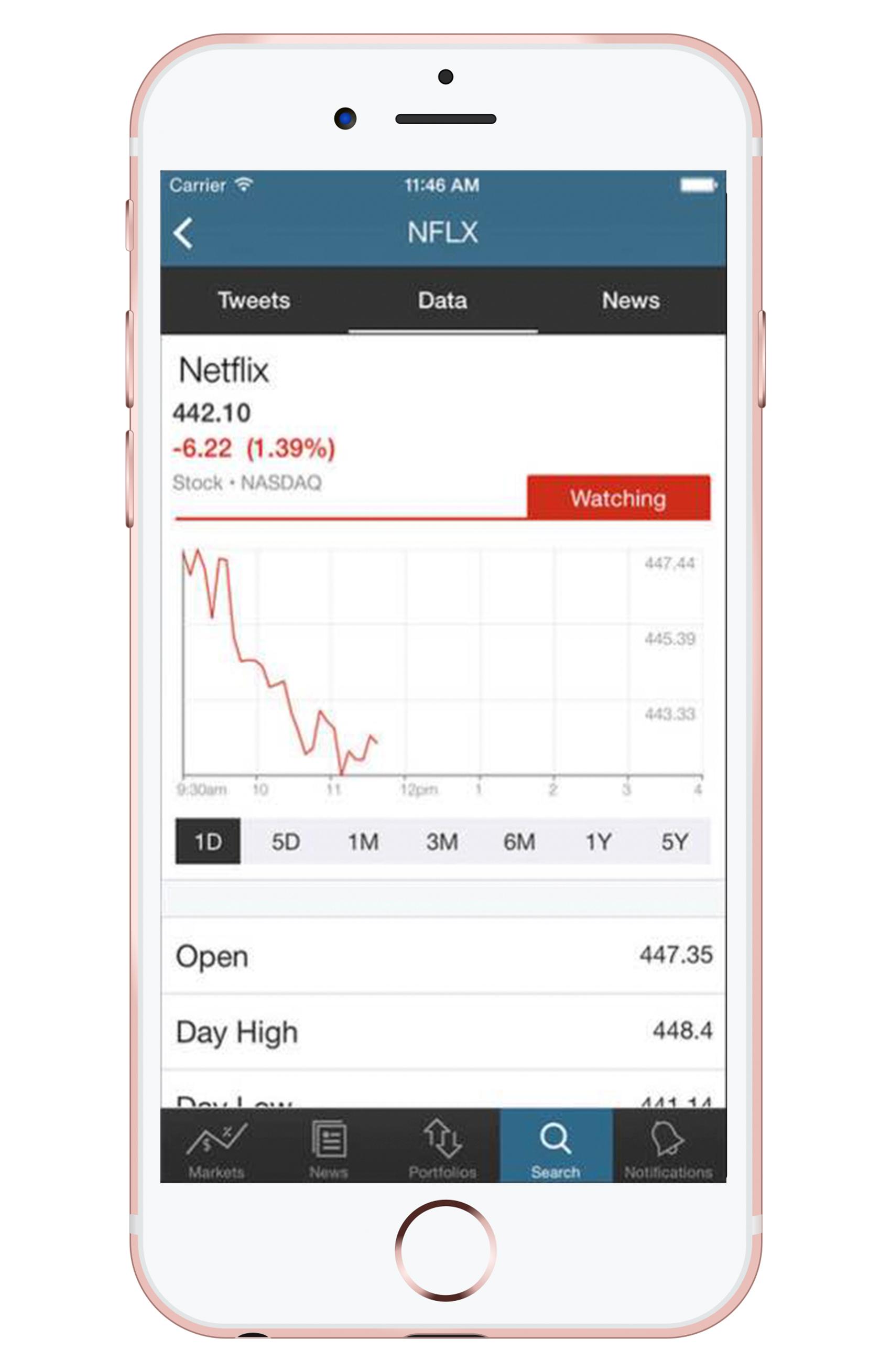 7. Benzinga
The Benzinga app, although similar to Yahoo Finance, CNBC and Bloomberg, doesn't just supply news. Instead, Benzinga is more like social media for investing. Not only does it feature current market tweets and the ability to share articles and news on social media, its focus is also more on day-to-day affairs in the market, as opposed to the market as a whole. The app prides itself on its ability to provide immediate information, as well as instant stock quotes, trading updates and breaking news.
Benzinga was made for those looking for immediate information, as opposed to extensive information, the way Yahoo Finance specializes in. This app definitely is meant for a specific audience — those looking for free, up-to-the-minute market data.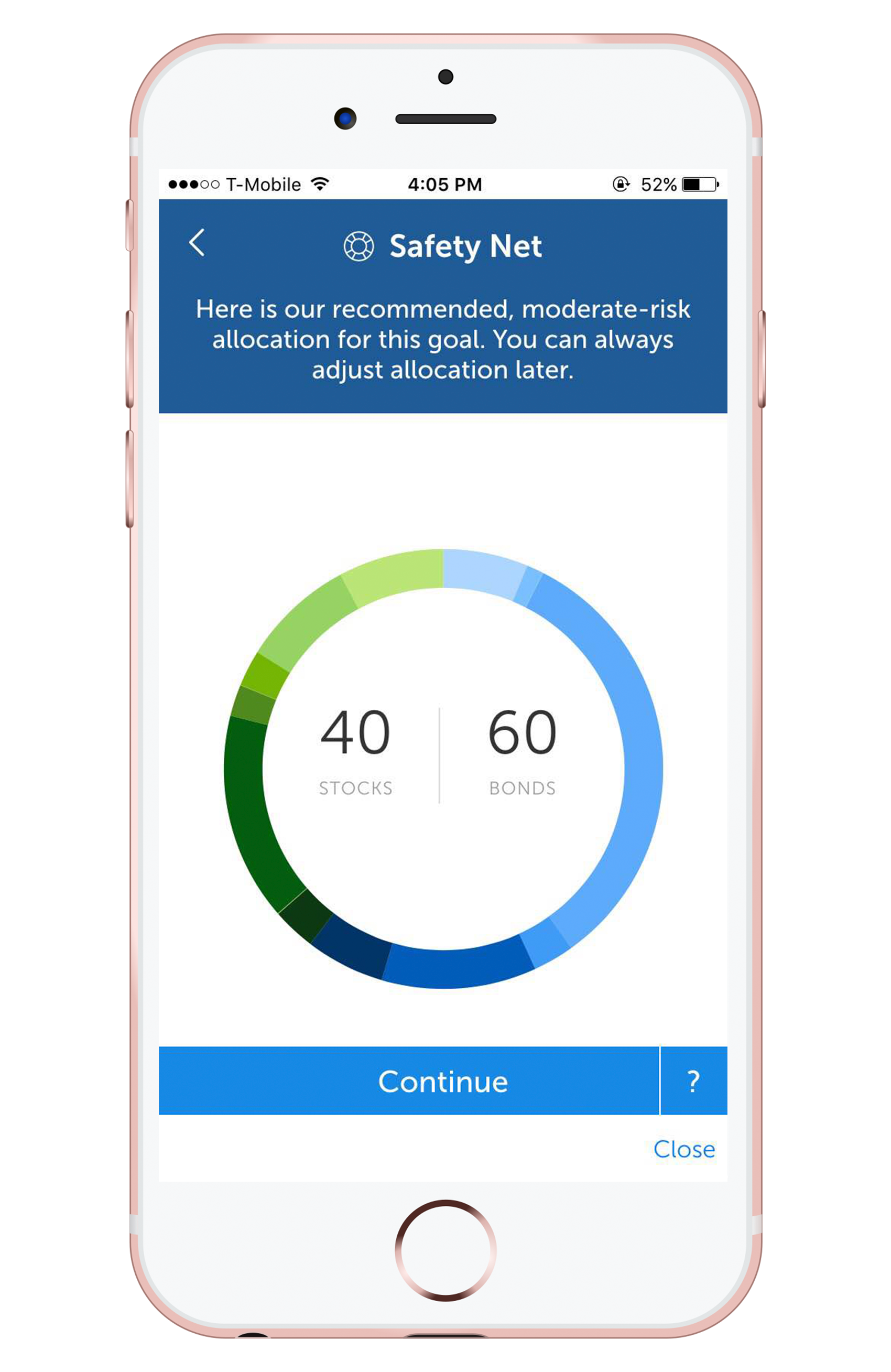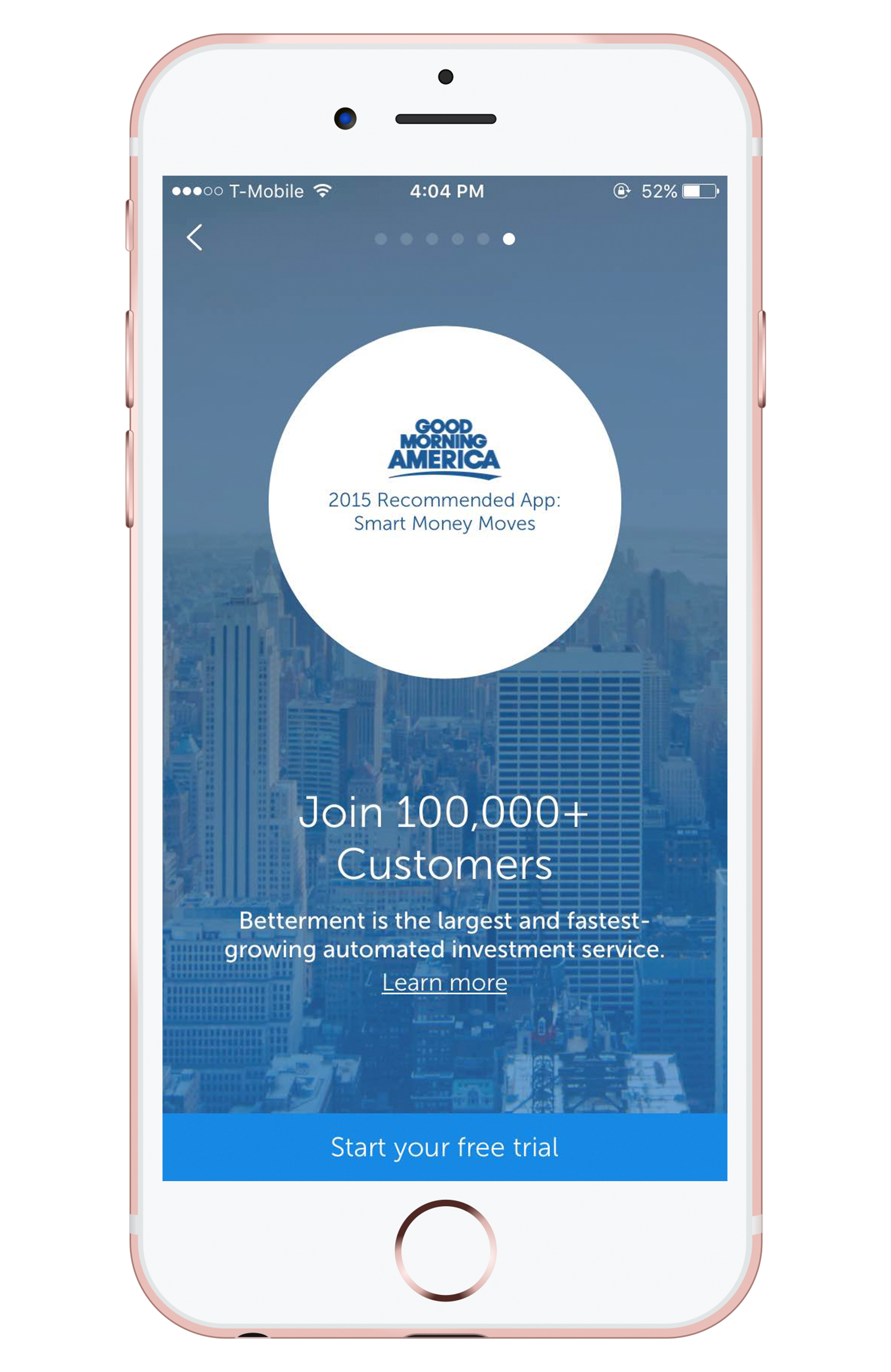 8. Betterment
Betterment is one of the best robo-advisors in the market today, using only algorithms to determine where to invest money. For starters, there is no account minimum required with Betterment. After the account is opened, you don't have to put a single dollar in if you don't want to. In addition, the rest of the pricing is quite affordable — just 0.35 percent if your account balance is under $10,000.
Betterment puts your money into a standard diversified portfolio and uses ETFs that represent up to 12 different asset classes. What asset class your money is in hinges on your willingness to take risks, as well as your long-term goals.
Learn: How to Invest in Stocks Like a Pro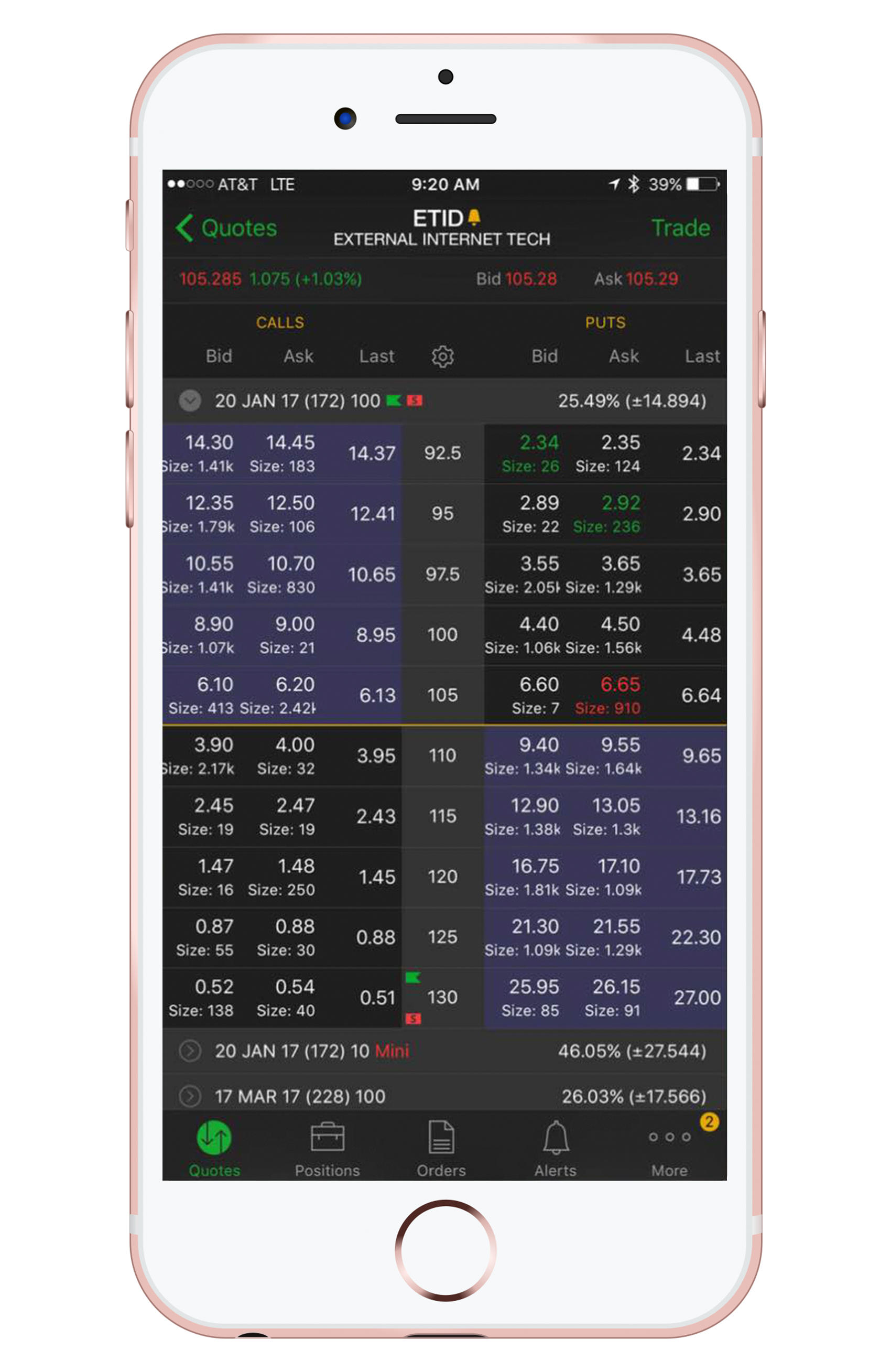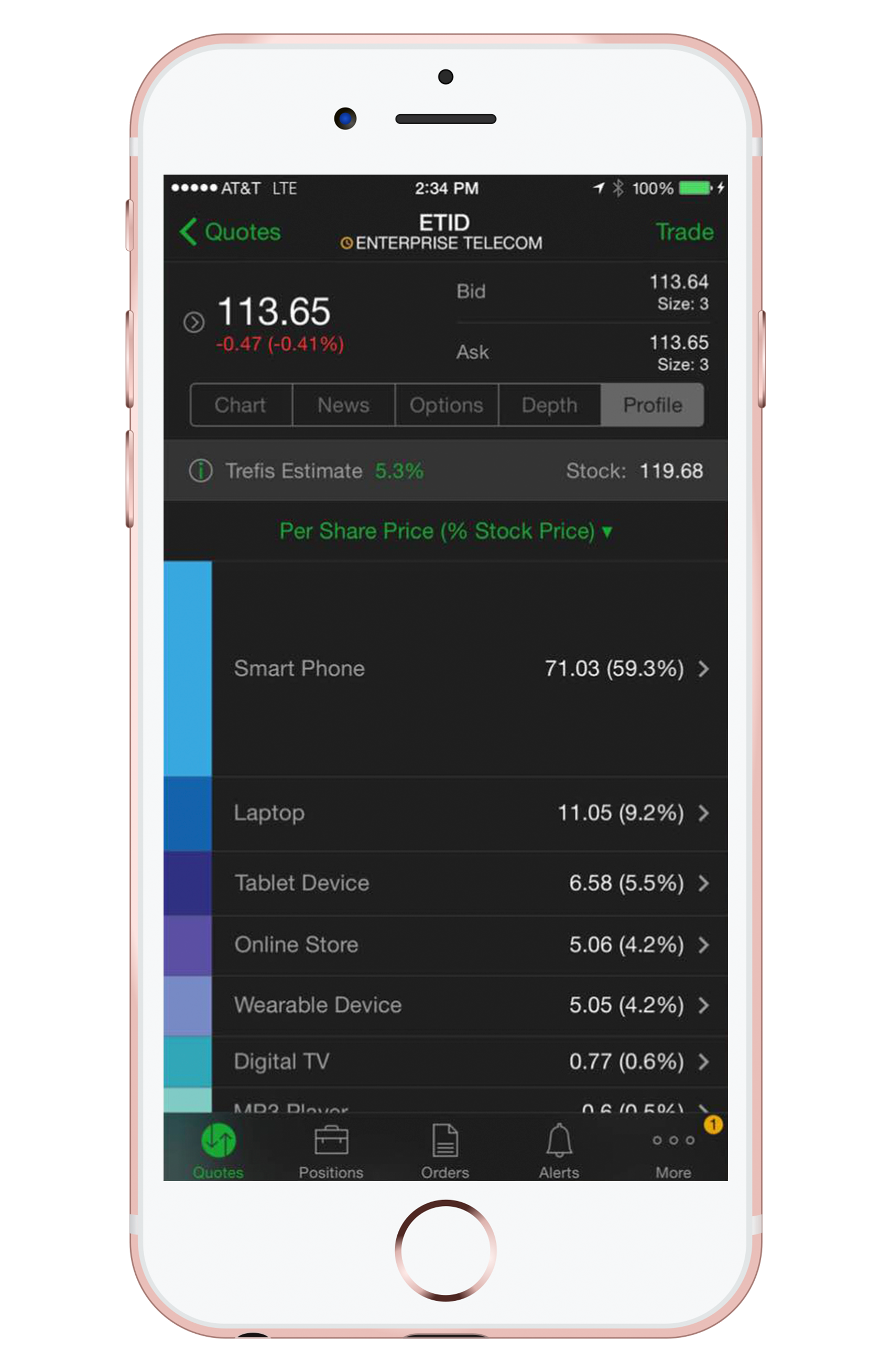 9. TD Ameritrade
TD Ameritrade's greatest strength lies in its diversity of available assets. It offers some of everything, including futures and Forex assets as well as the standard stocks and ETFs. As such, it's a great app for anyone who wants to start out with a diversified portfolio. In this way, along with its free highly sophisticated research technology, it's a very advanced trading platform. In addition, it's very easy to get started on TD Ameritrade, even if you don't want to invest much money in the first place.
Whereas many trading platforms will require a $1,000 minimum deposit, TD Ameritrade has no minimum initial deposit — you could start with $0 if you so desired. The high fees offset this, however, as the price for just one transaction is $9.99. Therefore, despite the no-minimum deposit, TD Ameritrade might be best for investors who are starting with some capital available already.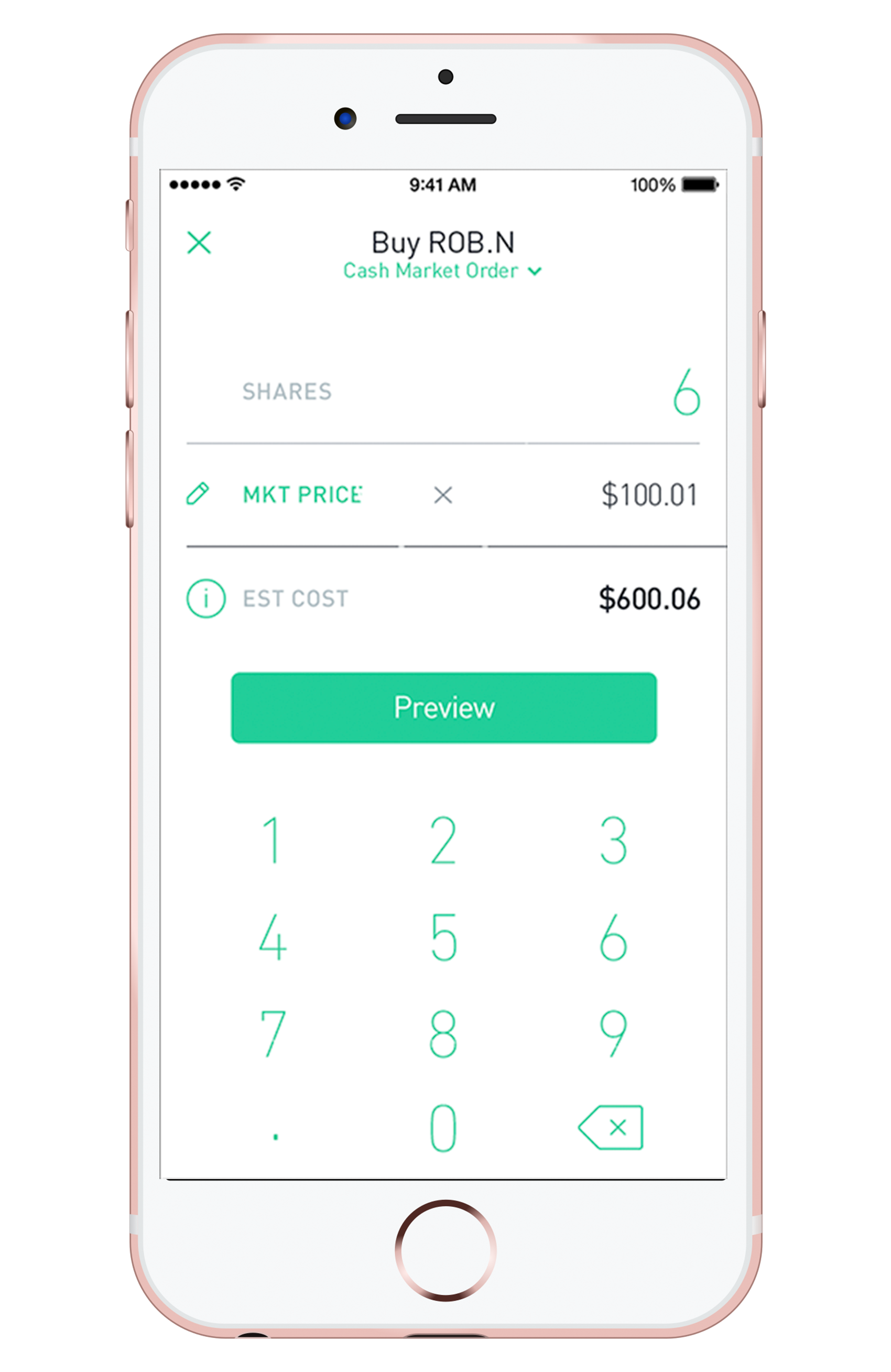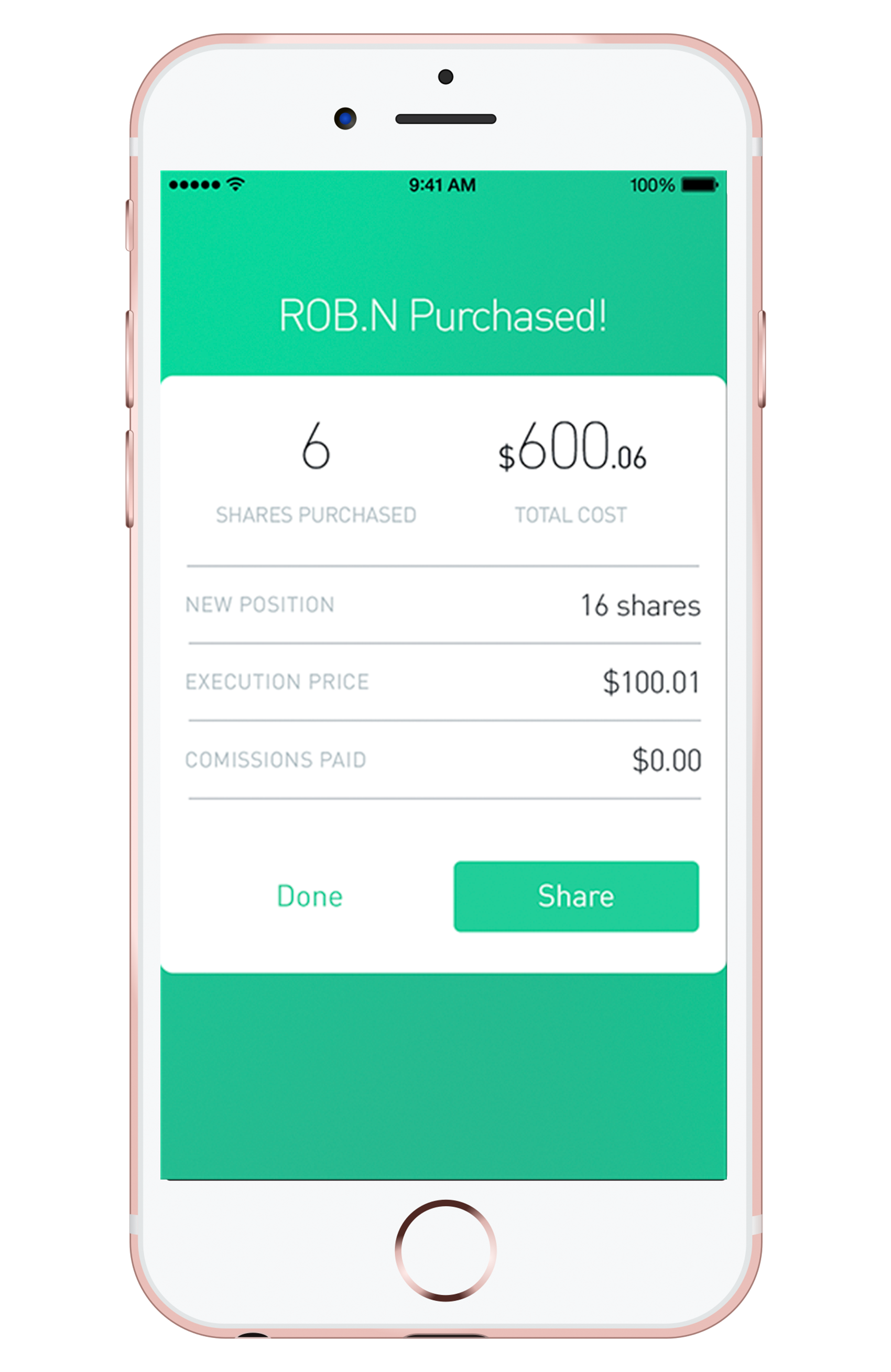 10. Robinhood
The Robinhood app is very easy to sign up for and use and is exactly what it says it is: an app that allows users to do basic trading commission for free. It does lack the expert analysis that many first-time investors might be looking for; Robinhood has all the market data, but no research. In addition, there's a limited amount of diversification you can do with this app. Although you can trade stocks and ETFs, you can't trade mutual funds, bonds or options.
Robinhood's lack of market research might seem like a problem, but that issue can be mitigated if the investor gets a free app with lots of data and research available — CNBC or Bloomberg, for example. You can invest with Robinhood while using another app's data to determine what to invest in.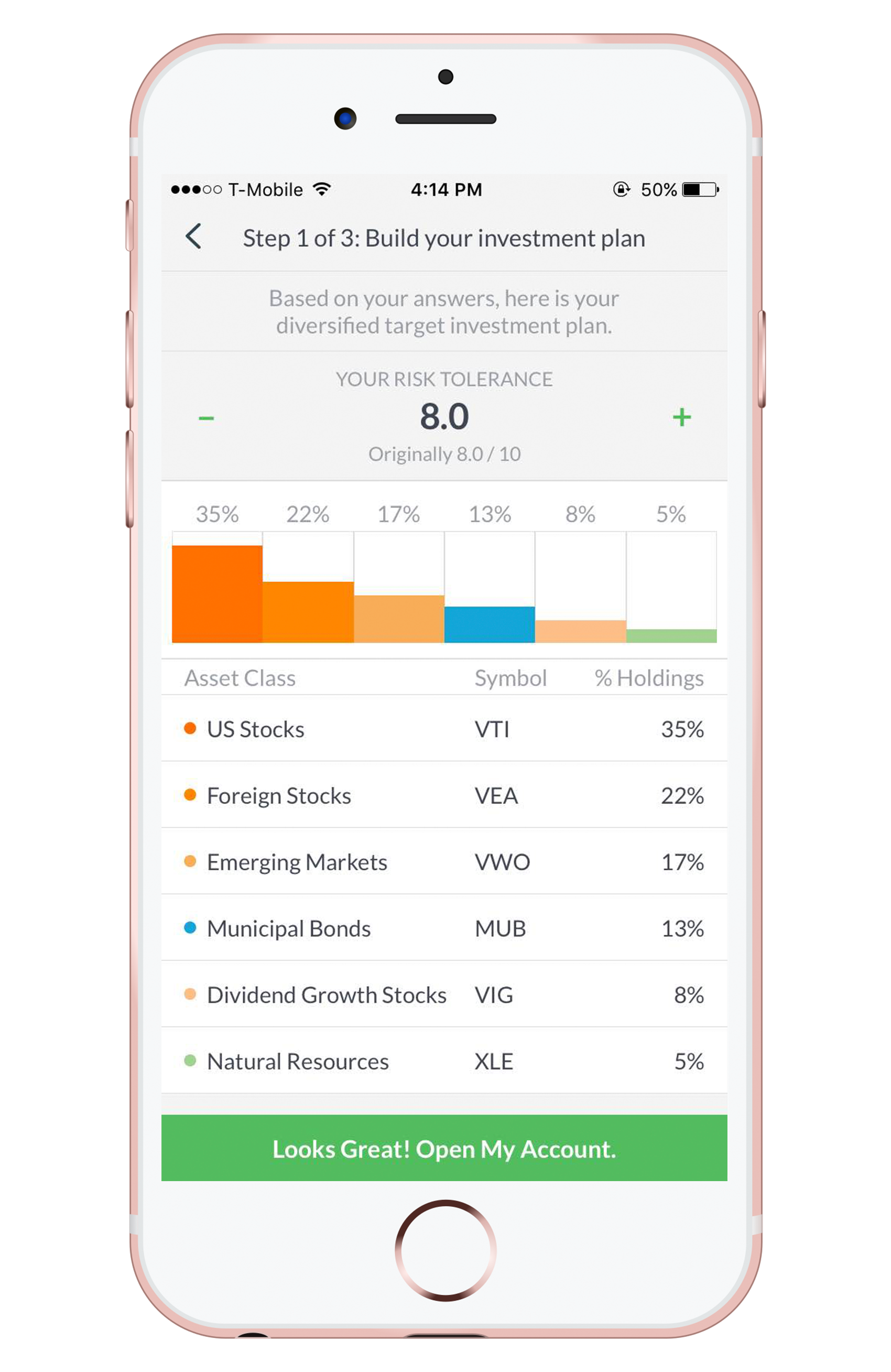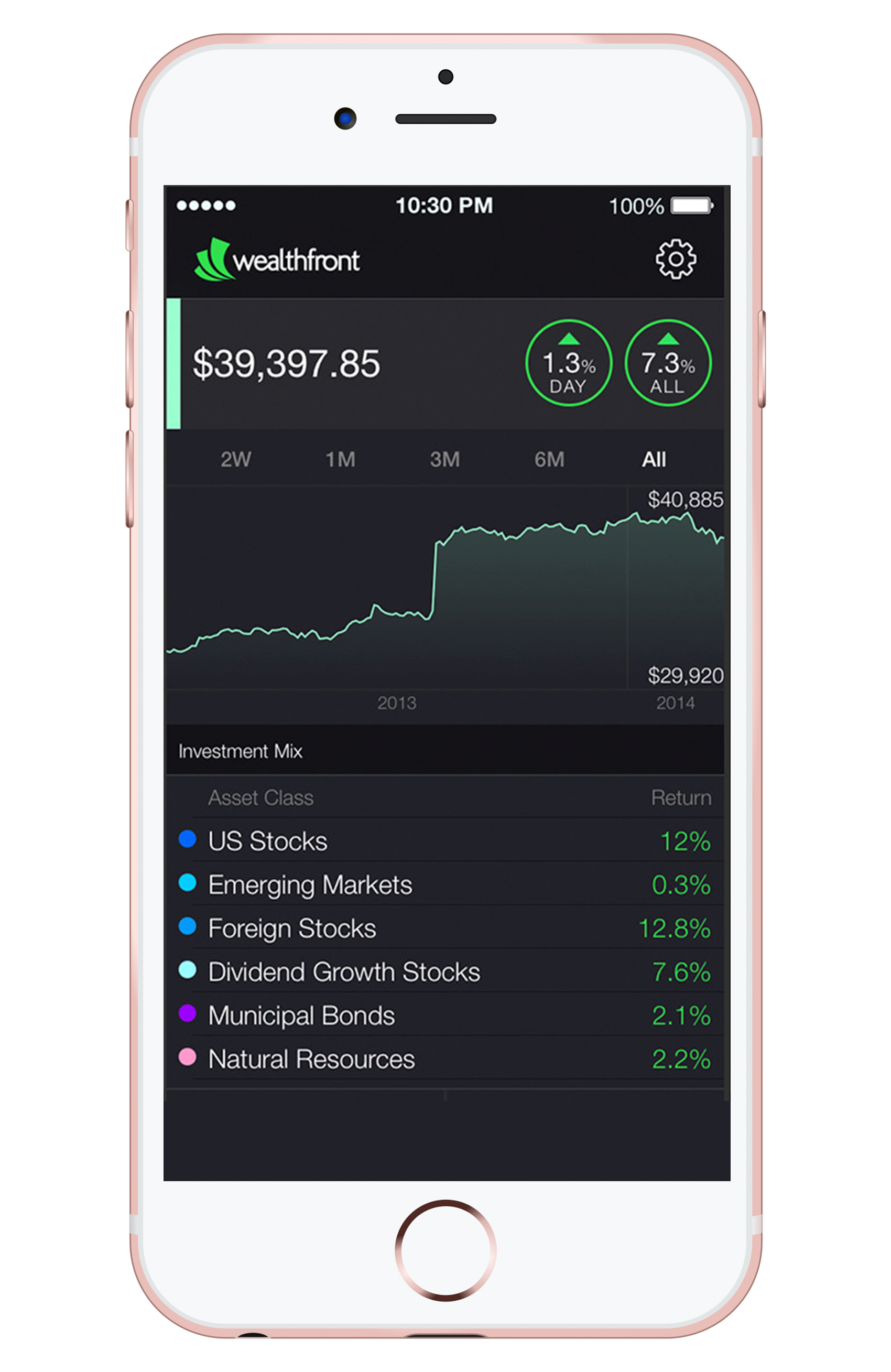 11. Wealthfront
Wealthfront provides a good option for beginner investors looking for a somewhat more hands-off approach to investing. The app will take your minimum deposit of $500 and invest it for you for free as long as your account balance is under $10,000. Once you reach $10,000, however, you're charged 0.25 percent of your returns for a year's worth of management.
When you create an account, you simply take a questionnaire to determine what investment portfolio is best for you, based on your style and willingness to take risks. You're then put into one of twenty different portfolios, with no further commitment needed. If you're short on time, or you simply don't want to do the stock research yourself, Wealthfront could be what you're looking for.
Apps were evaluated in four categories and given a rating from one to five in each category. These categories included user-friendliness, cost, investing strategy and effectiveness, and interface and design.