Best ETF Brokers: Find One to Meet Your Needs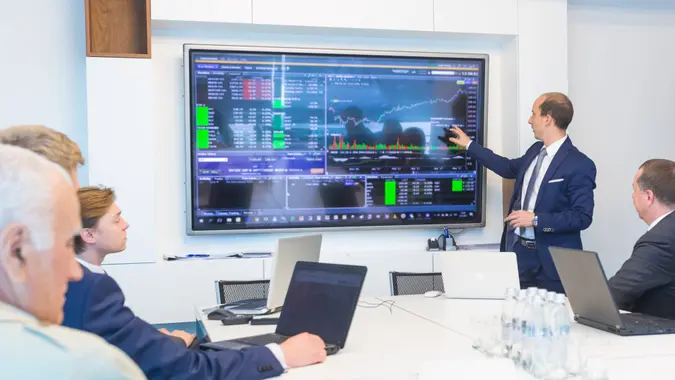 kasto80 / Getty Images/iStockphoto
There are a number of available investment vehicles for people of every budget and level of risk tolerance, from stocks and bonds to mutual funds and ETFs. If you decide that you want to include ETFs in your investment portfolio, you'll have your choice of brokers to invest with — but brokers will vary in terms of trade commission, minimum opening deposits and balances, and the tools that will be available to you. Before you invest in an ETF, keep reading to find out which ETF broker is best for you.
What Is an ETF?
ETFs are exchange-traded funds. Put simply, an ETF is a collection of funds that trade on an exchange, such as the New York Stock Exchange. Each ETF has its own ticker symbol, just like a stock, and its price is based on the current market price of one share. This differentiates exchange-traded funds from mutual funds, which often require a minimum dollar amount for investment.
ETFs can be bought or sold by anyone with a brokerage account. To find the best ETF broker, pay attention to fees and minimums, as well as the resources the brokerage provides. Here is a comparison of the best ETF brokers:
Best ETF Brokers
Broker
Trade Commission
Min. Deposit/Balance
Highlights
Charles Schwab
$0
$1,000
Schwab ETF OneSource offers over 200 commission-free ETFs; choose from over 2,000 index funds and ETFs from Charles Schwab Investment Management and other providers
TD Ameritrade
$0
$0

300 commission-free ETFs; access to serious platforms and tools like Web Platform and thinkorswim; mobile trading app enables full trading capabilities on the go

Fidelity
$0
$2,500

Industry-leading research tools and investment research (e.g. Active Trader Pro); $0 per trade for commission-free purchases of select Fidelity and iShares ETFs; Fidelity exchange-traded funds are all available for online purchase, commission-free, and feature 25 funds, including factor, sector, stock and bond ETFs

E*Trade
$0
$500

24×5 trading on a select group of widely traded ETFs; ETF Screener to quickly focus in on the funds you're looking for; 200-plus commission-free ETFs

Vanguard
$7
$0
No extra fees to have an investment professional place a Vanguard ETF trade for you; never pay a commission when you buy or sell Vanguard ETFs in your Vanguard Brokerage Account; earn greater benefits when you become a Voyager client (investors with $50,000 to $500,000); and even more as a Voyager Select client ($500,000 to $1M)
Merrill Edge
$2.95
$0
Conveniently view and instantly transfer funds between your Merrill Edge investing accounts and Bank of America banking accounts; Merrill Edge mobile trading app allows you to trade stocks, ETFs, mutual funds and options; review open orders; and check balances and holdings, including pending and past transactions
Ally Invest
$4.95
$0
Ally Invest Select Pricing: Pay only $3.95 commission when you do 30-plus trades per quarter or maintain a daily balance of $100,000 or more; Ally Invest Cash-Enhanced Managed Portfolios enable you to invest in ETFs with professional management and low advisory fees; minimum to open is $100
Information accurate as of October 7, 2019.
Learn: The Best Online Stock Brokers for Beginners
Charles Schwab
Charles Schwab gives you access to ETF trading tools and platforms. You can use the broker's Personalized Portfolio Builder tool to determine how best to allocate your assets across different investments based on your risk tolerance, financial goals and timeline to meet those goals.
Pros: Lowest trade commission of the best brokers for ETFs; over 200 commission-free ETFsCons: Many of the best ETF brokers do not have a minimum deposit or balance, but it is $1,000 with Charles Schwab
Find Out: The Best Robo-Advisors
TD Ameritrade
Whether you're a beginner or expert investor, you can find the tools to help with your ETF trades with TD Ameritrade. The broker's Web Platform is a trading platform with tools for all levels of investors, and thinkorswim is a professional-level trading platform. You'll also get access to free online courses that can help you become more informed and gain the insight you need to reach your investing goals.
When you join, you can trade commission-free for 60 days. And if you fund your account with $250,000 or more, you'll earn a $600 bonus.
Pros: No annual fee; over 300 commission-free ETFs; mobile trading available
Fidelity
With Fidelity's Active Trader Pro, you can access trading and monitor your portfolio online, and customize the experience to fit your needs. Fidelity also has a tool specifically for those interested in investing in ETFs: The ETF/ETP Screener allows you to screen for relevant ETFs that match your investment objectives, and it can be accessed on any device.
If you deposit $50,000 to $99,999 into a new or existing Fidelity account, you'll earn 300 free trades; if you deposit $100,000 or more, you'll earn 500 free trades.
Pros: Commission-free ETFs available; access to advanced research toolsCons: Highest minimum deposit/balance required of all the best ETF brokers at $2,500
Know: Pros and Cons of Online Trading
E*Trade
If you want to invest with E*Trade, you can choose from various account types, including Power E*Trade, which is designed for experienced traders. The account offers a combination of advanced tools, discounted pricing and dedicated service. You'll also have access to several platforms: OptionsHouse by E*Trade is the most powerful platform offered and is intended for active traders, and the standard E*Trade web platform includes all the tools you need to research investments, track the markets, place trades and learn more about investing.
If you deposit at least $10,000 in an E*Trade account, you'll be able to trade commission-free for 60 days, plus you'll receive up to 500 commission-free trades. You'll also receive a $600 cash credit.
Pros: Choice of trading platforms available; over 200 commission-free ETFsCon: Minimum deposit/balance of $500 is required; trade commission fee is on the higher end at $6.95
Check Out: ETF vs. Mutual Funds
Vanguard
Vanguard offers in-depth expert analysis and economic research to help you make investing decisions, but its offerings are not up to par with its competitors. They also are not currently offering any promotions or bonuses.
Pros: No minimum deposit or balance requiredCons: Highest trade commission of all the best ETF brokers ($7); fewer research and educational tools available than competitors
Read: 9 Best Vanguard Retirement Funds
Merrill Edge
Merrill Edge's easy-to-use ETF screener helps you find the right fund for your investment goals; you can screen funds by sector, risk, performance and asset class. You'll also have access to BofA Merrill Lynch Global Research and investor education pages catered to different levels of investing experience.
Plus, when you invest in a new Merrill Edge account, you can get up to $600. If you become a Preferred Rewards Platinum client, you'll qualify for 30 free online stock and ETF trades per month, and if you become Preferred Rewards Platinum Honors client, you'll qualify for 100 free online stock and ETF trades per month.
Pros: No minimum deposit or balance required; mobile trading available
Ally Invest
Ally Invest is an online broker that offers a variety of educational and research-based tools for investing, including streaming charts with over 90 chart studies; drawing tools to analyze the performance of stocks, ETFs and indices; profit/loss and profitability calculators; market data and more.
If you make a one-time transfer of $2,500 or more into an Ally Invest account, you'll be reimbursed for up to $150 in transfer fees.
Pros: Lowest trade commission of the best ETF brokers; no minimum deposit or balance requiredCons: For professional management, minimum deposit/balance is $100
Click to see the 12 best apps for first-time investors.
More on Investing
GOBankingRates is a personal finance and consumer interest rate website owned by ConsumerTrack, Inc., an online marketing company serving top-tier banks, credit unions and other financial services organizations. Some companies mentioned in this article might be clients of ConsumerTrack, Inc., which serves more than 100 national, local and online financial institutions. Rankings and roundups are completely objective, and no institution, client or otherwise, paid for inclusion or specific placement. Any opinions, analyses, reviews or recommendations expressed in this article are those of the author's alone and have not been reviewed, approved or otherwise endorsed by the companies included in the article. All fees and rates are subject to change at the issuers' discretion, and some bonus offers might no longer be available on the issuers' websites, depending on how you access the web page.