WellsTrade Review: No Account Minimums and One of the Best Online Brokerages
See How WellsTrade measures up to other major brokers.
WellsTrade's parent company, Wells Fargo, can trace its roots back to one of the most significant events of 19th century America — the California Gold Rush. As one of the world's biggest banking institutions for over 160 years, Wells Fargo has earned a reputation of trust by dealing with people's money responsibly. Keep reading to find out if WellsTrade, the bank's online investing brokerage firm, is right for you.
Quick Take
The bank-investment account relationship provided through Wells Fargo's Portfolio by Wells Fargo program provides WellsTrade clients with some very enticing trade discounts and advantages. Investors who don't bank with Wells Fargo might lean toward WellsTrade, too, but you might have to dig a little deeper to see major benefits over other discount brokerages.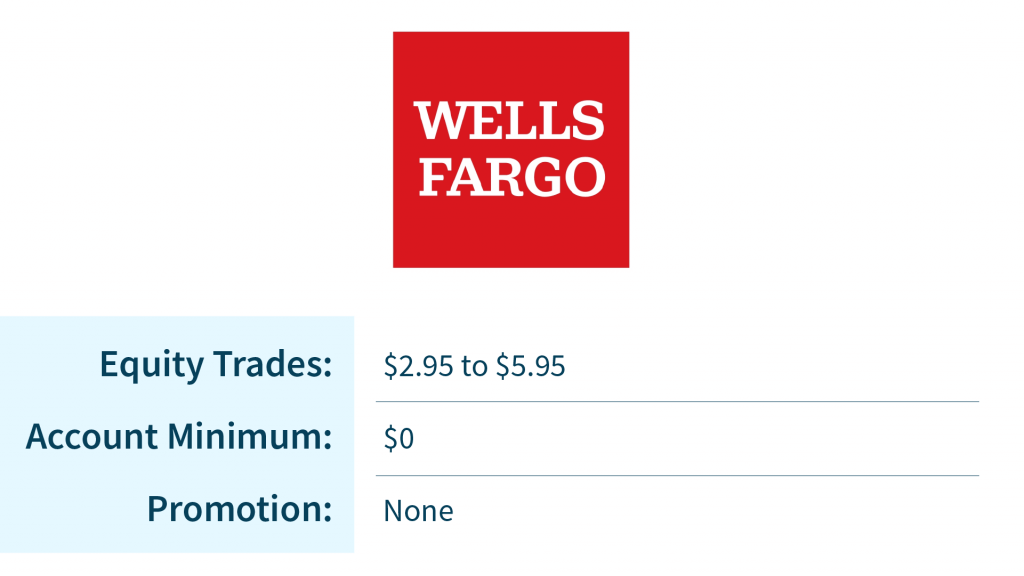 Check out information on other top online brokerages, the best retirement accounts and other information on investing in these articles:
In this WellsTrade review, GOBankingRates will take an in-depth look at the brokerage company, its costs and services, how well it stacks up to the competition and whether you, the self-directed investor, should invest with WellsTrade.
About WellsTrade
During the financial frenzy of 2008, Wells Fargo acquired Wachovia Bank and with it, its brokerage services. The modified result of these services was the establishment of WellsTrade, the bank's online investment platform.
Wells Fargo has a long history, and although it has seen its share of trouble in recent years, the company is committed to rebuilding trust in its valued banker-customer relationship. Recognized in GOBankingRates' Best Brokers of 2019-2020 feature, WellsTrade stands out as a great individual retirement account provider and stock broker for beginner investors. For socially conscious investors, Wells Fargo was recently rated among the most transparent companies on environmental, social and governance, or ESG, metrics in a study commissioned by Financial Times' Agenda.
Pros and Cons
There is no one perfect brokerage, but there might be a perfect one for you. Here are some pros and cons to help you decide whether WellsTrade is that investment broker for your financial goals and strategy.
Pros
Straight-forward trading tools for beginners
Discounted trade advantages for Wells Fargo bank customers
No account minimum
Customer service over the phone 24/7
Good IRA options and selection of mutual funds
Cons
Slightly higher commission rates and investment fees than other brokers
No commission-free exchange-traded funds
Basic education materials and research resources
No online chat, face-to-face options
Lacks resources for serious traders
Everything First-Time Investors Need To Know: Investing for Beginners
WellsTrade at a Glance
WellsTrade is a full-service brokerage where you can trade on your own or with the help of an agent. Here a look at some of the fees and features associated with both types of trades:
WellsTrade at a Glance
Account Minimum
 $0
Stock Trading Fees
$5.95 per self-directed equity trade
$2.95 per self-directed trade when linked to Wells Fargo Bank Portfolio
$25 + online trading commission for assisted trading
Options Trading Fees
$5.95 + $0.75 per contract for self-directed trades
$25 + online trading commission for agent-assisted trades
Mutual Fund Trading
$0 for no-load, no-transition-fee funds via online trading or automated phone trading
$25 for no-load no-transition-fee funds, agent assisted
$35 for no-load transaction fee funds, self-directed
$25 + online trading fee for no-load transaction fee funds, agent assisted
Account Fee
$30 household annual fee, can be waived if qualifying criteria are met
Mobile App
 Manage your account from your phone
Customer Service
 Voice-activated 24/7 phone system or secure e-mail
Promotions 
None
Individual Services Reviews
Pricing and performance have always been the tried and true yardsticks for any investor, but brokers are quickly realizing that accessibility, convenience, personalization and tools and technology are now essential details that both current customers and potential newbie investors compare and consider. Here's a thorough look at how WellsTrade fares in a variety of important service categories.
Trading Experience
Catering to beginner-to-mainstream investors rather than experienced and active traders, WellsTrade has plain but effective trading capabilities. Its self-directed platform is accessible, quick and relatively easy to use. It is well-suited to investors who want to build a portfolio online but don't have a great deal of experience doing so. Active, experienced investors, on the other hand, might want more bells and whistles.
Investors willing to add at least $10,000 to a newly opened brokerage account and Wells Fargo bank account can take advantage of an "Intuitive Investor" robo-advisory account that will give you a diversified portfolio and active monitoring of your investments. And investors who want to work directly with a financial advisor can do so through Wells Fargo Advisors, the nation's third-largest full-service retail brokerage.
Account and Investment Minimums
No minimum account balances for self-directed platform investors is pretty much the norm nowadays. Although WellsTrade has an account minimum of $0, it carries a $30 household annual fee. However, this fee can be waived through a number of qualifying options; you'll be able to skip this fee if you:
Maintain an account balance of $250,000.
Open the Portfolio bank relationship package with Wells Fargo.
Sign up for electronic document delivery.
Commissions and Fund Expenses
Again, it pays to be a Wells Fargo banking customer if you are considering opening an account with WellsTrade. WellsTrade will cut its fee by $3, to $2.95, if you integrate through the Portfolio program.
For those not getting discounts, $5.95 per equity trade and $5.95 + $0.75 per contract for options trades is not cheap. Those costs jump to $30.95 in fees and commissions for equity trades and $30.95 + $0.75 per contract for options trades if you use a representative to place your trades. And WellsTrade is not the place to trade penny stocks priced under $1. These will cost you the greater of $34.95 or 3.5% of your principle.
WellsTrade does not offer commission-free ETFs. Although this might not seem like a big deal, remember that many investment brokers offer ETFs without commissions, and you can build a complete portfolio out of these funds elsewhere.
Learn: How To Decide Between Mutual Funds and Stocks
Trading Technology
Today's high-tech trading offers investors efficient ways to research and purchase stocks. Although it doesn't boast trade execution speeds faster than the speed of light, WellsTrade will get the job done. But monitoring your stock quote online at WellsTrade isn't as efficient as you would imagine. There are no real-time quotes — quotes are delayed or require manual refreshing.
Usability
Setting up a WellsTrade account and entering orders for stocks, ETFs and mutual funds is quick and easy, and e-mail confirmations follow promptly. The web-based platform in general isn't the quickest, but it is easy to navigate. Likewise, the order entry process is basic but manual, and made somewhat tedious with having to do a lot of page flipping.
You can access a wide range of robust tools to help you with your investment selection process. The main tools are screeners that let you research mutual funds, ETFs and bonds, and the Portfolio Screener that enables monitoring of quotes, news and charts important to your investment portfolio.
Mobile and Emerging Tech
Online brokerage firms are making it easier to move seamlessly between desktop to mobile apps. The WellsTrade Mobile app is available at the Apple Store and Google Play store and is standard for tablet and smartphone users who want to place trades and track orders, manage watchlists, get market news and real-time quotes and view account activity. Note that some functions and resources are only available on the website, not on the mobile app.
Range of Offerings and Investment Selection
A standard account, opened online, comes with brokerage cash services, which give you convenient money-movement options such as online transfers between your Wells Fargo accounts and mobile check deposits using your smartphone.
When it comes to tax planning and retirement, WellsTrade has impressive options for traditional and Roth IRAs that allow you to save for retirement with tax-deductible contributions, tax-deferred earnings, tax-free withdrawals and tax- and penalty-free monitoring of your contributions, depending on which account you choose.
WellsTrade also has a good variety of mutual funds and an easy-to-use mutual fund screener that generates almost 9,000 available funds to purchase, with over 2,000 that have no transaction fee and no load. WellsTrade provides no futures, crypto or forex trading.
News and Research
Investors want every possible edge when it comes to stock trading, and the firms that are hailed as industry leaders know how to go above and beyond the standard info and research fare offered by many brokerages. Don't be shocked by the lack of sandbox trading or virtual investment classrooms on the WellsTrade site. There are no financial education webinar offers or live news streams, either. Many brokers don't have them, but in a perfect world, they all would.
Having said that, WellsTrade has a lot of educational tools — they just aren't as exciting as other investment brokers'. Financial education resources consist mostly of screenshots and articles explaining investing basics and topics, and although there are plenty of them, even beginner investors have appetites to go more in-depth. What is truly strange is not seeing educational videos. Even the "See WellsTrade in Action" demo is a webpage with screen captures.
Customer Service
If you're an old-school investor who wants to walk into a WellsTrade office and sort out your financial future, you're somewhat out of luck. Although most Wells Fargo brick-and-mortar banks have financial advisors on site and tellers who can help you with deposits — which are processed through an associated limited-purpose Wells Fargo Bank account in your name — WellsTrade investors will mostly use the voice-activated 24/7 phone system or secure e-mail to contact the broker. There is no online chat option.
Security
Now that customers managing their investments from their desktops, tablets, laptops and smartphones is so commonplace, it is standard for investment firms to have fraud protection guarantees designed to give their customers peace of mind. Under the terms of Wells Fargo's Online Security Guarantee program, the company will reimburse clients for any losses caused by unauthorized third-party activity.
Wells Fargo was recognized in Javelin's 2017 "Account Safety in Banking Scorecard" report as a leader in fraud prevention, detection and resolution.
The Wells Fargo Security Center has plenty of tips to help customers protect their accounts and personal information.
Costs
WellsTrade has several fees besides stock and ETF trade commissions and options discussed previously. There is a $35.00 transaction fund fee for online or automated telephone trading of no-load mutual funds. To use a trading agent to assist, you can add $25.00 on top of that online trading fee. Fixed-income Treasury securities are $50 per transaction, and all other bonds are priced on a markup/markdown basis. Outgoing account transfers and IRA termination fees are $95.00 each.
Best For
Here are some areas where WellsTrade excels:
Account and investment minimums
Discounted trade commissions for Wells Fargo bank customers
Range of offerings/investment selection
Security
Falls Short
WellsTrade fails investors in the following areas:
Commissions and fund expenses for customers who don't link their investment account to a Wells Fargo bank account
News and research
Customer service
Costs
Current Promotions
In a word: none. But there is a $400 bonus offer available if you open a new Everyday Checking account with Wells Fargo and you meet all the offer requirements. Becoming a Wells Fargo customer and linking your WellsTrade investments to your bank can qualify you for discounted online trades, rewards, loan discounts and bonus saving rates.
Comparison: WellsTrade vs. Other Brokers
A quick glance at the table below will give potential investors a good idea at how well WellsTrade compares to other brokers. The investment arm of Wells Fargo is competitive but not the best overall. Like most brokers, WellsTrade doesn't have an account minimum, but its stock commissions are slightly above average and there are no promotions for getting new investors on board –except for the Wells Fargo Everyday Checking account bonus offer mentioned above.
WellsTrade vs. Other Brokerages
Broker
Stock Commission
 Account Minimum
Promotion
WellsTrade
$5.95
$0
None
Merrill Edge
$2.95
$0
Up to $600 cash with new account deposit
TD Ameritrade
$0
$0
60 days of commission-free trading, plus up to $600 in cash with new account deposit
Charles Schwab
$0
$0
500 commission-free online equity and options trades for two years with a $100,000 deposit
Fidelity
$0
$0
500 commission-free trades with a $100,000 deposit
Firstrade
$0
$0
Up to $200 in transfer fee rebates
Robinhood
$0
$0
One share of free stock when your brokerage application is approved
E-Trade
$0
$500
Up to 500 commission-free trades plus up to $2,500 in cash with qualifying deposit
Should You Invest With WellsTrade?
One leading factor in deciding which broker you want to invest with might be how well it syncs with your existing financial banking services. For current Wells Fargo bank customers, it probably makes sense to go with WellsTrade out of convenience and company familiarity. For beginner investors, the trade discounts might be too tempting to pass up.
No brokerage can be everything to everyone, but the best brokers do the most for their clients and offer incentives to entice new customers. Apart from the benefits of linking your WellsTrade investment portfolio to a Wells Fargo bank account, a lot of the features and services provided by WellsTrade fall flat. There are simply too many competitors creating and maintaining better investment websites and apps, giving better trading experiences, technology, education and research services and offering much more for much less.
More From GOBankingRates
David Nadelle served for 18 years in the energy industry and holds degrees in Journalism, Technical Communication and Sociology. He is a freelance writer and editor for a number financial and music industry-related publications and websites.