Best Places To Buy Ethereum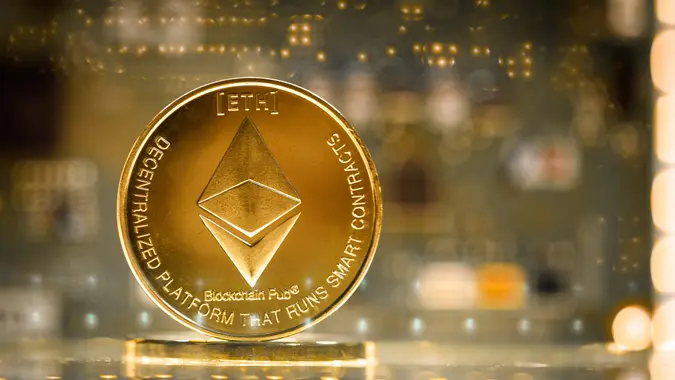 Capuski / Getty Images
ETH remains the world's No. 1 altcoin, and as the token that fuels the Ethereum network, it's one of the most functional cryptocurrencies that money can buy. Despite last year's bloodbath, ETH investors remain optimistic as ethereum tallies impressive gains so far in a very young 2023.
If you're looking to buy ethereum while it's still relatively cheap, you're hardly alone — but, as the FTX crisis taught the world, it matters where you buy your coins. Here's what you need to know.
Where Beginners Can Buy Ethereum
Most beginners buy cryptocurrency through a centralized exchange, and ethereum is no different. Centralized exchanges are easy to join and simple to use, with familiar navigation tools and payment processing. 
Buying on an Exchange
Ethereum is the second-biggest cryptocurrency in the world, behind only bitcoin — ETH has nearly three times the market cap of No. 3 tether — so you won't have to look far to find an exchange that lists it. Here's a look at the most popular and trusted centralized exchanges where you can buy ETH.
| Exchange | Where It Excels | Commission |
| --- | --- | --- |
| Coinbase | The largest and only publicly traded U.S.-based exchange, Coinbase stands out for its size, stability and regulation by the SEC. | Variable fees are calculated at the time of transaction based on several factors: order size, buyer location, payment method and market conditions, like volatility and liquidity. |
| Binance.US | The version of Binance that U.S.-based users can access, Binance.US is known for low fees and a user-friendly app. | Zero-fee ethereum and bitcoin trading — it is the only major exchange where you can trade the two biggest cryptocurrencies for free. |
| Kraken | Kraken is known for top-notch security and features like cryptocurrency futures trading. | Tiered maker-taker structure ranging from 0%-0.26% of the total order value, based on your 30-day trading volume. |
| Crypto.com | Crypto.com is famous for its long list of supported assets. Ethereum is just one of more than 250 cryptocurrencies you can buy and sell on the exchange. | Tiered maker-taker structure ranging from 0%-0.075% of the total order value, based on your 30-day trading volume. |
Brokers
You can also buy ETH and other cryptocurrencies through a broker, like SoFi or Robinhood, which are platforms that investors use to trade traditional securities like stocks and ETFs.
Storing Ethereum
When you buy ETH — or any other tokens — through a centralized exchange, the exchange maintains custody of your assets until you move them to a wallet.
Physical devices called hardware wallets, or cold wallets, are the safest option, but they're also the most expensive and complex. Software wallets, or hot wallets, are only as secure as the computer or mobile device they live on, but they at least get your private keys off of the exchange where you purchased them where they're most vulnerable.
Because of ethereum's ubiquity, most wallets let you generate an ethereum account, but the starting point for most beginners will be to choose an exchange.
Can I Directly Buy Ethereum?
Most beginners will choose the ease, simplicity and familiarity of a centralized exchange like the ones listed above. Centralized exchanges serve as third-party intermediaries that facilitate transactions between buyers and sellers — but you can also buy Ethereum directly.
Decentralized Exchanges
One way is to opt instead for a decentralized exchange, or DEX. They allow direct, p2p trading between buyers and sellers without the presence of a centralized company. Veteran crypto traders often choose decentralized exchanges because they don't require users to hand over control of their holdings to a third party.
Instead of trusting an exchange company to safeguard their funds, buyers and sellers on decentralized exchanges use a type of code called smart contracts. You must have a wallet to trade on a DEX, but they have fewer geographical restrictions than centralized exchanges and some, like LocalCryptos.com, let you buy ETH and other coins with traditional payment methods.
Is Buying Ethereum a Good Investment?
As 2022 made clear to the world, no cryptocurrency is free of risk, ethereum included. That said, ETH provides some unique benefits that potential investors should know about.
First, as previously stated, ETH is the biggest altcoin on Earth and therefore offers a level of stability that lesser tokens can't match.
Also, unlike bitcoin, ETH offers functional utility beyond its status as a medium of exchange and store of value. ETH is the token used to settle the gas fees that fuel the Ethereum network, which developers use for applications like NFTs, Dapps, DeFi, decentralized social networking and decentralized science.
Finally, the Ethereum merge changed how the network validates transactions from proof-of-work (PoW) to proof-of-stake (PoS), which is far more energy efficient. Also, PoS allows investors who are willing to tie up their ETH holdings in the Ethereum network to earn passive income through staking.
Is Ethereum a Buy Now?
The cryptocurrency market is notoriously difficult to predict, but there are some indications that now might be a good time to invest in ethereum. In the final days of 2022, Time reported that Ethereum's price was still depressed despite the fact that it was recovering from the industry-wide devastation that defined the year.
Ups and Downs
In the crypto glory days of fall 2021, ETH was approaching $5,000, but the crypto winter sent it and every other major coin crashing down to Earth. Ethereum briefly fell below $1,000 in June 2022.
It had been recovering nicely in the second half of 2022 — climbing toward $1,700 — when the FTX bankruptcy scandal dealt the industry another body blow.
ETH plummeted again, but then held steady at around $1,200 as 2022 drew to a close. But ETH is enjoying a resurgence. The token is now trading above $1,500 after gaining 30% in less than one month of the new year.
Final Take
Ethereum has been one of the most promising cryptocurrencies since the Ethereum network established itself as a leader in the blockchain space — but it's still a cryptocurrency. Highly volatile and hard to predict, digital tokens are a risky bet — including ETH. Most experts recommend dedicating only a small portion of your portfolio to crypto, typically no more than 5%.
Our in-house research team and on-site financial experts work together to create content that's accurate, impartial, and up to date. We fact-check every single statistic, quote and fact using trusted primary resources to make sure the information we provide is correct. You can learn more about GOBankingRates' processes and standards in our editorial policy.