FTX Collapse: What It Means for Crypto Industry and Investors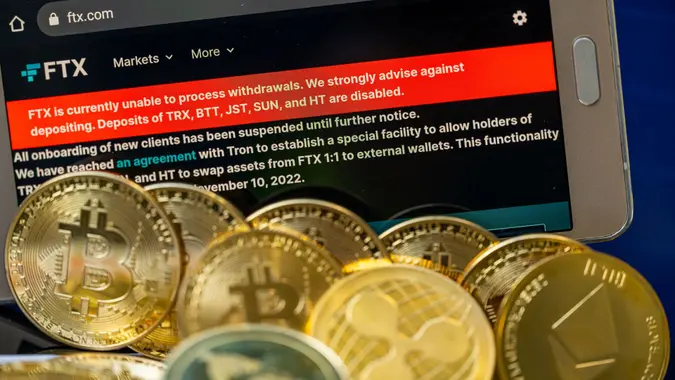 Just a few hours after embattled FTX — and its 130 subsidiaries — filed for bankruptcy and Sam Bankman-Fried stepped down as CEO, the crypto exchange said it was hacked. 
The crypto assets could be worth around $477 million, according to crypto risk management firm Elliptic.
The troubles keep on piling up, and while the untangling and the bankruptcy proceedings might take a while, the damage is spreading fast. Investigations are under way and fears of contagion, calls for speedy regulation and the crashing of several crypto prices are just the start. Thousands of customers most likely will never recoup their losses; or, if they do, it'll be cents on the dollar.
FTX Fallout Just Beginning
Already, rival platforms such as Crypto.com, which mistakenly sent $400 million to the wrong wallet on Nov. 13, have had to assuage edgy investors, fearing they too might face liquidity issues.
"The news over the weekend just seems to get worse and worse," said Hayden Hughes, co-founder and CEO of Alpha Impact. "First, FTX was hacked with around $400 million stolen by hackers. It also became clear that the hole in the FTX's balance sheet was over $8 billion and that over $1 billion of client funds are unaccounted for."
Hughes added that Bankman-Fried appears to have designed a back-door system that would allow funds to move directly to sister company Alameda Research without triggering internal alarms.
Hughes said the contagion from FTX is just beginning, with many trading firms having booked substantial losses.
"We expect several firms to close their doors," he said. "This is sure to bring regulatory scrutiny across the world, as many have criticized the unregulated nature of many crypto exchanges."
DeFi Supporters Speak Up
Already, FTX's demise is reigniting the DeFi (decentralized finance)/CeFi (centralized finance) debate, with many experts arguing that DeFi is better at providing transparency and auditability, especially in the light of the other DeFi lenders — Celsius and Voyager — who went bust earlier this year.  
"The core idea of crypto is to eliminate the need for trust through decentralization and the inherent transparency of the blockchain," said Anto Paroian, CEO and executive director at the cryptocurrency hedge fund ARK36. "It is difficult to imagine a better case for this idea than the current bear market, which exposed the dangers of putting too much trust and confidence in big, centralized entities — even if they presume to promote crypto adoption."
Others in the industry echoed the sentiment, arguing that centralized exchanges make it impossible by design to figure out how things work.
Prepare for 'Cascading Effects'
Asked where the contagion might spread and who might be affected, Ouriel Ohayon, CEO and co-founder of ZenGo — an MPC (Multi-Party Computation) non-custodial wallet — said there is no way to know because everything is behind closed doors.
"We assist in real time at the failure of centralized crypto, not crypto. People understand now, at a high price, the value of having true control of their assets and custody," Ohayon said. "We will know once it's too late. It is clear there will be cascading effects touching the entire custodial ecosystem and possibly more."
Binance CEO Changpeng Zhao said in a tweet that Binance is forming an industry recovery fund, to mitigate the negative effects of FTX.
Regulatory calls for action also have been re-ignited — both by some industry insiders and politicians — but some fear a speedy reaction might not be an adequate one.
According to Daryl Kelly, founder of LTD.INC, regulation is going to come "hard and fast," which "is not necessarily a bad thing."
Kelly said the key for the success of the digital asset industry now rests on its ability to work with agencies and lawmakers in the United States and beyond to help craft regulation that is appropriate for both protecting users and promoting healthy, sustainable growth.
"The centralized and decentralized aspects of this industry are very different from each other, and the general public hasn't yet caught on to this difference," Kelly added. "So, again, we have to work with regulators and lawmakers to help create policies that are appropriate and not stifling."
A Call for Proof of Reserves
A solution that some are now calling for is that platforms and exchanges provide proof of reserves (PoR) — independent audits conducted by third parties seeking to ensure that custodians hold the assets they claim to on behalf of clients, as Kraken explains on its website.
"Moving forward, users should consider every exchange potentially insolvent unless proven otherwise through proof-of-reserves," ARK36's Paroian said. "Investors should also brace themselves for contagion from FTX's bankruptcy. FTX had strong and diverse ties to the industry, acting as a lender of last resort and a VC investor. It will take weeks before we see the full extent of the damage done."
Finally, for many in the industry, the FTX debacle is more than a financial crisis, which many are comparing to that of Enron or to the Theranos fiasco; it is also a moral one, as transparency is a fundamental principle behind blockchain technology.
"So the FTX-Alameda scandal is basically an attack on the very basis of what we are doing," said Guilhem Chaumont, CEO and co-founder of Flowdesk. "This is a time to come together as a community and show that we remain committed to prudent financial risk management, legal compliance and transparency policies — the very things that must define blockchain technology."
More From GOBankingRates