How To Buy Ethereum: A Step-by-Step Guide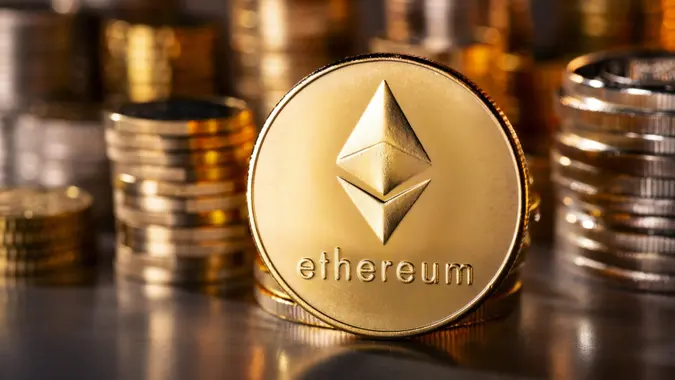 gopixa / Getty Images
Ethereum is the second largest cryptocurrency, based on market capitalization, behind Bitcoin. While Bitcoin is considered to be the original crypto, Ethereum leads the pack in a class of crypto deemed alt-coins — or any crypto other than Bitcoin.
With that in mind, you are probably wondering, "How can I purchase Ethereum?" Here are the different ways that both beginners and more advanced investors can buy Ethereum. Fortunately, it's easier than ever to invest in Ethereum but first, you should understand the risk of investing in crypto and know what you are getting into.
Should You Invest in Ethereum?
Before you invest in Ethereum, you will want to decide if crypto is a good investment based on your risk tolerance.  
"Risk tolerance is the amount of risk one is willing to take, and it will remain reasonably static throughout your lifetime," Heather Winston, CFP at Principal Financial, previously told GOBankingRates.com.
Evaluate Your Risk Tolerance for Investing
Your risk tolerance may also vary based on your financial goals and your time until retirement. "Generally, the more time you have, the more risk you can assume because time can help smooth out the market's gyrations," said Winston. She was referring to the stock market, but the advice also applies to the crypto market.
Since crypto can be a volatile investment, you should never invest more than you are prepared to lose. However, if you're willing to hold for the long haul, your investment could become extremely profitable.
For instance, according to Forbes.com, had you invested just $1,000 in Ethereum in 2015, and sold strategically in 2021 or early 2022, you'd have more than $2.2 million in cash — before taxes, of course.
When Is the Right Time To Invest?
If you have little-to-no debt, a retirement account, and disposable cash, it could be the time to invest in Ethereum. If you don't seem to have disposable cash, it might be smart to look at your budget and see where you can make some sacrifices or tighten your purse strings to free up some money for investing. At that point, you may be ready to invest in Ethereum.
Fortunately, there are many different ways to buy Ethereum.
How To Buy Ethereum on A Crypto Exchange
You can buy ETH in many ways, including on the Robinhood, Paypal and Venmo platforms. But most experts say that buying ETH through a crypto exchange is still the most common method.  
First, find a crypto exchange that carries ETH, which should be easy since it's the second largest crypto behind Bitcoin. Some of the best crypto exchanges include:
These exchanges operate in most U.S. states and have low transaction fees. Whatever exchange you choose, you want to make sure it is reputable and holds insurance against fraud or cyber-attacks.
About Coinbase

For instance, Coinbase holds all cash funds in FDIC-insured custodial wallets, which means your investment is protected. The platform also holds crime insurance against theft or fraud of your crypto investment up to a certain amount.
Before You Start Trading
You'll want to compare transaction fees for the exchange you choose, but if you are looking to buy and hold, rather than engage in frequent trading, the fees may not be a big consideration.  It's important to find an exchange with an easy-to-use interface where you feel comfortable buying and selling crypto.
You also want to make sure your exchange includes a crypto wallet to store your investment. Most of the top exchanges do.
When you're ready to make your purchase, you'll need to fund your account with a deposit in U.S. dollars. You can usually connect a bank account or credit or debit card to fund your account. Some crypto exchanges, including Kraken, allow wire transfers from your bank, as well. You can also fund a crypto exchange account from another crypto exchange if you've decided you want to change exchanges.
Once you've established and verified your account on an exchange that sells Ethereum, simply make an order to "buy."
Transferring Your ETH to a Cold Wallet
Many crypto exchanges are insured against theft of the funds stored with the platform. That doesn't mean your crypto held in the exchange won't lose value. It only guarantees that it is protected against theft up to the amount of the insurance the exchange holds.
But if you hold large amounts of Ethereum and keep it safe, you should purchase a cold wallet for storage. The best crypto hardware wallets connect to the internet to transfer funds but otherwise, are kept offline to store your crypto safely.
How To Buy Ethereum through Paypal or Venmo
Popular peer-to-peer payment platforms Paypal and Venmo now offer the capability to buy Ethereum using your Paypal or Venmo balance or a linked bank account, credit card or debit card. This makes investing in ETH quick and easy without the need to set up an account with a crypto exchange.
If you don't have a Venmo or Paypal account, you'll need to set one up and connect a funding source.
Using Paypal
Then, in Paypal, click "Finance" and select crypto. You can buy Ethereum at its current market value. You can buy as little as $1 worth of ETH on Paypal, but you'll pay a 99-cent transaction fee for each purchase.
Using Venmo
You can purchase ETH on Venmo in a similar way. Simply select "crypto" and choose "buy" or "sell" and the type of currency. Again, you can buy or sell as little as $1 worth of crypto with a 99-cent transaction fee.
It's worth noting that most stock and investment trading platforms do not allow crypto trades, but Robinhood is one that does.
Did You Know?

As cryptocurrency, in general, experiences a crypto winter, Ethereum is down more than 65% from its all-time high of $4,865.57, according to Coindesk.com statistics. It is now trading at $1,189.95 USD per coin. It has not dipped down to its 52-week low this summer of roughly $880 per coin. But if you believe in the future of cryptocurrency, now may still be a good time to invest.
Final Note
You can buy as little as $1 worth of ETH easily today through a top crypto exchange or through the Paypal, Venmo, or Robinhood apps. Keep in mind that, even though crypto is currently trading at lower prices than it was in 2020 or early 2021, there is no guarantee your investment will gain value over time. Never invest more than you are willing to lose.
FAQs About Buying Ethereum
Read on for the answers to some frequently asked questions about how to buy Ethereum.
How can I purchase Ethereum?

You can buy Ethereum through a crypto exchange like eToro or Kraken, the Venmo or Paypal P2P payment networks, or through the Robinhood Crypto trading platform.

Where is the best place to buy Ethereum?

Venmo and Paypal make it simple to purchase ETH using your linked bank account, credit or debit card, or your stored balance. More advanced crypto investors may prefer a crypto exchange like Kraken, Binance, Coinbase or eToro for their ETH purchase. Using a crypto exchange also gives you the option to store your investment offline in a hardware wallet.

Can I buy $1 of Ethereum?

Most crypto exchanges, including Kraken, as well as Paypal and Venmo, allow you to buy as little as one U.S. dollar worth of ETH. Keep in mind Paypal and Venmo have flat rate exchange fees of 99 cents, so you may want to make a larger purchase. Transaction fees for crypto exchanges like Coinbase and Kraken are typically calculated as a percentage of your purchase.

Where can I buy Ethereum for beginners?

Beginners often use Paypal or Venmo to make their first Ethereum purchases, moving onto a crypto exchange once they become more familiar with trading crypto.
Information is accurate as of Dec. 28, 2022.
Our in-house research team and on-site financial experts work together to create content that's accurate, impartial, and up to date. We fact-check every single statistic, quote and fact using trusted primary resources to make sure the information we provide is correct. You can learn more about GOBankingRates' processes and standards in our editorial policy.