Best Ethereum Wallets 2022: A Full Beginner's Guide on Storing ETH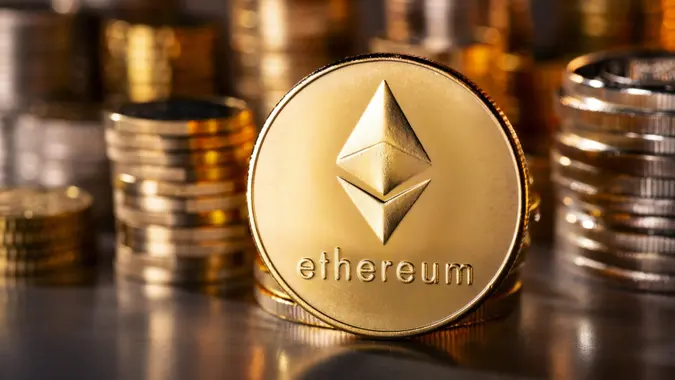 gopixa / Getty Images
Ethereum is one of the most popular cryptocurrencies in the market. Naturally, many investors are purchasing it, often in large quantities, with the hopes of appreciating their investments in the near future. Since security is a genuine concern in the crypto markets, it is important to know which crypto wallets to use to store the Ethereum you just bought.
Read: 5 Things You Must Do When Your Savings Reach $50,000
In this guide, you can learn more about the best Ethereum wallets of 2022 so that you can make an informed decision about the same.
What Is an Ethereum Wallet?
An Ethereum wallet is a crypto wallet that helps you to manage your Ethereum. It helps you to make transactions and connect to other Ethereum-based applications. An Ethereum wallet helps you interact with your account, and you can easily swap between wallets any time you want.
Types of Ethereum Wallets
When you are choosing an Ethereum wallet, you have the option between different hot and cold wallets. Based on the value of your investments and frequency of trading, you should select an Ethereum wallet that fulfills all your requirements.
The 12 Best Ethereum Wallets
Given the number of options, it can be tricky for beginners to understand which Ethereum wallet to choose. Investing in a hardware wallet can be worth it if you hold a large volume of crypto while software wallets are more suitable for people engaged in active trading.
Take a look at this comprehensive list of both hot and cold wallets to cater to the needs of all types of traders and investors.
1. MyEtherWallet
MyEtherWallet or MEW is a free client-side interface that allows users to interact smoothly with the Ethereum blockchain. The user interface is easy-to-use and has an open-source platform enabling you to generate wallets, interact with smart contracts, and use many other features.
Even though it is a free wallet, users can easily make transactions, manage non-fungible tokens, access decentralized apps, swap tokens, and work with other Ethereum-compatible networks like Ethereum Classic (ETC), Binance Smart Chain (BNB) and Polygon, which provides greater scope for asset management.
2. MetaMask
MetaMask is a great Ethereum wallet for beginners because of its user-friendly interface, secured key vault and customer support. It is a hot wallet available as a browser extension and mobile app. MetaMask is free for its users, which means you can easily explore Ethereum-based apps, swap tokens and store your Ethereum.
3. Coinbase
Coinbase is one of the most popular apps and is a very efficient Ethereum wallet. It helps the users to take backup of their keys so that they can be recovered if lost. Although it is a hot wallet, Coinbase helps you to link your accounts with your hardware wallet.
4. Ledger Nano X
Ledger Nano X is a hardware wallet that is priced at $119. It is a great Ethereum wallet and comes in the form of a USB drive. After you have installed the software, you can use it to store Ethereum.
5. Trezor Model T
Trezor Model T is one of the most reputed hardware wallets in the crypto space and costs $219. Despite being the most expensive model, it is a great Ethereum wallet for its unparalleled security features.
6. Electrum
Electrum is an old name in the crypto wallet space and is known for being one of the most secure hot wallets. It is a good Ethereum wallet for experienced traders in this market because it provides advanced features like custom transaction fees. However, this wallet is not beginner-friendly since its user interface is very complicated.
7. Mist
Mist is the official wallet created by the developers of Ethereum and allows users to download the entire blockchain on their devices. However, it only supports Ethereum and other ERC20 tokens which makes it limited to its users.
8. Exodus
Exodus is one of the most user-friendly crypto wallets because of its simple interface. It is a great Ethereum wallet because you can easily manage all Ethereum-based applications on your mobile, or desktop and even make connections with your hardware wallets.
9. CryptoWallet
Another free mobile Ethereum wallet, CryptoWallet helps users trade with over 800 coins. It allows people to make real purchases with crypto by connecting their debit cards which significantly removes the gap between the real and virtual worlds.
10. Atomic Wallet
Atomic Wallet is a free hot wallet that supports hundreds of cryptocurrencies. It is a great Ethereum wallet because of its atomic swap facilities and user-friendly interface. However, because it is non-custodial, you might not receive any support if you lose your keys.
11. Guarda
Guarda is a free wallet that can be used for storing and managing Ethereum. It can be accessed from mobile as well as a desktop and provides very good customer support despite being non-custodial. It has great security features which makes it a suitable Ethereum wallet for everyone.
12. Argent
Argent is limited in its access because it only supports Ethereum and ERC20 tokens. However, it is a great Ethereum wallet because of its staking facilities and access to decentralized applications and NFTs.
Final Take
Ethereum is the second most expensive cryptocurrency after Bitcoin. If you wish to grow your crypto portfolio, holding Ethereum for a long period can be beneficial. When you do so, choose an Ethereum wallet wisely that ensures security and ease of use.
Ethereum Wallet FAQs
Here are answers to some of the most frequently asked questions about Ethereum wallets.
What is the best ethereum wallet?

Among hot wallets, Exodus, Coinbase and Guarda are great for Ethereum. Trezor Model T is the best Ethereum wallet for hardware wallets.

How do you get an Ethereum wallet?

You can easily use any hot wallet like Coinbase or MyEtherWallet to store your Ethereum, make necessary transactions, and interact with the blockchain.

Is there a free Ethereum wallet?

There are plenty of free Ethereum hot wallets. Take a look at Guarda, MetaMask, Exodus and MyEtherWallet.

Which crypto wallet is best for 2022?

If you are looking for a highly secured hardware wallet, Trezor Model T is the best option. Among hot wallets, there are many options like Coinbase, Guarda Wallet, Exodus and MetaMask.

Is MetaMask or Coinbase wallet safer?

Coinbase is one of the most popular crypto wallets and has better security features than MetaMask.
Information is accurate as of Dec. 12, 2022.