10 Best NFT Stocks To Watch Right Now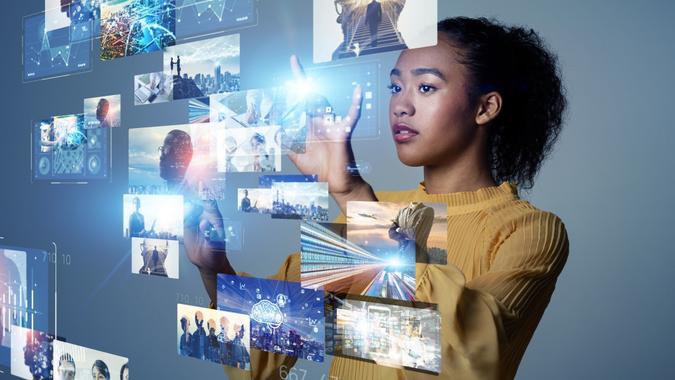 metamorworks / iStock.com
Curious about NFTs but don't know where to begin? There is the idea that NFTs are "expensive" for digital art. For some, there is uncertainty about their utility. This might explain why some might be on the fence about buying into NFTs. If that's the case, you might want to try your hand at investing in NFT stocks to test the investing waters. Take a look at these top NFT stocks to help you get started.
What Does NFT Stand For?
NFT is short for non-fungible tokens. These digital assets can be almost anything, including:
Digital or physical art
Music
Real estate
Tweets
Video game avatars
Videos
NFTs were first introduced in 2014 as the shift toward cryptocurrency opened the door for investing in digital assets. They're an increasingly popular investment option today. What sets them apart from other investment options is that each NFT is a unique item.
10 NFT Stocks To Invest In
Here's a more detailed look at each of the top 10 NFT stocks to check out right now.
1. Dolphin Entertainment (DLPN)
This development firm handles entertainment marketing and premium content. Its subsidiaries include:
42West
Fire Media
The Door and Shore
Viewpoint Creative
Its focus on the digital realm makes it a great stock for investors interested in NFTs, especially since it has a separate NFT division. It recently introduced its own NFT marketplace called FTX.US, positioning the brand as an NFT leader.
eBay makes the list as the most well-known brand — and is, arguably, a household name. eBay is a relevant investment option because of its expertise in e-commerce. Early in 2021, the company announced the ability to buy and sell NFTs on the eBay website.
eBay is taking this effort a step further by cultivating its own exclusive NFTs. One such NFT is a canvas made in partnership with Kayvon Thibodeaux, a football player for the Oregon Ducks. The fact that eBay continues to adapt to meet the demands of changing markets is impressive.
3. Cloudflare (NET)
This streaming service is a great investment option because of its commitment to inclusivity. When other streaming services block content creators that don't meet their standards, Cloudflare welcomes them with open arms. This includes NFTs [2].
Cloudflare is a leader in the software-as-a-service industry because it connects people to brands on the platform. Cloudflare's steady growth through the pandemic era is impressive, gaining over 65% in price over the last year, and shows that the brand has long-term sustainability.
4. CyberMiles (CMT)
CyberMiles is a public blockchain platform. It was the first solution that allowed commercial transactions for Ethereum's public chain DPOS consensus. Today the CyberMiles platform serves as a guide for other blockchain platforms to work from. Within four years of the very first NFT, CyberMiles was ready to support the buying, selling and trading of NFTs. It was also the very first platform to host an NFT auction.
Good To Know

You need a cryptocurrency wallet in order to buy, sell or trade NFTs. However, you can invest in many NFT businesses through the stock market.
5. Sino-Global (SINO)
In March 2021, Sino-Global announced a partnership with CyberMiles to introduce a robust NFT exchange. Today the platform is the first of its kind to allow creators to sell their digital art within a platform specifically designed for NFTs. The platform serves as a bridge between the digital and physical world of art and investing.
6. Twitter (TWTR)
The social media platform is always looking for ways to stay relevant — especially when it comes to monetization. Now Twitter is looking at ways to integrate NFTs into the platform. The first indication of a Twitter and NFT partnership was when founder Jack Dorsey sold his first-ever tweet for $2.5 million. While not all tweets will sell for as much, the sale is proof that there's money in social media.
7. Funko (FNKO)
The brand is well known for its trendy character toys with big heads. Various designs are already in high demand and resell for hundreds if not thousands of dollars. Now the company is introducing Digital Funko Pop! NFT art. Packs of art start at $10, and some buyers will also receive a coin for a physical toy with their purchase.
8. Shopify Inc. (SHOP)
This e-commerce platform puts buying and selling in the hands of the consumer. When the Shopify President, Harley Finkelstein, wrote a tweet about NFTs, the stock saw a 19% increase. The rise didn't last, which indicates that the jump may have been solely because of the news. Still, the platform is already well designed to function as an NFT platform. When Shopify does decide to enter the NFT market, it will be a stock to watch.
9. Takung Art (TKAT)
This particular stock is an example of how the NFT craze can drive a stock's value up — fast. It gained almost 300% in value in a single day. Takung Art sells physical artwork, specifically Asian artwork. It is unique because it allows for share asset ownership.
This means that multiple people can own a piece of art together, allowing more investors to enter the market. While the company doesn't yet trade in NFTs, investors are getting ahead of the trend and hoping that Takung Art makes that leap soon.
10. Jiayin Group (JFIN)
This stock isn't making headlines or causing waves on the stock market. The high-tech financial services company is based in Shanghai. Right now, Jiayin Group isn't working with NFTs — yet. A series of tweets in December 2020 tipped off investors who now expect to see a shift to NFTs soon.
Final Take
With the current momentum, it's safe to say that NFTs aren't going anywhere. According to Nasdaq, NFT stocks are a great long-term investment option. It's just a matter of choosing the right stock. Inevitably, NFTs will experience some volatility, similar to that of cryptocurrency. But investors hope that an overall upward trend will continue.
NFT Stock FAQ
Here are the answers to some of the most frequently asked questions about NFTs and investing in NFT stocks.
How does an NFT work?

NFTs are similar to cryptocurrency because they offer a way to buy and sell digital assets. An NFT can be almost anything that someone wants to buy or sell. For example, distributing thousands of prints of the same piece of art wouldn't qualify as an NFT. Selling a single piece of unique art -- digital or physical -- does qualify as an NFT.

Are NFTs cryptocurrency?

No, NFTs and cryptocurrency are similar because they use blockchain technology. Both cryptocurrency and NFTs are relatively new, but as blockchain technology expands, it will be easier for consumers to understand the difference between the two.

What does non-fungible mean?

NFTs are considered "non-fungible" because there is no standard value that applies to all NFTs. The physical money we use in the world economy has a standard value and even an exchange rate when trading currency for currency.

What decides an NFT's value?

An NFT's value is determined solely by the value an individual investor places on it. It's very similar to collector's items. One person may not see any value in an old baseball card, while someone else identifies it as highly collectible.
Data is accurate as of Jan. 11, 2022, and subject to change.
Our in-house research team and on-site financial experts work together to create content that's accurate, impartial, and up to date. We fact-check every single statistic, quote and fact using trusted primary resources to make sure the information we provide is correct. You can learn more about GOBankingRates' processes and standards in our editorial policy.