10 Best NFT Stocks To Watch Right Now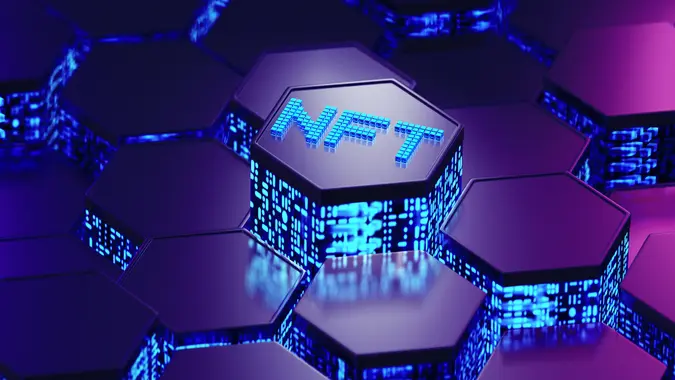 BlackJack3D / Getty Images/iStockphoto
Curious about NFTs but don't know where to begin? There is the idea that NFTs are overpriced, or that they lack utility. This might explain why some are on the fence about buying into NFTs. If that's the case for you, you might want to try your hand at investing in NFT stocks to test the investing waters.
See: 5 Things You Must Do When Your Savings Reach $50,000
Take a look at these top NFT stocks to help you get started.
What Does NFT Stand For?
NFT is short for non-fungible token. These digital assets can represent ownership of almost anything, including:
NFTs were first introduced in 2014 as the shift toward cryptocurrency opened the door for investing in digital assets. They're an increasingly popular investment option today. What sets them apart from other investments is that each NFT is unique.
10 NFT Stocks To Invest In
If you think NFTs show promise as an investment but you aren't ready to buy individual tokens, consider investing in NFT stocks. While you can't buy shares of NFTs themselves, you can buy stock in companies that are involved with NFT creation, trade or technology. Here's a look at 10 of the best NFT stocks to consider investing in right now.
1. Dolphin Entertainment (DLPN)
This development firm handles entertainment marketing and premium content. Its subsidiaries include 42West, The Door, Viewpoint Creative and Shore Fire Media.
Its focus on the digital realm makes it worth considering if you're interested in NFTs, especially since it has a separate NFT division. It recently introduced its own NFT marketplace called FTX.US, positioning the brand as an NFT leader. Dolphin announced in September that its flagship NFT, Creature Chronicles, sold out in about 90 minutes.
The company reported a 19% year-over-year increase in revenue in the second quarter of 2022. It has an analyst price target of about 238% above its current $2.96 share price as of Nov. 8. Analysts expect Dolphin to turn profitable in 2023.
2. eBay (EBAY)
EBay makes the list as one of the most well-known brands — and is, arguably, a household name. It's also a relevant investment option because of its expertise in e-commerce.
The company has allowed customers to buy and sell NFTs on the eBay website since May 2021. And in June of this year, it announced it had acquired KnownOrigin, a leading NFT marketplace, in a deal that could help eBay position itself as a top site for NFT collectors.
EBay is also cultivating its own exclusive NFTs. One example is a canvas made in partnership with Kayvon Thibodeaux, a football player for the Oregon Ducks. While not all analysts agree with the current "buy" consensus reported by Yahoo Finance, the fact that eBay continues to adapt to meet the demands of changing markets is impressive.
3. Cloudflare (NET)
This streaming service could be a solid investment option because it's not an NFT company, per se. Rather, it's a web performance and security company and a leader in the $152 billion software-as-a-service industry.
Video creators who store their videos on Cloudflare Stream can create NFTs for their work on a platform like OpenSea, and then connect the token IDs and contact addresses with their videos. The company has seen strong growth in large-customer acquisition recently and could be a solid growth stock if it can keep up the momentum.
4. McDonald's (MCD)
McDonald's isn't the first company anyone thinks of when they think "NFT stock," but the fast-food chain already has one foot in the metaverse pending the approval of 10 trademark applications it submitted in February.
McDonald's wants to trademark a virtual restaurant with virtual and physical products, entertainment services like online concerts and downloadable multimedia files, video files and NFTs.
Aside from its involvement in NFTs and the metaverse in general, McDonald's is a solid blue-chip stock and dividend aristocrat. That makes it a good choice to balance some of the riskier stocks in this roundup.
Good To Know

You need a cryptocurrency wallet in order to buy, sell or trade NFTs. However, you can invest in many NFT businesses through the stock market.
5. DraftKings (DKNG)
DraftKings is a digital sports entertainment and gaming company. It offers sports betting and gaming technologies in 17 countries worldwide that power its casino game, sportsbook and fantasy sports platforms.
It also operates a marketplace where users can purchase NFTs. The selection is extensive, with products ranging from collectibles like a limited-edition Dale Earnhardt Jr. autograph to Reignmakers Football fantasy-sports player cards.
DraftKings reportedly is in private talks with ESPN, Bloomberg reported. ESPN has already invested in sports gambling but hasn't ventured into taking bets. However, ESPN's parent company, Disney, has been looking for sports-betting partners for over a year. If DraftKings, which already has a marketing partnership with ESPN, turns out to be one of them, its reach could explode.
6. Nvidia (NVDA)
Nvidia is widely known for its graphics, data and networking solutions, and it's also building a reputation in the NFT industry. Earlier this year, Nvidia announced at the annual SIGGRAPH computer-graphics conference that it's working on a number of metaverse projects, including neural graphics, a cloud engine for avatars, and a new version of its Omniverse platform where developers can create and launch metaverse applications using a framework developed by Pixar Animation Studios.
Other Omniverse components include Nvidia's PhysX physics simulation technology and the RTX Renderer. There's a free version for individual creators. Nvidia has deals with several marketplaces where those creators can sell their 3D work, Reuters reported.
7. Funko (FNKO)
The brand is well known for its trendy character toys with big heads. Various designs are already in high demand and resell for hundreds, if not thousands, of dollars. The company recently introduced Digital Pop NFT art. Packs of art start at $10, and some buyers will also receive a coin for a physical toy with their purchase.
Funko shares fell dramatically after Funko revised its earnings-per-share guidance downward for the full year, causing some investment firms to downgrade their recommendations. But analysts who still have faith in the stock consider it undervalued since the decline. If they're right, investors who buy now and hold the stock could be rewarded for their patience.
8. Shopify (SHOP)
This e-commerce platform puts buying and selling in the hands of the consumer. When Shopify President Harley Finkelstein wrote a tweet about NFTs, the stock saw a 19% increase. The rise didn't last, which indicates that the jump may have been solely because of the news.
That could be good news for investors, as Shopify is currently beta testing an NFT program that would allow merchants to sell NFTs from their stores. But no matter what the future holds for the NFT market, Shopify seems to have cemented its place as the most popular e-commerce platform.
9. Takung Art (TKAT)
Takung Art made its mark selling physical artwork — specifically, Asian artwork. It is unique because it allows for shared asset ownership. This means that multiple people can own a piece of art together, allowing more investors to enter the market.
The company launched its own NFT trading platform, NFTOEO, in April. It could take time before NFT marketplaces come into their own, but once they do, stocks like Takung Art, which currently trades at just $0.75 a share as of Nov. 8, could really take off.
10. Jiayin Group (JFIN)
This stock isn't making headlines or causing waves on the stock market. The high-tech financial services company is based in Shanghai. Right now, Jiayin Group isn't working with NFTs — yet. A series of tweets in December 2020 tipped off investors who now expect to see a shift to NFTs.
And earlier this year, speculation that the shift would happen soon drove a brief rally in share price, which is currently hovering around $2.34 as of Nov. 8. While no NFT-specific announcements have been released, Jiayin has been active in digital art and could easily segue into NFTs when the time is right.
Final Take
With the current momentum, it's safe to say that NFTs aren't going anywhere, and investing in established companies such as McDonald's and eBay is a relatively safe way to get exposure to them. The more speculative stocks, on the other hand, could take off at some point — or prove worthless in the long run.
As with any investments, talk with an investment professional to find out how NFT stocks fit into your portfolio, do your research and never invest money you can't afford to lose.
NFT Stock FAQ
Here are the answers to some of the most frequently asked questions about NFTs and investing in NFT stocks.
How does an NFT work?

NFTs are similar to cryptocurrency because they offer a way to buy and sell digital assets. An NFT can be almost anything that someone wants to buy or sell. For example, distributing thousands of prints of the same piece of art wouldn't qualify as an NFT. Selling a single piece of unique art

—

digital or physical

—

does qualify as an NFT.

Are NFTs cryptocurrency?

No. NFTs and cryptocurrency are similar because they use blockchain technology, but they are not the same. NFTs are non-fungible, meaning that each NFT is unique, while cryptocurrency is fungible, which means that any bitcoin, for example, can be exchanged for another bitcoin with no value lost or gained.
Both cryptocurrency and NFTs are relatively new, but as blockchain technology expands, it will be easier for consumers to understand the difference between the two.

What does non-fungible mean?

NFTs are considered non-fungible because there is no standard value that applies to all NFTs. The physical money we use in the world economy has a standard value and even an exchange rate when trading currency for currency.

What decides an NFT's value?

An NFT's value is determined solely by the value an individual investor places on it. It's very similar to collectors' items. One person may not see any value in an old baseball card, while someone else identifies it as highly collectible.

What is an NFT stock?

An NFT stock is a security that gives you ownership of a tiny piece of a company that is involved in NFTs. The company might operate an NFT exchange, for example, or build the hardware or software creators need to make NFTs.

What is the best NFT stock?

Which NFT stock is best for you depends on your budget, your risk tolerance and your investing goals. If you merely want to dabble in a share or two of very inexpensive NFT stocks to satisfy your curiosity, you might choose one like Jiayin Group, which is highly speculative but costs less than $3. Nvidia might be a better choice for a serious investment in a company directly involved in NFTs. And a stock like McDonald's, which is using the metaverse and NFTs more for marketing than as a business model, is probably best if you're looking for a safer long-term investment.
Daria Uhlig contributed to the reporting for this article.
Data is accurate as of Nov. 8, 2022, and is subject to change.
Our in-house research team and on-site financial experts work together to create content that's accurate, impartial, and up to date. We fact-check every single statistic, quote and fact using trusted primary resources to make sure the information we provide is correct. You can learn more about GOBankingRates' processes and standards in our editorial policy.