Maximizing Your Cryptocurrency Investment: A Guide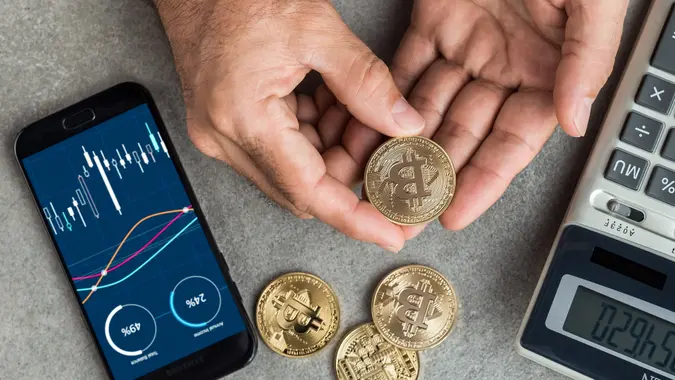 D-Keine / iStock.com
Cryptocurrency has been newsworthy for a number of reasons since bitcoin first made its public debut in 2009.
In a strictly financial sense, cryptocurrency continues to make headlines because of its extreme volatility. But in an existential sense, the "true believers" of cryptocurrency see a future in which these new digital assets eventually become the norm, rather than the current system of fiat money issued by individual governments.
How To Maximize Your Crypto Investment
Investing in cryptocurrency for either of these reasons has the potential to make you money. If you're a speculator, backing the right horse at the right time could potentially generate significant profits in a short amount of time. If you instead take the long-term view that cryptocurrency will change the world, you might have to be patient, but you could theoretically be getting into a radical new investment relatively early in the game. 
Whatever your reason is for investing in cryptocurrency, you'll have to understand how it works and what the potential risks are. Here's a guide to get you started.
1. Analyze Your Potential Investment
While all investors should analyze what they're buying before they use any actual money, this is particularly important when it comes to cryptocurrency — because it isn't even technically a "security." Unlike stocks, for example, cryptocurrencies don't have to file quarterly or annual reports with any regulating agency. In fact, that's one of the primary attractions of cryptocurrency in general for some investors: that it is decentralized and unregulated.
How To Research Crypto
However, this can be frustrating if you're looking for information on what exactly it is that you are buying. Start with information from the developer's webpage and go from there — but be leery of getting too much of your information from internet sources like message boards, which are often there simply to pump up an otherwise worthless investment.
Instead, turn to cryptocurrency research tools like Coin Metrics, Glassnode or Messari.
2. Pick a Low-Cost Broker
While cryptocurrency investors may hold their position for a long time, traders tend to move in and out of cryptocurrencies rapidly. And once they start trading one crypto, it's often not long until they begin buying and selling other cryptocurrencies, as well.
Look for Commission-free Trading
It's essential that you pick a low-cost trading platform if you want to get involved with cryptocurrency. Fortunately for traders, a growing wave of brokers have begun to offer commission-free crypto trading, following the first wave of zero-commission trading that swept over stocks and exchange-traded funds.
But there are still plenty of firms that charge relatively high commissions on crypto trades, so you'll have to do your research and find the lowest-cost broker that still provides the information and services that you need.
Other Factors To Consider
Many firms also provide lots of helpful information on how to buy cryptocurrency and other educational tools.
Look for a broker that allows you to start small — investment minimums for cryptocurrency are often low, as low as $1 at some brokers, which is important if you're just entering the market. You don't want to invest too much before you understand how it works.
3. For Short-Term Investors: Ride the Trend — But Have a Quick Trigger Finger
In one sense, the cryptocurrency market is the perfect vehicle for traders. Crypto prices are notorious for making major moves over a short period of time, and that is just what traders seek.
But if this is how you intend to maximize your cryptocurrency investment, you'll have to have a very quick trigger finger, and you'll have to keep a constant watch on your portfolio. With a simple tweet from Elon Musk or a recommendation to buy or sell from an online message board, the price of a crypto can skyrocket — or get totally wiped out.
Be Prepared for the Risk
This level of volatility is far beyond the risk tolerance of most investors, and it can create extreme amounts of stress. You'll have to be prepared for this if you want to dip your toe into speculative cryptocurrencies, which rise and fall not based on earnings reports or company successes, like stocks, but rather on the whims of individual traders.
4. For Long-Term Investors: Follow Development Notes Closely
In one sense, being a long-term investor in cryptocurrency can be even more stress-inducing than being a trader. Whereas a trader moves in and out of a cryptocurrency position rapidly, a long-term investor has to be able to watch the wild moves that cryptos can make on a daily basis and for an extended period of time.
Consider Use Cases
But if you choose to invest in cryptocurrency because you're a long-term believer in what it stands for, you'll want to keep close tabs on what the developers of the crypto are doing in the marketplace.
Although a number of cryptocurrencies were created just for fun, many are backed by serious engineering and development teams that are trying to create functional ecosystems and solve real-world problems. These are the types of cryptos that long-term investors typically back.
Pay Ongoing Attention
But even with the best of intentions, you should note that cryptocurrencies are still volatile. If the development team behind a crypto is headed in the wrong direction — or if they fail in what they're attempting to do — the value of their cryptocurrency can plummet.
The flip side, of course, is that they may potentially succeed in changing the financial system, which could potentially lead to large gains. Only you as an investor can decide which is more likely and place your bets accordingly.
Which Cryptocurrency Is Best To Invest In?
There is no single cryptocurrency which is the right choice for every investor. But if you're just starting out, it may be a good idea to stick with the first and still largest cryptocurrency: bitcoin.
The crypto that started it all in 2009 still remains the industry heavyweight, with a market cap of about $551 billion as of March 21. This represents nearly 45% of the market cap of all tradeable cryptocurrencies combined. Because of this dominance, there is plenty of publicly available information about bitcoin, and it's even discussed in the mainstream financial media.
Although still volatile, it also trades a bit more conservatively than some of the most speculative cryptos. All of these reasons make bitcoin a good first choice for crypto investors just breaking into the market.
The Bottom Line
Cryptocurrency investing remains an extremely volatile and speculative endeavor. But there's no doubt that some investors have generated huge gains in the space.
While some advisors recommend that you completely avoid cryptocurrency, others see a small space for it in more aggressive portfolios. Just be sure that you only invest money that you can afford to lose, and try not to get too starry-eyed with some of the more spectacular headlines that come out of the industry.
FAQ
Here are some quick answers to common questions about investing in cryptocurrency.
Is cryptocurrency a good investment?

Cryptocurrency could be a lucrative investment if you choose wisely and are ready to ride out the volatility. Ultimately, it's an extremely high-risk move even with a more established crypto – just look at the crash in 2022 – so never invest what you can't afford to lose. You could easily end up losing your entire investment.

Can you invest $1 in cryptocurrency?

You can absolutely invest $1 – or even less – in cryptocurrency. There are many coins that trade for less than $1 each. For those that are more expensive, you can buy partial coins through many exchanges.

How do I start investing in cryptocurrency?

After you've decided which cryptocurrency to invest in, you'll need to make an account on a crypto exchange or with a brokerage that offers your chosen crypto. Make sure you consider commissions and fees, as well.
Our in-house research team and on-site financial experts work together to create content that's accurate, impartial, and up to date. We fact-check every single statistic, quote and fact using trusted primary resources to make sure the information we provide is correct. You can learn more about GOBankingRates' processes and standards in our editorial policy.