5 Ways To Cash Out Your Crypto and Bitcoin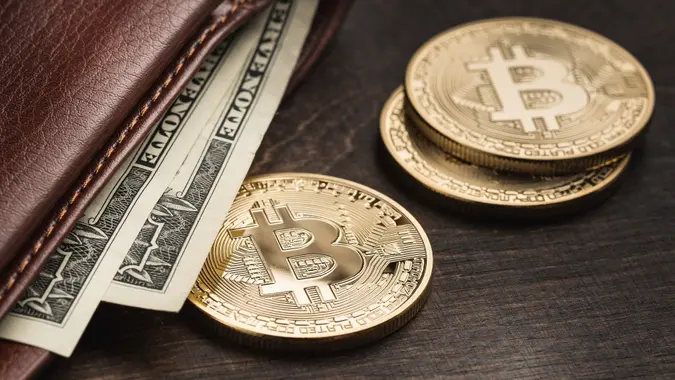 D-Keine / iStock.com
It has been anything but a dull year for cryptocurrency — from the recent shutdown of a major exchange to the collapse of three financial institutions with a significant hand in the cryptocurrency market: Silvergate Capital, Silicon Valley Bank and Signature Bank. The crypto market has seen a lot of volatility as a result, all during a period of heightened economic pressure.
It's no wonder that investors are wondering: How do you convert bitcoin to cash? 
How Do I Cash Out My Bitcoin?
You have several options for trading in your bitcoin and other forms of cryptocurrency. Which option is best for you will depend on where you bought and stored your coins, how quickly you need the value back out of them and the nature of your approach to buying and liquidating investment assets.
Here are five tried-and-true tactics for converting your bitcoin and other cryptocurrencies to cash.
1. Sell Bitcoin on a Cryptocurrency Exchange or Trading Platform
Unless you've locked your bitcoin, as you might do with what's known as staking, you can sell your bitcoin on an exchange at any time. You'll need to have an account with the exchange and move your crypto onto the platform before you sell. Make sure you pay attention to the fees associated, because those can vary by exchange or platform.
If you bought your bitcoin through an online investment house like Robinhood or eToro, you can sell through that firm for the corresponding broker's fee.
2. Find a Bitcoin ATM
Cryptocurrency ATMs are becoming more and more available, and many — but not all — of them will allow you to sell your bitcoin and withdraw cash after following several security steps. This option is best saved for situations when you need cash fast, as the fees can be high — think up to 20%.
3. Spend It
Debit cards that let you spend your crypto on everyday purchases are becoming increasingly mainstream. Transaction fees can vary, so do your homework before getting a crypto debit card.
Some retailers will also take payment for their products or services directly from your digital wallet on a cryptocurrency exchange or platform.
4. Send It to Another Investor in Return for Cash
Most cryptocurrency exchanges offer peer-to-peer lending platforms, which could allow you to find a buyer for the bitcoin you'd like to sell.
Most importantly, you need to trust your potential buyer. There's always a chance that the cryptocurrency you transfer could reach your buyer before their cash deposits into your bank or PayPal account — so know as much as you can about who you're thinking about doing business with.
5. Sell It Right From Your Crypto Wallet
If your crypto is securely stored in your cold wallet, you can sell it — for a fee — without moving it first. This will prevent you from having to transfer your crypto out of the wallet and onto a cryptocurrency exchange to make the sale.
Ledger and Trezor both offer bitcoin sales directly from your wallet.
How Do I Convert Bitcoin to Cash Instantly?
The process of liquidating your bitcoin quickly depends on how and where it's stored, but your best bet for going from crypto to cash in short order will most likely be via debit card, ATM card or expenditures at bitcoin-accepting retailers.
It's important to understand that transaction fees may apply for any method of converting your crypto to cash, but the fees are likely to get higher the faster the conversation needs to happen.
Can I Cash Out Bitcoin to My Bank Account?
Yes, it's possible to move your bitcoin or other cryptocurrencies to your bank account by selling it.
If you're not in a hurry, you can choose between two methods. Either pick a pre-set platform — like a cryptocurrency ATM or debit card — or find a buyer online and complete the sale on the blockchain or exchange. The latter process mandates trust and timely communication from both parties.
Mind the Bottom Line When Cashing In Cryptocurrency
Although you have multiple choices to liquidate your bitcoin and other cryptocurrencies into cash, it's essential to know what the associated fees and risks are.
If you're using a crypto ATM or debit card, you'll want to understand the fees associated with your transaction. If you decide to sell your coins to someone else, you may need to face the unknown — delays and fraud can be associated with online transactions like this. You could transfer your bitcoin to its buyer and find that they never intended to pay.
Proceed with caution, and be mindful of not only the opportunity you're pursuing, but also the potential downsides.
Our in-house research team and on-site financial experts work together to create content that's accurate, impartial, and up to date. We fact-check every single statistic, quote and fact using trusted primary resources to make sure the information we provide is correct. You can learn more about GOBankingRates' processes and standards in our editorial policy.