How To Cash Out Your Bitcoin: 7 Easy Ways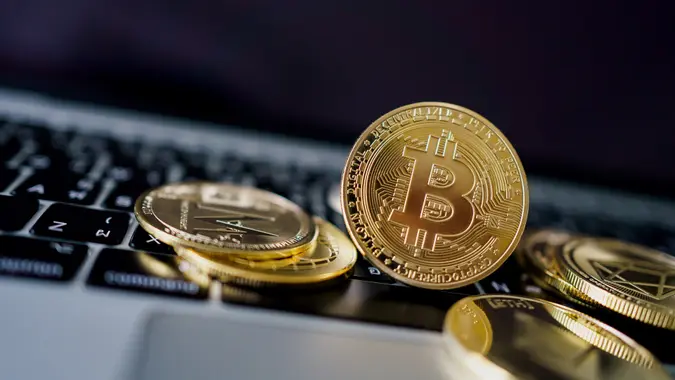 Phira Phonruewiangphing / iStock.com
Somewhere along your bitcoin investing journey, you'll need to know how to cash out bitcoin or how to sell bitcoin. Fortunately, there are many different methods for cashing out your bitcoin, making it easy to convert it back to fiat currency. Understanding the different methods for cashing out can help you choose an affordable and convenient option for your financial needs.
Read: 3 Things You Must Do When Your Savings Reach $50,000
How To Cash Out Your Bitcoin
Here is a look at seven simple ways to cash out your bitcoin.
Use a crypto exchange
Sell through a broker
Peer-to-peer trades
Convert your bitcoin to another crypto
Use a crypto debit card
Shop at stores that accept bitcoin
Use a bitcoin ATM
Keep reading to learn more about each of these options.
1. Sell Your Bitcoin Using a Crypto Exchange
Selling your bitcoin on a crypto exchange is one of the most common options for cashing out, but it can take longer than other methods and have higher transaction fees. A bank transfer from a crypto exchange typically takes between four and six business days, and you might have to pay transaction fees that could range between 0.5% and 2% each. However, it's easy to set up a crypto exchange account and complete the transaction. Simply set up an account, complete verification processes, deposit or buy bitcoin to keep in your account and then transfer it to your bank when you're ready.
2. Sell Your Bitcoin Through a Broker
With traditional investing, a broker helps complete financial transactions using your funds. A crypto broker acts similarly, making crypto transactions based on your investment goals. Using a broker may be a good option for beginner investors, and it may be more suitable for those who want to make smaller crypto purchases. 
3. Sell Your Bitcoin With a Peer-to-Peer Trade
Peer-to-peer trades may reduce transaction time and fees. However, you must be aware of how to complete peer-to-peer trades safely to avoid scams and fraudulent buyers. The safest option for peer-to-peer trades is to use a reputable peer-to-peer platform like LocalBitcoins. You can sign up and choose an ideal location for your buyer, as well as send trade requests on the platform's marketplace. Many peer-to-peer platforms will also offer escrow options so that your bitcoin isn't released until you receive payment.
4. Convert Your Bitcoin to Another Crypto
If you're looking to get rid of your bitcoin specifically, you could also choose to convert it to another cryptocurrency. This gives you the opportunity to stay in cryptocurrency investing without holding too much bitcoin. However, you would need to transfer it to your bank account in the future to cash out for fiat currency, which could add more time and fees. In addition, you will also need to choose a crypto exchange that allows for more trading pairs and that supports multiple types of cryptocurrencies.
5. Use a Crypto Debit Card
Crypto debit cards are good for investors who don't want to sell off large amounts of bitcoin. Instead, you can use the crypto debit card to make smaller purchases directly with vendors and stores, similar to regular debit cards. Many crypto debit cards also allow you to earn cash back and other rewards, as well as access ATMs. Some crypto debit cards will also allow you to add funds to your account using multiple types of cryptocurrencies or fiat currency.
6. Shop at Stores That Accept Bitcoin
If you don't want to transfer funds to your bank account, you can save time by shopping directly with stores that accept bitcoin and other cryptocurrencies as a payment method. However, be aware that there may be high transaction fees. In addition, the fluctuating price of cryptocurrency can affect the purchase price and refunds. Therefore, you may choose to only use cryptocurrency for large in-store purchases, rather than small everyday purchases.
7. Use a Bitcoin ATM
Bitcoin ATMs connect to platforms like crypto exchanges to facilitate buying and selling transactions. While some bitcoin ATMs will only allow you to buy bitcoin, you can also find some that allow you to sell your bitcoin and immediately receive cash, similar to a traditional ATM. You must have an account already set up with the platform. Then, you can simply enter your wallet address to cash out.
Final Take
Overall, it's fairly easy to cash out your bitcoin. You can choose from various methods depending on your investing goals and spending decisions. However, consider factors such as timing, fees and crypto taxes. Choose a method that is convenient and affordable by researching each platform's transfer times and transaction fees.
FAQ
Here are the answers to some of the most frequently asked questions about selling bitcoin.
Can you cash out bitcoin to your bank account?

Yes, you can cash out bitcoin directly to your bank account by using a crypto exchange. But keep in mind, you might have to pay transaction fees.

Is it expensive to cash out bitcoin?

Some methods of cashing out your bitcoin do come with added fees. One method that can reduce your fees is peer-to-peer trades. Just be aware that with this option, there are occasionally scammers posing as fake buyers so you should use a reputable platform.
Our in-house research team and on-site financial experts work together to create content that's accurate, impartial, and up to date. We fact-check every single statistic, quote and fact using trusted primary resources to make sure the information we provide is correct. You can learn more about GOBankingRates' processes and standards in our editorial policy.