Lessons From Regular People Who Own Crypto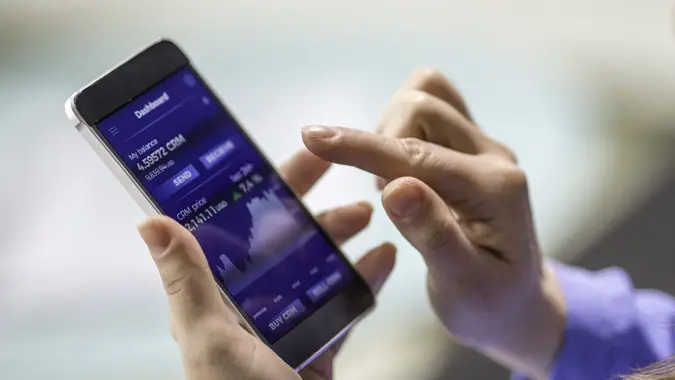 vm / Getty Images
Cryptocurrency has been one of the investing world's buzzwords in 2020 and 2021, as both prices and interest in the alternative investments have skyrocketed. Well-known names in the financial world have wildly varying opinions on crypto, with popular fund manager Kathie Wood stating that Bitcoin will hit $500,000, while no less than billionaire Warren Buffett, the "Oracle of Omaha" himself, told CNBC that "I can say with almost certainty that they (cryptocurrencies) will come to a bad ending." 
Find Out: Is Crypto Too Risky? 12 Experts Weigh In
See: 3 Common Crypto Misconceptions Debunked

While no one can say for sure what the long-term fate of cryptocurrencies like Bitcoin will be, one thing's for sure: Crypto gains in popularity nearly every day with regular investors. Here are the lessons some of them offer about the crypto craze.
Read: Crypto Curious but Risk Averse? You Can Invest as Little as $1 – on Venmo
We're Headed For a Supply Crisis
Didi Taihuttu and his family became somewhat famous for telling their crypto story to CNBC between 2017 and 2021. The Dutch family liquidated all of their assets four years ago, including their business and house, and used that money to buy Bitcoin and live on the road. The family still doesn't have a house or a bank account but maintains their Bitcoin position, adding on dips. The bulk of the family's Bitcoin was bought at about $900, while current prices are closer to $32,000.
According to Taihuttu, he's going to hang on to Bitcoin for the long haul because "we're headed for a supply crisis." As Taihuttu sees it, demand is going to increase over time, and the supply of Bitcoin is limited. Portfolio manager and founder of Quantum Economics Mati Greenspan agrees, saying the demand is shifting from individual investors to "corporate entities and institutional money managers."
Take a Look: Dogecoin Co-Founder Says He's Done With Cryptos, They Don't 'Align With His Belief System'
Once It's Gone, It's Gone
One of the current concerns regarding cryptocurrency is security. Theoretically, a crypto wallet is safer than a bank account because the owner is the only one who has the ability to access it. While this may be true from a password or login perspective, to hackers, a Bitcoin wallet is simply another type of account.
As cryptocurrencies continue to become more popular, hackers are getting more aggressive at trying to siphon money out of crypto wallets. As David Stubley, founder of 7 Elements cybersecurity firm, tells it, one of his clients lost all the crypto in his Bitcoin wallet after clicking on a phishing link. While Stubley's firm could track transactions from the wallet on the blockchain, there was no way to identify the thieves. His client lost 83 Bitcoins that are now irretrievable, with a current worth of about $2.6 million.
Learn: Why Is Crypto So Volatile?
Mining Has High Energy Costs
If you want to make money by mining or "creating" Bitcoin instead of investing in it, the good news is that this option is open to anyone. The bad news is it takes lots and lots of energy and computing power, something beyond the reach of many average people.
In 2016 and 2017, Rohan Muscat, project manager and electrical engineer, got some graphics cards and went to work mining Bitcoin. Although it worked out for awhile for Muscat, over time, it wasn't economically feasible for him. As Muscat put it, "My electricity bill shot up to $500-$600 a month, because the mining rig needed so much power."
The bottom line is that if you're going down this road, be sure to investigate all of the costs and requirements to see if it's worth your time and effort.
Take Our Poll: Which Cryptocurrency Do You Invest In?
Bitcoin Is Just as Real as Fiat Money
Some naysayers argue that Bitcoin isn't "real money," as it's not backed by any assets and only derives its value from what people pay for it. However, the Bitcoin bulls say that the same could be said for the U.S. dollar or any other fiat currency, which only has value because a government says it does. Erik Finman began investing in Bitcoin in 2011, when he was age 12. By 2018, he owned 401 Bitcoin, enough to make him a multimillionaire while he was still a teenager.
Finman carries a good message, encouraging teenagers to earn extra income so they can save and invest while still young. As Finman wrote at the time, "Bitcoin is just as real as fiat money, except Bitcoin can't be printed endlessly." Finman's most recent endeavor, launched with the help of his status as a Bitcoin millionaire, is the Freedom Phone, launched on July 14.
More From GoBankingRates
Last updated: July 20, 2021