Tech Stocks vs. Meme Stocks: How To Invest Into the Cryptoverse Like a Pro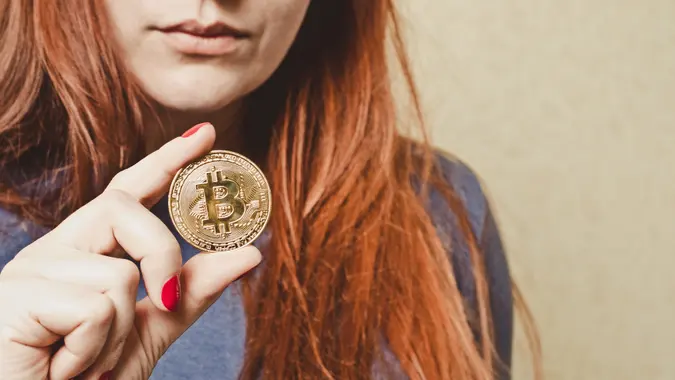 Irina Shatilova / iStock.com
The stock market has been showing signs of life lately and bullish investors are looking to resurrect their pandemic-battered portfolios. Those who lean into volatility and risk may be looking at technology, meme and crypto stocks.
Read: 3 Things You Must Do When Your Savings Reach $50,000
Here's what you need to know about the risks — and potential rewards — of these high-profile stocks.
Tech Stocks
Technology stocks have been on a roll this year, and indications are that it may continue. Artificial intelligence and the CHIPS Act have contributed to the rally, as semiconductor stocks like NVIDIA continue to report record-breaking results.
The industry juggernauts that used to be referred to as FAANG, now Meta Platforms (formerly Facebook), Amazon, Apple, Netflix, and Alphabet (formerly Google), continue to perform well, although there has been some volatility among the group of late.
For those investors who may not be able to stomach the roller coaster ride that can be individual tech stocks, an investment in a Nasdaq index fund may be the way to go. The Nasdaq exchange is heavily populated with technology stocks, so it tends to follow the sector as a whole. As of Aug. 23, 2023, the Nasdaq Composite (IXIC) is up 29.9% year to date.
Meme Stocks
The meme stock phenomenon started at the beginning of 2021 when individual investors on Reddit discovered that a lot of professional traders were shorting GameStop Corp. (GME). This meant that the pros thought that the price of the fading video game retailer would go down. Essentially, they were "borrowing" shares, which they could then repay with shares purchased at a lower price, generating a profit.
GameStop Stock Rise
These individual investors began buying up GameStop, which drove up its price. The plan went viral, and the price of GameStop rose from less than $20 a share on Jan. 11, 2021, to nearly $350 a share on Jan. 27. The short sellers were squeezed and had to buy very expensive shares to cover their calls, which was just what the Reddit investors wanted. But many of them also made quite a bit of money, as they sold their shares before the price plummeted again. On Aug. 23, 2023, GameStop closed at $16.89 per share.
Meme Stock and Company Value
The important thing to remember about meme stocks is that their prices have nothing to do with the intrinsic value of the company. Prices are driven by investors actively trading the stock with the intention of driving up the price. If you're going to try to make money on meme stocks, you would do well to follow the groups that are manipulating the price on Reddit and other social media sites.
That said, people have made money by investing in meme stocks — they've also lost money — sometimes a lot. There is even an ETF that follows an index of meme stocks, the Roundhill Meme ETF (MEME). It's up 33.39% year to date, as of Aug. 24, 2023. Its top holdings include Upstart Holdings (UPST), NIO Inc. (NIO) and SoFi Technologies Inc. (SOFI).
Crypto Stocks
If you thought you'd heard the last from crypto, think again. Bitcoin USD (BTC-USD) is up nearly 60% year-to-date, as of Aug. 23, 2023. Coinbase Global Inc. (COIN) has returned almost 120% since the beginning of the year. As impressive as this sounds, it's important to note that neither of these stocks has come close to their all-time high prices of 2021.
As with tech and meme stocks, a way to mitigate the volatility that is a hallmark of these kinds of stocks is by buying ETFs. The Bitcoin spot ETF is not yet available, as the SEC has withheld its approval so far. But there are ETFs that hold multiple crypto positions, such as ProShares Bitcoin Strategy ETF (BITO), VanEck Bitcoin Strategy ETV (XBTF) and Blockchain & Bitcoin Strategy ETF (BITS).
Investing in Tech, Meme, and Crypto Stocks
Volatile investments like tech, meme and crypto stocks get a lot of attention when they enjoy big gains, as has been seen this year. But remember, these types of positions can come crashing down just as quickly as they rise. Keep in mind, most crypto stocks are trading at roughly half of the value they had two years ago. So a degree of caution is in order.
Here are some of the techniques that many professional investors and portfolio managers use to deliver positive returns. These can be applied to high-flying stocks like GameStop, Amazon and Bitcoin.
Diversify, Diversify, Diversify
Having all your eggs in one investing basket is a recipe for disaster. Consider all the Reddit investors who bet it all on GameStop and other meme stocks — half of them may have made a bundle, but the other half lost it all. This is particularly true for stocks whose prices are artificially inflated in the way meme stocks are. Eventually, investors will price the stock so it represents the actual value of the company, which can leave many investors in the dust.
If the thrill of investing in volatile stocks appeals, make sure your portfolio also contains some dependable blue chips, as boring as they may be. And multiple sectors, from consumer products to healthcare to industrials, should be represented.
Market Timing Is Risky Business
Knowing when to get in and when to get out of a position is important but trying to "flip" stocks is risky. If this is what appeals to you about investing, be sure you know the rules. And never invest more than you can afford to lose, especially in volatile positions.
Buy What You Know
While not necessarily a tenet of professional portfolio managers, this is a favorite bit of advice from legendary investor, Warren Buffet. If you don't understand what a company makes or how their product or service is used, it's probably best to stay away.
There is money to be made in tech, meme and crypto investments. Understanding how these investments work and what to look out for will increase your chances of success.